Domain names and web hosting are two crucial and critical components for website building, and many get confused with this jargon.
People often ask about the difference between web hosting and domain name. Though closely related, domain and web hosting are entirely different from each other.
In this article, I will explain both the terms and will reveal the difference between the two.
Web Hosting vs Domain
The domain name and web hosting help create a website which means your website will not be built until and unless you have these two components.
To get started, you can register your domain name with the domain registrar for 1 year. Then you buy a hosting plan linked with your domain name. After that, you can start installing other tools and software such as WordPress, etc.
Web hosting is where your website is stored, and the domain name is the address of that location.
Relationship Between Domain And Hosting
Domain Name System and Web Hosting services work together for the website. A domain name addresses the websites, whereas web hosting is where we keep those websites. Domain name system is an address, and behind every DNS, there is a web hosting – storing website files.
To build a website, you need both. Without a domain name, no one can find a website, and without web hosting, a website cannot be built.
You can either buy both services with the same company or separately with two different companies.
Elaborate Web Hosting and Domain Name Separately
Domain Name System
Like your home address, the Domain Name System is the address of the website you are vising. It is used for locating a particular website. For instance, the DNS of our website is:
The Domain Name System (DNS) translates the domain name into the numerical IP address and helps you locate your website.
How Domain Name Works
A domain name works with an IP address, a combination of numbers and dots in a particular manner to make it unique. An IP address should look like: 66.249.66.1.
The computer can retrieve and retain these numbers, but IP addresses make no sense to humans. Therefore, the Domain Name System was invented, so that website owners purchase a domain to make it easier for laymen to search for a particular site. A domain name makes it easy to remember the exact address of the website.
A domain name is an indication of web property owing to copyright rules. In case if you want to sell, you need to transfer the ownership.
Domain does not work itself. You need to point your domain towards your hosting account.
Subdomain
After purchasing a primary domain, you can create multiple subdomains. You can build complete websites under a subdomain, and one field contains various subdomains. It is more like a child and parent relationship.
For instance, finance.yahoo.com – finance is a subdomain.
Types of Domain Name Extensions
Domain names have different kinds of extensions. Some of them are:
. com
.net
.org.
.gov
.biz,etc.
All domain name extensions are different for each country and organization.
Domain Names Classification
Domain names are classified based on their name extensions. There are two domain name classifications.
Top-level Domain Names (TLDs)
Second–Level Domain Names (SLD)
Top-level Domain Names (TLDs)
These are the highest and the roots of DNS. Examples of top-level domains include .com .net and .org.
Second–Level Domain Names (SLD)
After the top-level domain, there is a second-level domain. Examples of SLDs are "google" and "besturate."
You can make any sequence as per your choice from a-z, A-Z, or 0-9.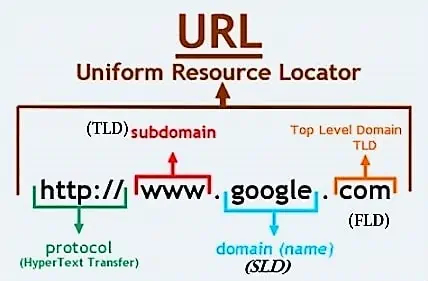 Web Hosting
Web hosting is the house, while DNS is the address of the house. Web hosting is a place or land where all files of the website are store and live. It is like the home of your website. It is an allocated web server space where all your files are stored.
If you write "Besturate", a domain name in the browser, it is translated into an IP address on the web hosting company's computer on the backhand. That computer contains website files, and those files are sent back to the browser.
Every website needs a web hosting provider, and many web hosting companies store and serve websites by giving different hosting plans to their customers.
A web hosting provider provides you with the space to display your site content such as text, images and videos.
Types of Web Hosting Services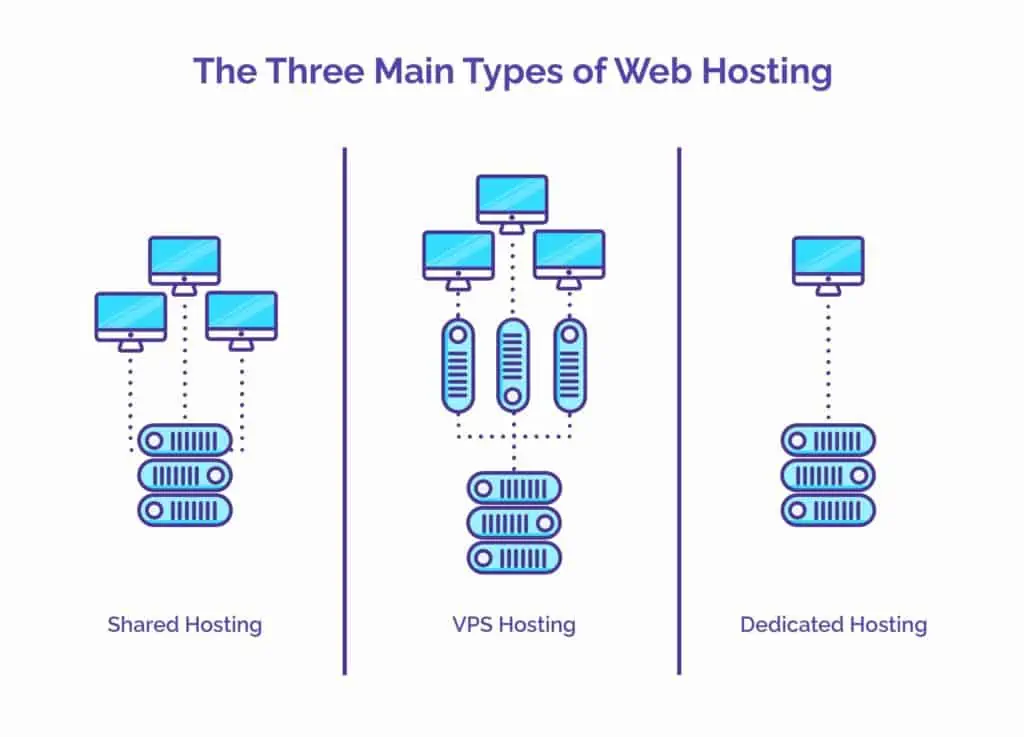 Numerous hosting companies provide different kinds of hosting services. Some of them are:
Shared Hosting Service: This type of web hosting is highly recommended for beginners. You are sharing the server space with multiple websites. So, such hosting services are incredibly cheap. You can visit our page to learn more about shared hosting.
Reseller Web Hosting Service: It allows web developers, designers and IT entrepreneurs to buy and resell hosting packages to their customers.
Virtual Dedicated Server or Virtual Private Server (VPS) Hosting: A physical server is virtually separated into multiple portions. This is better for those who want more than shared hosting at an affordable price than dedicated servers.
Dedicated Web Hosting Service: You can rent your server for the website. Many hosting providers have dedicated servers which are costly than shared hosting.
Cloud Hosting Service: Cloud hosting uses a cluster of servers to host a website. If one server is down, another can support the website resulting in the smooth working of your site without any problem. Read more on cloud hosting.
WordPress Hosting: Since WordPress is leading as a content management system, its hosting has gained popularity over time.
How to Buy Web Hosting
Web hosting is essential to build a website. Buying a web hosting service is a critical process. Following are the steps that can assist in your decision to purchase a web hosting account.
Begin Your Website With a Personalized Domain Name
When you register a domain name, you lease it from the Internet Corporation for Names and Numbers or ICANN for short.
ICANN accredits registrars to register a domain name.
Some domain registrars are:
Bluehost
Hostgator
Hostinger
SiteGround Web Hosting
DreamHost
Register Domain Name and Web Hosting Separately
You can purchase or register a domain name from one company and hosting services from another. This depends upon your circumstances and preferences. You can then point your domain to the hosting account.
Individuals may go for different companies for the following reasons.
If someone has already registered a domain name: Sometimes, a client purchases a domain name before web hosting service from any other registrar. In this case, later, they only register for their web hosting account.
If a client does not like the hosting services of a single company: Typically, a client does not like the services of the same company from which they purchased a domain name. In this case, they prefer another web hosting service provider.
Most companies do not offer dedicated servers: Some providers are well known for their domain names but may fail to provide dedicated servers. So, clients purchase a domain name from registrars then move to another hosting company for dedicated servers.
In case of transfer: When you sell the ownership of your domain to some other party, there are chances that the buyer will change their hosting company. For instance, if you are using Bluehost and the person you have sold your domain is using Hostgator, then it is likely that the buyer will change hosting from Bluehost to Hostgator for better management.
Register for Bundled Hosting
You can buy a domain name, web hosting, and other software from a single company under a bundle package. Such providers, usually known as "website builders." Netizens prefer bundled packages owing to the following reasons.
Beginners: Most new bloggers, website developers and business entrepreneurs do not know how to build a website. Therefore, they choose a bundled package to get domains and hosting and other services like WordPress and related software.
Easy to Manage: Bundled packages are easy to manage. You do not need to download everything separately or waste your energy in handling separate domains and hosting. You get everything in few clicks.
Economic Feasibility: Though they look expensive, bundled services are usually cheaper. First of all, you will be saved from spending money apparently on every service. Secondly, most web providers sell free domains for a limited time along with web hosting under their bundled packages.
Our recommendations
Though many web hosting providers are available and keep increasing due to the growing charm of earning through websites, they are unreliable. Therefore, choosing the right web hosting company is quite essential for you.
For this reason, we have come up with the most renowned hosting companies you can use to build an excellent website.
Bluehost

Bluehost is one of the leading hosting providers that provide you with exceptional experience working on and building a website. It has more than 2 million domains all over the world. It has a dedicated team of experts working 24/7 to resolve the queries of customers. Some of the pros and cons of the Bluehost are as follow:
Pros
99.99% uptime: Bluehost, unlike other web-hosting providers, has the best uptime capabilities. It has 99.9% uptime which saves your website from browsing and increases your revenue by making it accessible.
Protection against cybercrime: Bluehost has commendable security features to save your site from cybercriminals. It has an SSL certificate, SiteLock and CodeGuard.
24/7 customer support: Bluehost has 24/7 support from its professional team. Its experts are right at your service to resolve all your queries.
Enormous Apps and other Features: Bluehost is a complete package for your website building, from content management software to additional features. You can download WordPress with a single click. This is the reason why "WordPress endorses Bluehost."
Easy to use: Bluehost is relatively easy to use, manage and install. Its apps can be downloaded with few clicks without investing much time and effort.
Daily backups: Bluehost is famous for daily backups. Daily backups help you maintain records of your site quickly and retrieve them without any loss without hurting your website.
Money-Back Guarantee: It has 30 days money-back guarantee.
Cons
High Rates: In the first place, Bluehost offers reasonable rates for an introductory time. However, after its expiry, an upgrade requires higher renewal rates.
Costly ad-on features: Typically, the ad on parts of Bluehost is pretty expensive. You need to spend a lot of amount on it.
Recommended Pricing Plans
$8.95/month for 12 months with a complete "website builder" also including a 1-year free domain.
$6.95/month for 36 months with an exclusive "website builder" also including a 1-year free domain.
HostGator
For beginners of web development, HostGator can be a magical tool to start your online business. It provides a range of services to its clients, due to which HostGator is known as the best alternative to Bluehost. It has around 8 million domains, and the number keeps on increasing.
Pros
1 Month trial: HostGator offers you a 1-month free trial before making any financial commitment to understand and work well with cPanel.
Best cPanel: HostGator helps you to manage your site and domain. Ita popular tools include file manager, FTP with user management, file compression, database backup, the error log file, domain manager, disk usage, backup wizard, a site compression tool, email forwarder, and software installer app.
Multiple Site Hosting Support: In a typical case, you need different hosts for various sites. However, through HostGator, you can host multiple sites in a single account.
SSL Certificate: Hostgator provides you with an SLL certificate for complete end to end encryption of your website, data and valuable information.
Speed: HostGator has the fastest rate, and the uptime is 99.99 per cent. Even its shared servers are speedy than the servers of other companies.
Features at a competitive rate: You may get its cPanel and other related components for affordable rates.
Cons
Annoying emails: While using HostGator, you will receive loads of ads, emails and newsletters regarding new launched and daily updates, which become annoying after some time.
Paid daily backups: Though daily backups is an excellent feature of Hostgator, the backups are not paid at all.
Recommended Pricing Plan
$3.50/month for 36 months with a complete "website builder" and free domain.
Hostinger
Hostinger is one of the best web hosting companies in the digital world. Whether you want to start your e-commerce store or an educational website, Hostinger is a complete solution. With 29 million clients, Hostinger keeps on upgrading its services and features.
Pros
Quick Load Time: Hostinger has a Quick load time. Its uptime ranges from 99.4% to 99.8% and sometimes reaches 100%.
Money-Back Guarantee: Hostinger has a 30-day money-back guarantee.
Free Domain: Hostinger is a complete website builder. It provides you with a free domain on a one-click web hosting program.
Easy to Use: Hostinger's administrative dashboard is user friendly. Therefore, it is ideal for those new to technology and are unaware of building a website.
Unlimited Features: Hostinger has unlimited bandwidth, content management software, MySQL databases, and email accounts.
Minecraft Server: You can now play Minecraft with multiplayer. Suppose you are connecting to Minecraft hosting like Hostinger. Com, you can connect with different people in different localities.
Cons
No Traditional cPanel: Hostinger's Cpanel is not as user friendly as other reliable hosting services.
Additional Cost: Initially, a domain is free. However, for registration, you are required to pay an extra amount.
Recommended Pricing Plan
Premium shared web hosting for $2.59 for 48 months with a free domain.
$2.99 for WordPress hosting for 48 months with a free domain.
Should I Choose a Windows or Linux Hosting Account?
Linux and Windows are different kinds of operating systems. Linux is the most popular system for web servers. Unless you have a website that needs specific window applications, you can go for Linux hosting. Whether you are using Windows or Linux, your hosting depends upon the operating system.
Linux and Windows web hostings are different in specific ways. Let's discuss in detail the fundamental difference between the two.
Specific Application
Window application requires window server: MSSQL (Microsoft SQL Server), MS Access (Microsoft Access), Visual Basic Development, C#, Remote Desktop.
Linux application requires Linux based server: SSH, PHP, and applications need special Apache modules.
Control Panels
Windows: Plesk is available on Windows hosting.
Linux: Industry based cPanel and WHM are available on Linux based hosting plans, such as shared and dedicated servers, resellers, VPNs, etc.
For more details, you can visit our page, cPanel Hosting.
Usage
Windows: Most business owners, multinational organisations, NGOs, and government agencies use window-based hosting.
Linux: For personal PHP-based hosting, you can use Linux-based hosting to manage individual accounts at a minor level.
Cost
Linux is free of cost because it is widely using and an open-source operating system, whereas Windows have specific usage. Therefore, Linux based web hosting is more affordable than Windows.
Frequently Asked Questions
Conclusion
To wrap up, I tried my best to augment your knowledge regarding the domain and web hosting. By reading this article, you will be well equipped with the primary difference between the two.
For more details and information, you can visit our page Best Web Hosting Services 2022. Still, if you have any queries, you may ask in the comment section.