Over 2.5 million users; 70% of mobile devices work on the Android Operating system. Also, the recent wave of Remote Work has surged mobile usage by 54%, and almost all are smartphones.
Whichever OS you are using, it is essential to have a VPN. Not because we are saying so, but becasue this is the only way to save your data from snoopers and hackers. Regardless of the fact many VPNs do exist in the market, some are paid while others are free; we always encourage you to buy Paid VPNs. If a VPN provider takes money from you, you will be given top-notch, unbreakable security.
However, not all VPNs support Android platforms, whether tablet, mobile or smart TV. Very few have Android apps. But you do not need to worry. All our recommended VPNs have especially designed apps for android users.
We cannot discuss all of them in detail here. You can read our reviews regarding Best VPN at our site. We will only discuss a few of them that suits the best Android users.
Best Android VPN Apps
From the list of ten, some of the best VPN apps for Android are:
Nord VPN

Nord is our first choice in the list of top VPNs for Android users. You can use Nord on all supported platforms, whether your Android smartphone, tablet, or smart TV. Not only this, it has 5500 servers which are installed in more than 60 countries.
This means you can not only circumvent geo-restrictions but can also browse with security and anonymity. From the friendly interface to customer support, encryption to streaming services, everything is just perfect on Nord.
It offers 6 simultaneous device connections at a time. Plus, the pricing is also pocket-friendly with a 30-day money-back guarantee.
Security
Encryption
AES 256-bit encryption is highly recommended for any VPN connection. This encryption is an algorithm helping in the tunneling process of your android VPN app. AES is considered military-grade encryption and nearly impossible to break.
You can also use our recommended VPNs in highly surveilled regions. Along with this, Nord also has 2,048-bit DH keys and SHA2-384 authentication. Nord also uses different protocols like OpenVPN IPSec for the complete security of your device.
WIFI Protection
Whenever you use the internet in any coffee shop, library, or other place connected to free public WIFI with the android device, you are usually prone to data theft.
In such a situation, NordVPN can help you protect your public Wi-Fi so that no one can ever sneak into your work. Read details to know more about how to secure public Wi-Fi.
Leak Protection
An ISP can sneak into it no matter how you try to hide your IP address. How? Through DNS request. An ISP can request DNS leaks to determine your location and online activities.
Even websites also do so. Imagine if you are using a VPN, and such leaks occur in China, Russia, or any other area where VPN is illegal. However, NordVPN can save you from DNS, WebRTC and IP address leaks.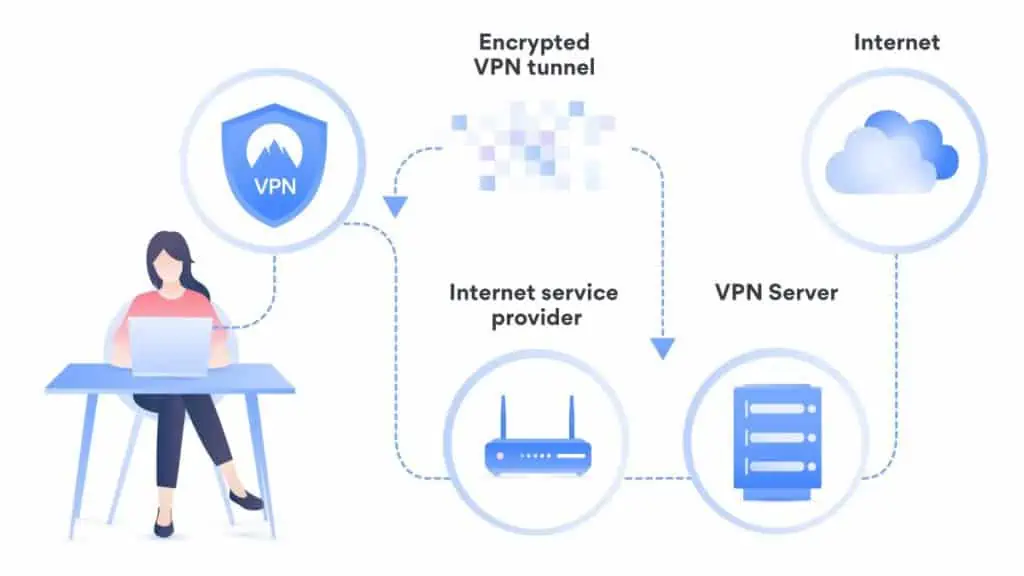 Kill Switch
Kill switch is designed for mishaps. Sometimes the connection between your android phone, tablet or smart tv drops from the VPN server automatically. In this case, the chances of leaks augments.
Against such circumstances, Nord has designed its Kill switch facilities which automatically activate and cuts your connection with the mobile data or Wi-Fi. Once the connection between the VPN server and the device is stable, it automatically reconnects you to the network.
Privacy
Location
For every VPN, retaining its no-log policy is essential, which a VPN can only keep when it is located in a country with no or the least government interference. Many countries like USA, Canada and UK are part of surveillance organizations. These countries trace, track and share netizens' data to curb terrorism and money laundering.
However, some countries are not a part of such organizations and have 0% data retention policies. NordVPN is one of them as it is located in Panama- a country free from any jurisdiction of data retention laws.
No log
A zero-logging policy is quite crucial for any VPN user. No one purchase VPN before checking its no-log policy. NordVPN also has a stauch logging policy in which VPN providers do not track user information or data. Even Nord offers cryptocurrencies as a payment mode so that you can even pay anonymously.
Obfuscation
Obfucstion removes traces of VPN from the network. It removes footsteps or traces of VPN from your web traffic. Not all VPNs offer obfuscated servers. Only a few have this quality. Due to this quality, you can use VPN even in highly surveilled countries. Nord does have obfuscated servers.
Speed
ISP Throttling
Many times an ISP snoops on your activities. Once your data usage reaches a certain level, an ISP puts a cap that slows down your speed. However, through a VPN like Nord, you can hide the data usage so that an ISP can't figure out how much you have used so far. It means through Nord; you can get unlimited bandwidth.
Protocols
The tunneling process obstructs the speed of any VPN; therefore, like other reliable VPNs, Nord uses protocols to retain speed. It uses an industry-leading and entirely new WireGuard Protocol supported NordLynx to keep a speedy connection while watching a video or playing a game.
Additional Benefits
Split Tunneling
Many websites and applications do not work over VPN. Such sites may disturb you a lot, and you need to go on and off again n'. To save your time, Nord offers VPN split tunneling. This feature can add the sites and apps on the spilled tunnel you want to run VPN.
Multihop Servers
To add an extra layer of security, NordVPN has a multihop server. Multihop means double chaining. On Nord, your data passes through to a chain of servers twice. You can also connect to two different serves. For instance, you may link to one server in the USA and another in India.
RAM only servers
Primarily, VPN servers work on hard drives. Hard drives retain your data. It should be written over or removed manually. This is why many VPN companies are changing their servers to RAM.
Random Access Memory loses its data after every connection. What else does a VPN need when data is removed after every disconnect?
Dedicated IP Address
Nord also offers dedicated IP addresses over its servers. Most VPNs provide shared IP addresses, which increase the chances of blacklisting, obstruct speed and decrease overall performance due to overcrowding. On the contrary, dedicated IP can save you from such problems. This IP is only assigned to you; no one else can use it. Nord offers a dedicated IP address.
Onion Routing
TOR browser is used for anonymous browsing. Many stubborn sites can be accessed through the TOR browser. Onion routing or TOR browsing is usually unsecured. To make your onion browsing secured, you need a VPN on it. Many reliable VPNs, including Nord, offer onion routing with "Tor over VPN."
Ad Blocker
Not all VPNs come with an ad blocker. However, Nord has a built-in ad blocker named CyberSec. It blocks all kinds of ads while watching videos or playing games. Also, ad blockers save you from malware, spam, and scareware.
Customer Support & Interface
NordVPN is super easy to use. Its features for Android apps are effortless. You will have a big connect button in the middle of the screen. Other features are also categorized.
The usage is simple, yet you can scroll the website for FAQs, articles, and video tutorials if you face any issues. Still, if the problem persists, you may avail of their 24/7 customer representative through live chat and email.
ExpressVPN

Express is one of the top choices of many VPN users. Its android app is connendable. Super easy to use and access. It has over 300 servers in 94 plus countries. More servers mean better security and speedy connections. It is 40% faster than other VPN software.
All data passing through the tunnel of ExpressVPN is completely encrypted without any single leak. Also, the Android application is super easy, carrying all features into it with a single click. Plus, the customer service is the cherry on top. All these features you can get with 5 simultaneous connections at a time with one subscription.
Security
Encryption: Express also has military-grade encryption. It uses AES 256-bit encryption to create a secured tunnel. It also uses a 4096-bit RSA key and SHA-512 HMAC authentication and forwards keys for retaining complete secrecy and privacy.
WIFI Protection: ExpressVPN is concerned about snooping and cyber breaches while using Wi-Fi in a hotel or library. It provides complete protection for public Wi-Fi.
Leak Protection: Wi-Fi and your mobile are protected from DNS, WebRTC, and IP address leaks. Express's tunnel is impossible to break. No one can ask for DNS requests.
Kill Switch: Express also has a kill switch facility against data leaks.
Privacy
Location: Express is also free from any data retention law becasue it is located in a country free from any government jurisdiction. It is headquartered in the British Virgin Islands. It is British overseas territory, but British law is not extended.
No log: Like Nord, ExpressVPN also has a staunch no-log policy. As per their websites
ExpressVPN does not see, record, or store which websites you visit. We never log the destination or contents of your traffic, and we run our own private, encrypted DNS on every VPN server for added privacy and anonymity.
Obfuscation: ExpressVPN also offers obfuscated servers to remove VPN footsteps from your network.
Speed
ISP Throttling: With the help of ExpressVPN, you can hide your traffic and save it from ISP throttling.
Protocols: ExpressVPN uses different kinds of protocols to retain the speed of its servers while streaming video because, of course, no one likes buffering. Express uses Lightway protocol to maintain speed. It's a default protocol. You can change settings as per your preferences.
Additional Benefits
Split Tunneling: Express also offers services of split tunneling through which you can add your preferred apps and websites to split tunnel to run a VPN on it.
RAM only servers: ExpressVPN also uses RAM as a memory chip to use on the software of its servers for letting go of the data after every disconnect.
Onion Routing: ExpressVPN does support Onion routing and anonymous browsing
Customer Support
The customer support of Express is the best of any VPN in the entire industry. First, you won't need any representative because Express's interface is relatively easy and user-friendly. Still, if you need help, you can avail of their customer support. Or you can also resolve problems through video tutorials, blogs and FAQ sections.
Surfshark's

Launched recently, in 2018, Surfshark VPN is not so old but meeting the competition by giving its best services to the end consumer. With 3000 servers in 65 countries and virtual servers in some conflict-affected areas, Surfshark is reaching sky-high.
Its security through encryption and protocols can save you from snoopers and cyber hackers. It is best for streaming, even using a dedicated streaming protocol called Shadowsocks.
Even if you deal with millions of businesses, Surfshark keeps you protected from cyber breaches. The VPN has commendable customer support despite having a user-friendly app. The best part is that it offers unlimited simultaneous connections with one subscription, with no device restriction.
Security
Encryption: Along with AES-256 bit encryption, SurfsharkVPN also uses CM HMAC-SHA256-128/SHA-512 authentication.
WIFI Protection: Like other reliable VPNs, Surfshark also protects public Wi-Fi.
Leak Protection: Surfshark also protects against DNS leaks.
Kill Switch: It does have a kill switch facility when a connection with a VPN server is lost.
Privacy
Location: Surfshark is based in the British Virgin Islands as ExpressVPN and can work freely.
No log: Surfshark can easily retain its zero-logging policy due to its location.
Obfuscation: Under the name of "Camafloug mode," Surfshark removes traces of VPN from your web traffic.
Speed
ISP Throttling: Surfshark also bypasses ISP throttling and provides you with unlimited bandwidth.
Protocols: Surfshark uses WireGuard to maintain speed over its servers.
Additional Benefits
Split Tunneling: Like other top VPNs, Surfshark also provides a split tunneling feature to its customers.
RAM-only servers: Surfshark also uses RAM-based servers.
Onion Routing: Surfshark also secures your online routing through TOR OVER VPN
Ad Blocker: Clean web is a built-in ad blocker and malware tracker you can use in Surfshark.
Multihop: Multihop servers and passing the data through a chain of servers is also one of the most beneficial features for Surfshark's users.
Customer Support
The customer support of Surfshrk is also quite commendable. Everything is well designed, from an excellent android app to a highly interactive website. In case of a problem, you can submit a request or avail of its chat and email facility.
PIA VPN

Private Internet Access is also some of our top VPNs. It has 35000 servers in 78 countries. You can stream whatsoever you can through PIA. Not only this, you won't be disappointed with the security features, and you can surf anything anonymously without letting anyone break your privacy. You can connect up to 10 devices with PIA with uncompromising speed.
Security
Encryption: Private Internet Acces also uses industry-leading AES 256-bit encryption to secure its network from cyberhackers and snoopers. It does protect not only your Wi-Fi but also maintains your privacy from any DNS leaks. Not only this, but PIA also has a kill switch to block any single leak if the VPN connection is lost.
Privacy
Private Internet Access is highly criticized for its location becasue its headquarter is located in the United States of America – a country that is a part of surveillance alliances and agencies. Despite that, PIA is retaining its no-log policy. As per the website's authorities:
PIA's no-logs policy has been repeatedly confirmed in court. When authorities request data about our customers, we can't provide it because we simply don't have it — a fact that we've testified to multiple times in a court of law.
It does not have data because PIA uses RAM disk servers, and the whole data is lost when the authorities ask to submit it.
Speed
The average connection time for PIA is 2 seconds because it uses an entirely new and quite famous WireGuard protocol for speedy connections. Not only this, but PIA also bypasses ISP throttling
Additional Benefits
Some additional benefits of PIA are:
Split tunneling
Multihop VPN connection
Protection on TOR browsing
Private Internet Access MACE™ is a new ad, malware and tracker blocker.
Customer Support
Private Internet Access also has an uncomplicated application for android users. Its website is also flooded with guides, blogs, news and community discussions. However, you need to fill out a form on their website and send it to authorities for customer support.
PureVPN
PureVPN is also an outstanding choice for those who prefer security and anonymity. You get streaming facilities with excellent features because PureVPN can unblock as many geo-restricted websites as you want.
You need to install and use it, which is also pretty easy, mainly if you use Android operating systems. PureVPN also has over 6,500 servers in 78 countries. You can also connect up to 10 devices with PureVPN.
Security
PureVPN also uses AES encryption for all of its servers. Also, its Domain Name Server leak protection and kill switch are designed to keep you anonymous and protected from cyber-spying vulnerabilities.
Privacy
PureVPN has recently moved its headquarters from Hong Kong to the British Virgin Islands, so its staunch no logging and tracking policy remains active. It also provides obfuscation on all meta details and footsteps of VPN.
Speed
PureVPN does bypass ISP throttling. Not only this, it uses the WireGuard protocol to provide the best speed to customers for watching movies and playing games.
Additional Benefits
Some of the ads on features of PureVPN are:
Split tunneling
Protection of Onion Routers
Pricing Comparision
| Months | NordVPN | ExpressVPN | SurfsharkVPN | PIA VPN | PureVPN |
| --- | --- | --- | --- | --- | --- |
| 36 months | – | – | – | $2.03 | – |
| 24 months | $3.67 | – | – | – | $1.99 |
| 12 months | $4.92 | $6.67 | $2.49 | $3.33 | $2.99 |
| 6 months | – | $9.99 | $6.49 | – | – |
| 1 month | $11.95 | $12.95 | $12.95 | $9.95 | $10.95 |
| Money-Back Guarantee | 30 days | 30 days | 30 days | 30 days | 31 days |
| | Get It Now | Get It Now | Get It Now | Get It Now | Get It Now |
How to Add VPN App to Android Device
Installing a VPN over your device doesn't require much effort. It is less than a 5 minutes procedure.
Explore the right VPN for the Android app (we recommended NordVPN)
Go to its website and learn about it
Install the VPN app over your device from Google Play Store
Subscribe for a VPN
Create your encrypted account by signing up for a VPN service
Click the big "Connect" button
Enjoy its services
Free vs. Paid VPN
The market is flooded with many VPN services. Some are free, while others are paid. Many users prefer using free VPNs because they do not want to spend a penny on them. You must not be aware that free VPNs are more dangerous than paid VPNs. Don't think of some little pennies at the cost of your privacy.
I am saying this because free VPN providers also need to do something for their living. They do it by selling their data to third-party surveillance agencies and advertisers. Which means they do track your data. Tracking is an open invitation to cyber hackers to steal and use your data for their benefit.
Also, they have limited server infrastructure, few servers, 0 device connections, and no add-on features. So, we discourage using free VPNs. You get better ideas in the below comparison between free and paid VPNs.
| Features | Reliable VPN | Unreliable VPN |
| --- | --- | --- |
| Servers | Multiple servers | Few & overcrowded servers |
| Device connections | Multiple | Single |
| Speed | Fast | Slow |
| Encryption | Tight | Loose |
| Geo unblocking capabilities | Yes | Sometimes |
| Information tracking | No | Yes |
| Cyber Protection | Yes | No |
Elements for choosing a right VPN
You must consider why we have chosen the VPNs mentioned above out of many. What do you think is right; we have specific criteria to select the right VPN for android devices. The requirements we have devised are as follow.
Servers: Every reliable VPN owns multiple servers. Servers help to retain speed, privacy and security. Not two or three, but a reliable VPN should have more than 500 servers.
Speed: The tunneling process of VPN is time-consuming, resulting in slow speed. Our recommended VPNs use industry-leading protocols and have multiple server locations for better acceleration.
Geo unblocking capabilities: Most people use VPNs to circumvent geo-restrictions. A VPN should be able to unblock as many streaming sites as you want, be it Netflix, HBO Max, ABC iView or any other streaming platform.
Add on Features: Not only basic features, but the right VPN should also contain all the features required for the price-worthiness. For instance, Express has split tunneling, and Nord has Multihop and surfshark. These add-on features vary in different VPNs.
Logging policy: One of the most crucial aspects of every VPN is its logging policy. A VPN provider pledges not to track your data at any cost. All our recommended VPNs have a strict zero log policy.
Multiple Device Connections: If you are paying for a VPN, a company must consider protecting not only one but multiple devices. This is only possible when a VPN provides simultaneous connections at one subscription. All our VPNs do have multi-device connections.
Price Compatability: If we ask you to pay the price, it doesn't mean we will let all your money spend on it. All our recommended VPNs are compatible with the pocket. Many VPNs also offer deals and discounts to save a little money.
Does Android have a built-in VPN?
Yes, most android phones have built-in VPNs, but you need to configure them manually. If your country has blocked VPN connections, then it won't work. If not, you can connect to your servers by enabling An Android VPN.
You can choose between three VPN protocols: PPTP, L2TP, and IPSec. Here are the settings.
Go to settings
Locate Connections
In Connections, go to More Connections
Tao on VPN
Tap the "+" sign in the right corner, click three dots, and choose "Add VPN Profile."
Enter all necessary information
Click save
Connect to the network
However, you should use a VPN app instead of a built-in VPN for the following reasons:
Many renowned protocols built-in VPN doesn't support
You won't be needed complex configurations in the VPN app
You can run a VPN app separately for work and home profiles
FAQs
What is a VPN?
You may take a Virtual Private Network as a middle person. It is software in between your device and an ISP. It masks your original IP address, hides it and allocates your a VPN-generated IP address.
This way, an ISP or the website cannot figure out, and you can browse anonymously, prevent data leaks, and unblock geo-blocked sites.
How do VPNs work?
All VPNs work on the "Tunneling Process." It creates a secured and encrypted tunnel connecting you and the device. All your data and information are passed through the tunnel in small packets. In the middle, it also hides your IP with another fake IP address to keep your privacy and security.
Are free VPNs safe?
Free VPNs are not safe at all. You must care about protecting your privacy by using free VPN services. On the contrary, all paid VPNs have free trials and a money-back guarantee. Instead of using free VPNs, you can take advantage of such opportunities.
Are Android VPNs legal?
VPN is legal in almost all the countries except 10 countries as
Chine
Russia
North Korea
Belarus
Uganda
Turkmenistan
Turkey
Iraq
Oman
UAE
In these countries, a VPN cannot work. Even the Great Firewall of China is quite famous. Nothing can break it or pass from it. And if you were living in any of these countries and used VPNs, you would end up with a heavy penalty or jail. So be careful.
However, all our recommended VPNs, especially Express and Nord, can bypass any firewall. Their obfuscation keeps your network free from any traces of VPNs.
Can I use my Android VPN on a PC?
Yes, all our recommended VPNs work on multiple devices except gaming consoles. You can even add them on routers. You can also use a VPN if you have a Windows or Android-supported PC.
Can you use a VPN on a tablet?
Yes, you can use a VPN on a tablet, be it Android it iPad. You need just its application that you can download from the play store.
Yes, you can use a VPN on a tablet, be it Android it iPad. You need just its application that you can download from the play store.
To fake your location on Android, you need a VPN. The IP address is responsible for revealing your location or the location of your device. A VPN hides your IP address and allocates you a fake IP of your preferred region.
What is the most Alliance?
Many renowned companies are getting certifications for their Android apps from the ioXT Alliance. It is an organization that safeguards transparency and security. Every company needs to fulfill 8 strict critera:
Secured interfaces
No universal passwords
Security by default
Proven cryptography
Automatic security updates
Vulnerability reporting program
Verified software
Security expiration date
Many VPNs providing apps for android devices have ioXT alliance certificates. Some of the renowned VPNs are:
Private Internet Access
PureVPN
Nord
Express
The ioxt approved the security and transparency standards of all the VPN companies.
What is a mobile VPN?
Mobile-friendly VPNs are designed for smartphones of various operating systems. These consume less energy and have small footprints than desktop VPNs. Mobile VPNs are super easy to use and connect. Android VPNs, as well as iOS VPNs, are all mobile VPNs.
What's the best VPN for working from home?
Covid 19 has brought many changes. Some of them are WFH (Work From Home). Many companies choose to be employed to work from wherever they are.
Even freelancing has become the most significant market up till now. To secure all your connections while working from home, you again need a VPN not only on 1 or two devices and on many devices.
Also, you must have been taking many ZOOM sessions. If the speed is not up to the mark, what's the use of encryption? So all our recommended VPNs, especially, Express, Nord and Surfsahrk, are the best for working from home.
What's the best VPN for gaming?
Not all VPNs are suitable for gaming becasue a tunneling process may decrease the speed. If you want a VPN solely focused on the game, you can choose ExpressVPN. It has extraordinary speed. It has performed well in all speed tests.
Sometimes, you want to go and play in another region to meet more new friends. You can do so by getting another region's IP from the VPN. Also, many countries are blocking games, as India has blocked Free Fire and PUBG. You can play these games by connecting to some other country's servers.
Do I need an Android VPN?
No one could claim they do not need VPN in this digital era. Someone wants to stream sites because the time of TV cables has gone. Now, websites of particular channels have all the content you want to watch.
Look at Netflix; you can even add your half-watch series or movies to the list, even your favorite one. What if any of such channels are geo-restricted? Similarly, your unprotected data is in the hands of snoopers and hackers.
Whatever you are searching online can be located and seen by your ISP, advertisers and even surveillance agencies. For this, you obviously, needed a VPN. You can opt for top VPN apps if you are an Android user.
Bottom Line
The use of VPNs has been growing faster so do Android usage. One needs an Android-friendly VPN that can protect your digital life in split seconds to protect the device. Thankfully, all recommended VPNs have the quality to keep you anonymous and secure. Not only this, but these VPNs are also the best for streaming media and accessing some important sites. So, choose any of these and protect your android devices.