In today's digital age, the internet has become an essential resource for education and learning. Students rely on a wealth of online information to supplement their studies, engage in research, and collaborate with peers. However, many schools block certain websites to protect students from potentially harmful content, conserve bandwidth, or maintain compliance with legal requirements. While these measures are well-intentioned, they can sometimes restrict access to valuable educational resources and hinder students' learning experiences.
This comprehensive guide aims to provide an overview of various methods to unblock websites at school while emphasizing the importance of responsible and ethical use of these techniques. We will discuss the different types of website blocks, how school firewalls work, and explore several techniques for unblocking websites, including VPNs, proxy servers, and alternative DNS settings. Additionally, we will cover the unique challenges Chromebook users face and provide specific solutions tailored to their needs. Throughout the guide, we will stress the importance of using these methods safely, responsibly, and legally, focusing primarily on accessing educational content.
Understanding Website Blocks
Regarding website restrictions, it is essential to understand how and why schools block certain websites. This understanding will provide a solid foundation for selecting the best method to unblock websites while maintaining online safety and security. This section will discuss the different types of website blocks, the mechanics of school firewalls, and the ethical considerations involved in unblocking websites.
Types of Website Blocks:
IP Blocking: IP (Internet Protocol) blocking is a technique where the IP address of a specific website is blocked by the school's network. The request is denied when a user tries to access a blocked site because the network recognizes the IP address as unallowed. This method is simple but can be circumvented relatively easily.
DNS Blocking: Domain Name System (DNS) blocking prevents the user's device from translating the website's domain name into its corresponding IP address. The DNS server responsible for this translation is configured to block access to specific domain names. As a result, the user's device cannot establish a connection to the blocked website.
URL Blocking: URL blocking involves preventing access to specific website addresses. This method involves filtering or inspecting web traffic and blocking access based on the URL. It is a more precise method than IP blocking, as it can target individual pages or sections of a website, but it can also be bypassed using various techniques.
How School Firewalls Work
School firewalls act as a barrier between the school network and the internet. They are designed to monitor, filter, and control incoming and outgoing web traffic based on predefined rules and policies. These rules can include blocking specific websites, restricting access to certain types of content, and limiting bandwidth usage. Firewalls often use a combination of IP, DNS, and URL-blocking techniques to prevent students from accessing restricted websites or content.
Ethical Considerations for Unblocking Websites
While bypassing website blocks using various methods is possible, it is crucial to consider the ethical implications of doing so. Schools implement these restrictions to maintain a safe and focused learning environment for their students. Circumventing these measures may expose students to inappropriate or harmful content, violate school policies, or even result in legal consequences.
It is essential to use unblocking methods responsibly and with the primary goal of accessing valuable educational resources. Students should familiarize themselves with their school's internet usage policy, prioritize online safety and privacy, and consider the potential consequences of bypassing website restrictions before attempting to unblock websites.
Ways to Unblock Websites At School
Various methods can be used to unblock school websites, each with advantages and disadvantages. This section will discuss some of the most common and effective techniques, including VPNs, proxy servers, changing DNS settings, and using the Tor browser. Remembering that these methods should be used responsibly and primarily for accessing valuable educational resources is crucial.
A. Using a Virtual Private Network (VPN):
A Virtual Private Network (VPN) is a service that encrypts and redirects your internet traffic through a secure server in a different location. This process allows you to bypass website blocks, as your school network only sees the encrypted connection to the VPN server and not the final destination.
VPNs offer several benefits, such as increased online privacy, secure data transfer, and bypassing various types of website blocks. However, they may slow down your internet connection and, in some cases, can be against school policies or local regulations.
Top VPNs for unblocking websites at School:
Numerous VPN providers cater to different needs and budgets. Some popular options include NordVPN, ExpressVPN, and CyberGhost. Research and choose a reputable VPN provider prioritizing security and privacy.
B. Proxy servers:
A proxy server is an intermediary server that processes web requests on your behalf. You can access blocked websites by connecting to a proxy server, as the school network only sees the connection to the proxy server and not the blocked site.
When using a proxy server, your device sends a request to the proxy, which then forwards it to the target website. The website's response is returned to the proxy, which forwards it to your device. This process allows you to bypass website blocks by masking the true destination of your web traffic.
Popular proxy server websites:
Several web-based proxy services can be used to unblock websites at school. Some well-known options include HideMyAss, ProxySite, and KProxy. Remember, those web-based proxies may not be as secure as VPNs, and their functionality can be limited when accessing more complex websites.
C. Changing DNS settings:
The Domain Name System (DNS) translates domain names (e.g., www.example.com) into their corresponding IP addresses. By default, your device uses the DNS settings provided by your school network, which may block certain websites.
You can change your device's DNS settings to use alternative DNS servers, such as Google DNS or OpenDNS, which may not have the same website restrictions. This process varies depending on your device and operating system, so look up specific instructions for your situation.
Alternative DNS providers:
Some popular alternative DNS providers include Google Public DNS (8.8.8.8 and 8.8.4.4) and OpenDNS (208.67.222.222 and 208.67.220.220). These providers may offer more reliable and unrestricted website access than your school's default DNS settings.
D. Using the Tor browser:
The Tor network is a decentralized system that routes your internet traffic through a series of volunteer-operated servers, called nodes, to protect your identity and bypass website blocks. You can download the Tor browser from the official website (www.torproject.org) and install it on your device. Once installed, you can use the browser to access blocked websites by routing your web traffic through the Tor network.
Limitations of Tor for unblocking websites:
While the Tor browser can be an effective tool for bypassing website blocks, it does have some limitations. The Tor network can significantly slow down your internet connection due to the multiple layers of encryption and routing. Additionally, some websites may block access from Tor nodes, making it challenging to access certain content. Finally, using Tor might raise suspicions, as it is often associated with anonymity-seeking users and, in some cases, illegal activities. Therefore, using the Tor browser responsibly and primarily for accessing educational resources is crucial.
As a student, it is essential to evaluate each method's effectiveness, potential risks, and ethical implications when attempting to unblock websites at school. Always prioritize online safety, privacy, and compliance with school policies and local regulations. Using these methods responsibly can enhance your educational experience and access valuable online resources without compromising your digital well-being.
Best VPNs for unblocking websites at school
Numerous VPN providers can unblock such websites anywhere globally; it is pretty tricky to know which suits you. Here we are to help you choose the best one. I will review some VPNs that are best at their services.
List of premium VPNs to unblock websites at school.
ExpressVPN

ExpressVPN is on number one trustable VPN on the Virtual Private Network list. Its 3000 ultra-fast servers are spread in 160 locations in 94 countries. This service is easy to use and protects you from DNS leaks, use the kill switch feature to keep your data secure and maintain your privacy.
It uses the 256-bit AES security expert feature to encrypt your data. This VPN uses the split tunneling feature to route your device traffic through a VPN while others access the internet directly; It will never log traffic data or anything else that can identify you.
It also has educational features like trust center Express makes its system hard to breach so attackers can not stay longer. There are minimum chances of risk; it gives you security tips, digital freedom, and internet privacy updates worldwide.
Regarding pricing, ExpressVPN is the most expensive VPN in the market, but it offers monthly and yearly deals and discounts. It special deals for 12 months plus 3 months free trial just for $6.67.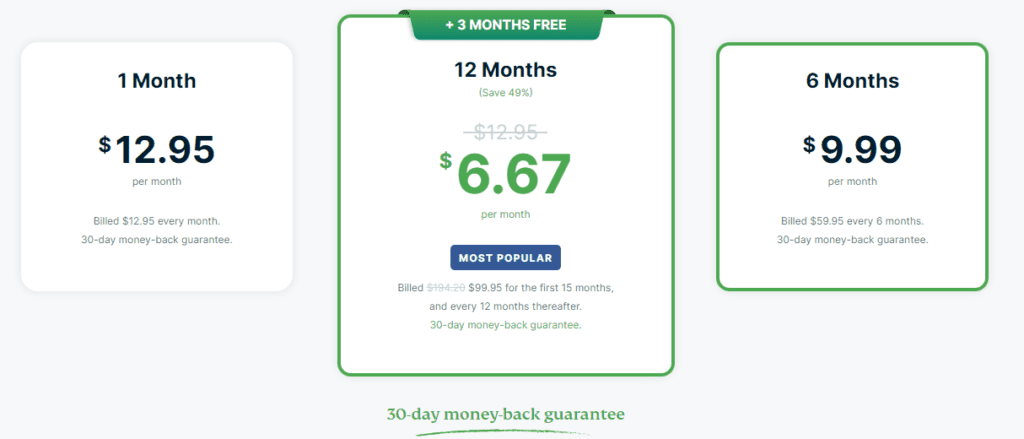 It also offers a 30-day money-back guarantee plan for the first 30 days of your subscription. This VPN has apps, extensions, and smart TV for the top devices, including Android, IOS, Windows, Linux, Chrome, Amazon Fire TV, Roku, Chromecast, etc. You can connect 5 devices simultaneously with one account. ExpressVPN gives you a live chat option, and if you have any quires, you can contact them anytime; they are available 24/7.
Surfshark VPN

Surfshark VPN secures your digital life with its features and services. It has specific apps and websites to bypass the VPN and works excellently with mobile banking apps. This service has 3200 servers in 65 countries, giving fast-speed connection, protocol support, and 100% RAM.
It uses the kill switch to protect your data when your VPN drops the connection, uses the strict no-logs policy, and protects you from DNS leaks. It encrypts your internet activity so that no one can steal your data, uses the no borders and camouflage modes, and gives secure protocols.
This VPN protects your online privacy, hides your location, blocks ads and malware, keeps your searches private, and protects your email address; with this VPN, you can easily use public WIFI. Surfshark VPN is leading in the market because of its honest prices; it is the cheapest VPN with the lowest price is 2.49.
It offers you monthly and yearly plans; you can pay the amount with credit cards, PayPal, Google Play, Amazon Pay, and Crypto; it provides you with a 30-day money-back guarantee plan for all users. They can return within the free trial period. This service secures all the platforms with its VPN app, including Chrome, Firefox, IOS, macOS, Windows, Linux, Fire TV, and Edge.
It gives you connectivity on unlimited devices, and they are available 24/7 for customer support.
CyberGhost VPN
CyberGhost is famous for securing your privacy. It is also the cheapest and most reliable VPN; it has 7697 servers in 91 countries. With its VPN connection, this service gives unlimited bandwidth, fast speed, and throttling from your internet service provider.
This VPN protects your online identity and will give you access to the internet anonymously, use world-class protocols and military-grade AES 256-bit encryption to protect your data, block ads, malware stop exposing you to surveillance and network attackers. You can easily use public WIFI without any fear.
The automatic kill switch feature cuts your online traffic and ensures that your data is never revealed to someone. With the CyberGhost, you do not have to worry about the DNS leak; they use their DNS servers to protect you and the split tunneling feature and strict no-logs policy. You can access websites that you want to without any buffering issues.
This service offers monthly and yearly plans and the cheapest cost; its low-cost plans start at just 2.15 for 3 years plus 3 months and a 45-day money-back guarantee offer; if unsatisfied, you can return the subscription within 45 days.
You can connect 7 devices simultaneously with only 1 subscription. It has apps and applications for all the major operating systems, including Android, IOS, Fire TV, Windows, Linux, Chrome, Apple TV, etc. You can contact them if you have any quires; they are available 24/7.
NordVPN

This VPN protects your identity and sensitive data and takes your cybersecurity to the next level. NordVPN has 5294 ultra-fast servers located in 60 countries. This service gives you unlimited bandwidth and speed, a verified no-logs policy, and customer support 24/7.
It is best to bypass internet censorship; it uses a double VPN feature to give you strong security. NordVPN protects your data with a kill switch, supports split tunneling, and dedicated IP blocks ads and malware protects DNS leaks and hides your internet traffic and VPN connection for maximum security. This service gives your excellent security service with its AES 256-bit encryption algorithm.
It uses multi-factor authentication to secure your Nord account; its browser extension secures your Chrome, Firefox, and Edge browsing. With this VPN, you will forget about the buffering; It is a fast, secure, and reliable VPN, and the feature WireGuard- based NOrdLynx and OpenVPN boost the performance and gives strong encryption.
NordVPN offers yearly and monthly plans with its risk-free trial period and a 30-day money-back guarantee for all unsatisfied users; they can refund it within 30 days. Its plans start from 4.92 per month.

It supports the apps such as Android, Windows, IOS, Linux, and macOS. This service offers you to connect 6 devices simultaneously.
Alternatives of VPN to Get Access to Websites
Some alternatives are mentioned below for unblocking sites, but we won't recommend using these options over VPN.
Google Translate
It is another alternative for unblocking websites at schools. You have to copy-paste the URL of the blocked sites and translate it into any language. Then you receive the translated link of the webpage you are trying to access. When you click on the link, it will unblock websites for you.
Google translate is free of cost, but it will not protect your privacy and data, low-speed connection, and limited unblocking options.
Google Cache
Google cache is free of cost and acts like a proxy for you that maintains the older version of blocked websites. It works like a simple, text-based website that does not require login information.
But the cons of using google cache are that it won't protect your privacy, does not store videos and images, you can not visit the updated webpages, has slow internet speed, and is unavailable for every site.
Wayback Machine
Wayback Machine is an internet archive similar to google cache but a little slower than it. It stores the backup of old versions of any website from anywhere in the world, and When you want to unblock your desired website, you can use it.
Although it won't update you and can not hide your online traffic, you are visible. You can not use it for those sites that require login first.
URL shortener
URL shortener tool is another way to unblock websites. You need to paste the URL of any websites you want to access in the bar from the shortening tool and create a shortened version. Paste it into your browser's address bar. This method is ineffective and does not always work, but you can try it. The URL shortener is not anonymous, does not give you any protection for your privacy, and does not maintain your data.
IP Address
The IP address is used to unblock websites rather than the URL. each site has its associated IP that can use in your browser's address bar. Google's IP is 172.217.10.110; you can write this instead of http://google.com. Both will take you on the same page. You can use this method for any blocked website according to its URL. It would help if you used the IP checker tool to find out the matching IP address of the sites.
This method is only used for the blocked URL. Some websites are built on an IP that diverts you to another page. The IP address can unblock the contents but does not ensure privacy and security, so be careful when using these methods.
Tips for Safe and Responsible Unblocking
While unblocking websites at school can open the doors to a wealth of educational resources, it is essential to approach this process safely and responsibly. The following tips will help you maintain a focus on online safety, privacy, and adherence to school policies and regulations when attempting to access blocked websites.
Understand your school's internet usage policy
Before unblocking websites, familiarize yourself with your school's internet usage policy. These policies outline the acceptable use of school network resources and highlight potential consequences for violating the rules. By understanding the policy, you can make informed decisions about which methods to use and when it is appropriate to access specific online resources.
Prioritize online safety and privacy
When using unblocking methods such as VPNs, proxy servers, or alternative DNS settings, choose reputable providers prioritizing user safety and privacy. Research and select services with a strong track record of protecting user data and maintaining a secure online environment. Additionally, practice good digital hygiene by avoiding suspicious websites, using strong passwords, and keeping your software up-to-date.
Be aware of potential legal ramifications
Unblocking websites at school may sometimes have legal implications, especially if you access copyrighted content or engage in activities that violate local laws. Always consider the potential legal consequences of your actions and ensure that your online activities remain within the bounds of the law.
Focus on educational purposes
Unblocking websites should primarily be used to enhance your learning experience and access valuable educational resources. While it might be tempting to use these methods for entertainment or non-educational purposes, it is essential to remember that the primary goal is to support your academic growth. By focusing on educational content, you can use unblocking methods responsibly and maximize their benefits.
FAQs
How can I get access to the blocked site on school WIFI?
You can get access to blocked sites by connecting to a VPN. I recommend you use Surfshark VPN provider with your required server. It will change your IP address and hide your location. It also protects your mobile data information from everyone on public WIFI.
Does a free VPN reliable for accessing blocked websites?
You can access blocked websites with a free VPN, but they are unreliable. Because free VPN providers have limited servers network, low internet speed, and low technology, you will be in danger if you use these services that constantly ask you to upgrade for advanced features. So it's better to try the premium VPN and take advantage of the advanced feature and their free money-back guarantee trial.
Why does the school block websites?
Schools block these websites so students can not access graphic content like violent images and other irregular things that distract them from their studies and goals and make a lousy impression.
Which is the best option for unblocking sites at school?
The fastest, most secure and easy way to access blocked sites at school is VPN. It will unblock your desired websites, secure your connection, protect your data, and hide your online activities.
Conclusion
You cannot access social websites in school; you can not watch YouTube or anything else to enjoy your free time or avoid boring lectures. The school allows academic sites rather than social sites. But do not be sad; Now you can access the blocked websites at school by connecting with a VPN.
Although there are many options to unblock websites, including proxy, IP address, URL shortened, and many more, we recommend using a premium VPN like Surfshark. A VPN will give you access to blocked sites with advanced features and maintain your privacy and security.
Schools block sites to maintain their environment, so if you are unblocking these sites, please ensure you are not misusing this freedom that can harm you in the future.