Many enterprises are working remotely amid the Covid-19 pandemic. They are using VPNs and Remote Desktops for better encryption and on-time delivery without any discrepancy.
Most of them are yet confused with VPN and RDP. Though they look similar, VPN and Remote Desktop (RDP) are distinctive in many functions.
Let's dwell on an article to understand both of them separately.
What is VPN?
A virtual private network acts as a middleman between your device, the website, and your internet service provider.
It usually performs two essential functions:
Encrypt your data;
Bypass geo-restrictions.
It also provides access to sensitive data without any unauthorized user.
Corporate Intranet VPNs
Employees can connect to a company IP and access files and folders through a corporate intranet VPN. They can use the IP even outside the business premises.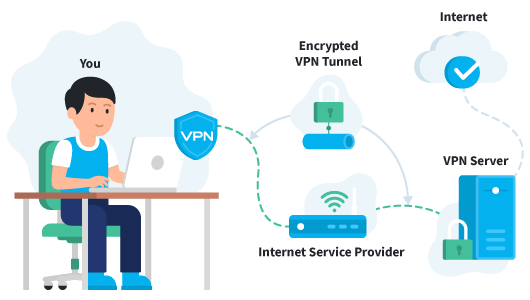 What is RDP or Remote Desktop?
RDP stands for Remote Desktop Protocol, Remote Desktop or sometimes refers as screen sharing.
It is used to access a computer or a device from a remote location, on your computer, no matter where you may be. It gives you remote access to someone's else desktop with an internet connection. This technology provides access to all the programs, files, and other resources on a remote server.
Microsoft originally developed RDP to allow users to access their Windows desktops remotely. Screen, Keystrokes and mouse are transmitted through RDP.
Nowadays, a bunch of remote desktop tools exist. Some of them are:
GoToMyPC;
TeamViewer;
RemotePC;
AnyDesk;
Chrome Remote Desktop.
VPN And Remote Desktop
VPN works by connecting your computer to a VPN server, while RDP creates a virtual connection between the user and the remote computer through an internet connection.
You need to look for some features when comparing VPN and remote desktop. Here we have enlisted certain features that would help you understand both of them better.
Flexibility
A VPN gives you access to the network, while a remote desktop gives you remote access to the entire computer.
If you want to control a local computer, then VPN will not allow you to do that. Unlike VPN, RDP typically enables users to access applications and files on any device, anytime, and over any connection.
Interface
A remote desktop is easy to use. You do not need to install any program for it to function. You need:
A computer;
Internet connection.
VPNs need to be installed through an App. However, the process is as simple as ABC.
Security
Whenever you are using the internet, you need to prioritize security. For these concerns, experts usually recommend VPN over RDP. As per an estimate, amid Covid Crisis, VPN usage in the US alone has increased by 124%.
Initially, RDP had authentication problems, and even unauthorized users could access it. However, a new version of the remote desktop has added encryption and smart card authentication also; it can identify unauthorized users over the network.
Sharing
VPN has a disadvantage when it comes to filing and document sharing. VPN does not compress data, so files are transferred to the internet and the remote server, and the user requires a lot of time and data usage.
Little data passes through RDP. Therefore the requirements for bandwidth are also low.
Printing and Scanning
Printing and scanning can be complex if using a VPN for remote access. Specific firewall configurations are often required—the end-user need to navigate files to enable printing and scanning via VPN.
Accessibility
The most significant advantage of RDP is to have the accessibility of everything from a remote computer. On the contrary, VPN does not provide accessibility for remote computers.
Also, VPNs are cost-friendly, and RDPs are expensive to install.
Monitoring
VPNs are limited when it comes to monitoring data. Due to its no-log policy, most data shows minimal connection time, IP address, and username. RDP can track data on what an employee is doing.
Speed
The connections of RDP are pretty slow. It takes a few seconds gap to write over a remote desktop. VPN is fast and speed-friendly software.
VPN or Remote Desktop: What to Use?
We cannot conclude which is better because both have different functions to play.
A remote desktop is used to access the computer remotely.
VPNs are used to access the network securely by hiding your IP. It also enables users to surpass geo-blocks to access files, folders and websites.
Top 3 Reliable VPNs
1. Nord VPN

Based in Panama, Nord has 5234 servers in more than 60 countries. It is gadget-friendly and can be used for up to 6 devices. Nord has proved itself a complete package for its reliable users, from bypassing geo-restrictions to maintaining anonymity and securing your data.
Along with AES 256-bit encryption, a kill switch and a no-log policy, Nord offers PG Keys, double VPN, Obfuscated servers and multifactor authentication services to add a layer of security for users.
For speed, Nord surpasses your exception. It uses protocols such as NordLynx to prevent ISP throttling and maintain the speed of your connection.
You can get all these features for just USD 3.67/month for two years with a 30-day money-back guarantee and a 3-month free trial.
2. Express VPN

Express VPN is one of the #1 trusted VPNs. It has over 3000 servers in nearly 94 countries and can use up to 5 devices. When it comes to speed, Express is famous for its unexceptional speed. The VPN encrypts your data and prevents ISP throttling. Hence, maintain your speed.
For security and protection, Express has proved to be an unexceptional source. Its updated software, trusted servers, no-log policy, and kill switch are commendable advantages for remote users.
All your data will be encrypted entirely whether you are sharing a file or a folder. Its 24/7 customer support is the cherry on top.
You can avail of its remarkable services for just USD 6.67/month for the first 15 months with a 30-day money-back guarantee and a 3-month free trial.
3. Surfshark VPN

Surkshark, though new in the race, yet getting famous owing to its extraordinary features. Based in the British Virgin Islands, Surfshark has more than 3200 serves located in 65 countries altogether. Guess what! You can get surfshark on unlimited devices with just one subscription.
Surfshark offers AES 256-bit encryption and Camouflage mode to remove traces of VPN over the internet, no-log, and kill switch facilities to its users.
Besides this, surfshark is famous for unexceptional speed with clean web services to maintain speed and anonymity while accessing files and folders through a corporate intranet VPN.
You can get these exceptional services for just USD 2.49 per month for 24 months with a 100% money-back guarantee for 30 days.
Conclusion
I am sure the article clarified some misconceptions surrounding VPN and RDP. Still, if you are confused and want to know more about VPNs, click the link Best VPNs for 2023.