ExpressVPN Review – The Premium & Reliable VPN of 2022
With a virtual private network (VPN), you can get online anonymity and privacy through private network creation from a public internet connection. A VPN can mask an IP address so that any of your online activity is virtually untraceable. When you consider getting a VPN service, rest assured that you will have an encrypted, secure connection for greater privacy.
Speaking of a VPN service provider, ExpressVPN is today's leader in the VPN industry. With more than 3000 servers in over 94 countries worldwide, it's no surprise that it is a trusted name in usability, security, and customer service.
If you are considering an ExpressVPN subscription, this review will help you get more familiar with this leading VPN service provider.
So, let's get started with a Review of ExpressVPN!
ExpressVPN Review
ExpressVPN is a VPN subscription that provides deep anonymity in a user-friendly and intuitive package. This VPN service provider comes with 24/7 live chat support, decent server selection, and nearly universal device support. It covers more than 160 locations in 94 countries and offers suitable VPN solutions for individuals and businesses.
ExpressVPN Overview
In every location, ExpressVPN ensures that multiple VPN protocols are available. Users can choose which VPN protocol best suits their unique needs, IKEv2, IPsec, or Open VPN UDP/TCP.
One of the most notable features of ExpressVPN is the split-tunneling tool. This feature allows you to choose which website or app will use the VPN while ensuring that the media streaming or browsing continues faster. Besides, it is not available in other VPN services.
Pros
Simple and user-friendly interface
Supports OpenVPN protocols
Strong information and privacy security practices
Large fleet of servers
One of the easiest applications to download, install, and use
Allows up to 5 simultaneous connections on a single account
Topnotch encryption with advanced security features
Simple and user-friendly interface
Supports OpenVPN protocols
Cons
Expensive VPN service
The about page has vague company details
ExpressVPN Features
The dedication of ExpressVPN when it comes to privacy is awe-inspiring. It also comes with a diversely distributed fleet of servers, a simple interface, and information security practices.
Below is a list of features that you might like about ExpressVPN.
1. Pricing and Plans
Honestly, regarding pricing, ExpressVPN is among the most expensive VPN services on the market. You can choose from multiple plans, where the cheapest costs $8.31 per month and is a recurring annual subscription.
If you prefer a recurring monthly subscription, a plan costs $12.95 per month. As for the six-month subscription, you need to pay $9.99 per month. While you might find the plans expensive, all the subscriptions allow you to access all the servers of ExpressVPN.
Interestingly, one ExpressVPN account supports up to five devices. If you are connected to the internet router, this VPN allows you to provide more devices with secure and private internet access.
Find the ExpressVPN Coupon Codes Here
2. Connection Speed
This VPN prioritizes speedy service, making it stand out, and many people prefer it. When you use Android, Mac, and Windows, you can run a speed test to get an accurate statistic on latency, speed index, and download speed across the servers.
Meanwhile, their website delivers transparency. This means you can easily see which among the servers has optimal performance for streaming videos. With more than 3,000 servers worldwide, you can always expect fast and reliable coverage.
3. Customer Service
When choosing a VPN service that can match your needs, customer service support should be one of your deciding factors. Good thins; ExpressVPN offers reliable and excellent customer support.
The live chat feature on the ExpressVPN website is available 24/7. In other words, you can get immediate customer support. You can use any mobile device for live chat or connect with the customer service agent for help through emails from within the app.
According to ExpressVPN, they are committed to responding within 24 hours. The good news is that you can get an even faster response. Some VPN service users receive answers to their questions as quickly as 30-45 minutes via emails.
4. Anonymity
This leading ExpressVPN provides innovative methods so that all your identifying data is concealed from purchase up to your daily use. If you are just about to start using this VPN service, mind that it will enforce a strict no-logs policy.
Be aware that the only data it collects is to help ensure you will have a strong user experience. According to the ExpressVPN service provider's privacy policy, they will only collect the total amount of data being transferred daily, the choice of VPN server location, dates when connected to the VPN service, and apps and app versions activated.
To ensure complete anonymity, the VPN features DNS and IP leak protection. It forces all DNS requests over the IPv4 protocol, making it a safer method than the newer IPv6. As you share servers with other users, you can increase anonymity.
This VPN allows you to access the website's .onion version using the TOR browser. If you want to use Bitcoins as a form of payment, accessing the service is virtually untraceable to your real identity or location.
5. Encryption
As ExpressVPN uses military-grade encryption, rest assured that all your data is always safe. In the OpenVPN protocol, the AES-256 bit encryption is the default. This level of encryption is highly recommended if you want to avoid government censorship.
Using the 4096-bit SHA512, the authentication is well-executed. To have perfect forward secrecy, it issues a new key every time you connect with the VPN service or every 60 minutes.
Besides the UDP and TCP support for OpenVPN, it also offers encryption via the PPTP, L2Tp/IPsec, and SSTP protocols. The process is straightforward if you want to switch from one protocol to another. You can use the app's automatic selection if you have no idea which one to use. It chooses the best option according to security and speed.
6. Connectivity
In the premium VPN service, you can enjoy an impressive level of compatibility. ExpressVPN is compatible with many devices through the router app, browser extensions, and native platform apps.
Express VPN supports Blackberry, Linux, Android, iOS, Mac, and Windows operating systems.
As for the major web browsers, it supports Safari, Firefox, and Chrome.
The media streamer feature supports console and streaming systems such as PlayStation, Xbox, AppleTV, and Amazon FireTV.
Related Article: ExpressVPN vs. SurfShark
Security Features of ExpressVPN
In a VPN, security, anonymity, and encryption are among the essential aspects. The good news is that ExpressVPN apps have other security features that you may find helpful.
Router Support
For secure home protection, ExpressVPN supports different router models and brands.
Virtual Servers
ExpressVPN utilizes several virtual servers. Although they are not as safe as the physical version, these servers still add an extra security layer.
Split Tunneling
This security feature allows you to choose which data you want to run through the VPN. It's interesting to know that ExpressVPN is among the few premium VPN service providers that offer this type of security feature. Additionally, this feature is beneficial for business owners.
Run On Startup
Using this feature, you can set the ExpressVPN apps to connect on your system startup. This means you are protected once you turn on the device. This feature is available on all devices.
Kill Switch
With the help of the kill switch feature, connecting the internet connection to the VPN is possible. If the ExpressVPN connection is lost, this feature will cut the internet connection to avoid leaking unencrypted data. This also ensures that your identity will not be revealed.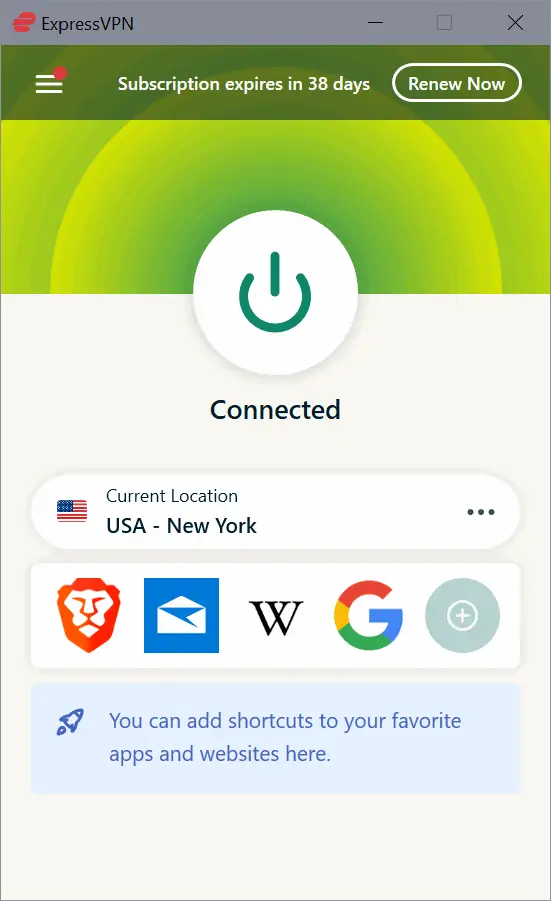 What are the benefits of ExpressVPN?
Aside from the exciting set of easy-to-use features mentioned above, it's also an excellent idea to know what benefits you can get from this VPN service.
User-friendly Experience
You will find both the mobile and computer apps of ExpressVPN user-friendly. You need to click the big button; you are effortlessly connected. ExpressVPN does not require you to change the servers within the settings page. Instead, you just need to connect to the servers using the start screen.
Five-minute Setup Process
You can purchase, install, and activate the ExpressVPN software in a few minutes. This software is one of the easiest VPNs to get up.
Simultaneous Connection
Exp VPN service allows you to use up to five devices simultaneously. Besides, you are free to install it on as many devices as you want.
30-day Money Back Guarantee
Unlike VPNs that offer 3-7 day free trials, VPN Exp requires an upfront payment. On the bright side, it offers a 30-day money-back guarantee. If unsatisfied with their service during the 30 days, you can contact the company and get a full refund with no questions.
Final Thoughts
Making transactions or surfing the web on an unsecured Wi-Fi network can expose your browsing habits and private information. Good thing, ExpressVPN provides top-of-the-line security, anonymity, and encryption. It comes with several exciting and useful features. While it is not a cheap VPN service, you can expect a reliable and secure service.