SurfShark VPN Review – The Best VPN for Streaming
Millions of people use VPNs to retain their privacy and unblock streaming sites in geo-restricted regions. VPN masks your IP address and assigns you the server's fake IP to show traffic from the VPN server rather than your computer.
Many VPN service providers keep introducing different VPN services to netizens; however, they are not up to the pace. Only some have retained their place, being called the best VPN. Surfshark VPN is one of them.
Along with military-grade encryption, Surfshark has over 3000 servers and tons of features for the ultimate satisfaction of its valuable customers.
Surfshark's staunch policies against keeping any log are pretty impressive regarding privacy. For security, it has commendable features against snoopers and cyberhackers.
Surfshark can unblock as many geo-restricted sites as possible, be it Disney Plus, Netflix, Hulu, or more, with exceptional speed. Since its inception in 2018, the VPN has reached sky-high, breaking all barriers and serving thousands of customers.
To check what Surfshark can do, let's scroll down.
The price of SurfShark is well-balanced with its excellent set of features and unlimited devices per account. It may be a bit heavy to others, yet the quality is guaranteed. This VPN has the necessities needed for improved browsing and other uses, and all of these will be yours for only $2.21.month. Choose and rely on this VPN to experience the best features and other services. If not, it is all your loss.
SurfShark VPN Overview
While VPNs are considered a powerful tool, they still don't have enough capacity to secure your privacy concerns. Thanks to SurfShark, which has more than 3200 secure and privacy-protected servers worldwide. Surfshark offers excellent money value. One example is unlimited devices in one account, wherein companies will cut you off after five connections.
Pros
Unlimited device connections
Well designed app
Strong privacy policy
Top-notch security
Geo unblocking sites
Highest speed
Cons
Clean web and kill switch doesn't work on browser extension
Shared IP
High prices
Features of Surfshark VPN
1. Server Locations
The distribution of geography is considered a matter since different locations worldwide must choose the closest to one's location, even when traveling. This helps and provides them with more options to spoof locations. Connected to this, Surfshark has 3200 servers within 64 countries, which is above average.
More servers mean better speed. It also helps you to stream better by unblocking restricted websites.
Most of Surfshark's VPN servers are in the US, spread over 23 locations. The US has the most TV channels. This helps you to stream US-based content easily. Surfshark also has servers in Europe, Germany, France, Canada, India, etc.
Surfsharks servers are also located in some strictly censored countries. These countries have the most robust data surveillance policies and even illegalize VPN use. Many free VPNs cannot work in these countries. However, Surfshark does.
For example, South America and Africa regions are provided with above-average coverage by Surfshark despite being ignored by others. Surfshark offers servers to countries with repressive internet policies, such as Vietnam, Turkey, Russia, and China. Following this excellent example, Surfshark must be done by its competitors.
Servers and Their Locations
Surfshark has 3200 servers in not less than 65 countries.
Europe:
| | |
| --- | --- |
| Albania | Austria |
| Belgium | Bosnia and Herzegovina |
| Bulgaria | Croatia |
| Cyprus | Czech Republic |
| Denmark | Estonia |
| Finland | France |
| Germany | Greece |
| Hungary | Iceland |
| Ireland | Italy |
| Latvia | Luxembourg |
| Moldova | Netherlands |
| North Macedonia | Norway |
| Poland | Portugal |
| Romania | Russia |
| Serbia | Slovakia |
| Slovenia | Spain |
| Sweden | Switzerland |
| Ukraine | United Kingdom |
The Americas:
| | |
| --- | --- |
| Argentina | Brazil |
| Canada | Chile |
| Colombia | Costa Rica |
| Mexico | Paraguay |
| United States | |
The Middle East and Africa:
| | |
| --- | --- |
| Israel | Nigeria |
| South Africa | United Arab Emirates |
Asia Pacific:
| | |
| --- | --- |
| Australia | Azerbaijan |
| Hong Kong | India |
| Indonesia | Japan |
| Kazakhstan | Malaysia |
| New Zealand | Philippines |
| Singapore | South Korea |
| Taiwan | Thailand |
| Vietnam | |
Virtual Locations
With physical servers, Surfshark also has virtual locations in Chile, Costa Rica and Argentina – countries where VPN services cannot operate due to political instability. If you are connected to these locations, you are connected to the physical servers outside the region. However, your ping may be affected because data travels through physical servers.
Multihop
Whitelist and Multihop are remarkable services offered by a few VPN service providers. Both are considered powerful tools in VPN. It might not be used daily, yet it helps justify the high price of Surfshark. Data passes through a series of servers for double encryption in its multi-hop servers and adds an extra layer of protection.
At a time, you can connect the USA and France, precisely two opposite regions. You must have been thinking about the speed because if data passes through two or more servers, the pace may be affected.
This is not exactly the case with Surfshark. It uses industry-leading protocols for speed and is spread over 65 locations, giving the VPN an edge in speedy connection.
Static IP Servers
Static servers offer static or the same IP address, which means you retain the same ID whenever you connect. This saves you from CAPTCHA checks and verifies your identity if you sign in to any platform. Surfshark offers static servers in :
The United States of America
The United Kingdom
Germany
Singapore
Japan
Unlike NordVPN, Suefshark does not offer dedicated IPs to be purchased. Instead, it allows customers to use its static servers for free. Many people ask questions about the privacy and security of static IP addresses. Multihop servers are specially designed to serve the security purposes of static IPs.
2. Unlimited Simultaneous Connections
Free VPN servers do not provide simultaneous connections or connections with an unlimited number of devices. Similarly, many paid VPNs have limited device connections. However, Surfshark is different from all of them and takes the lead.
The makers of Surfshard understood the value of anonymity for you and your entire family and friends. They are least concerned about money and more about security. Therefore, Surfshark offers unlimited simultaneous connections.
Opposition work is to harm the credibility of the VPN. Many alleged Surfshark for its high prices but forget what the VPN offers at such a value.
Device support
Surfshark has comprehensive coverage of operating systems and devices. It works on Windows PC, Mac, Android TV, android app, iOS, and Linux etc. However, using Surfshark is a bit trickier on smart TVs.
3. Speed
Surfshark VPN is using WireGuard- an industry-leading speed protocol. Its speed is 550-700Mbps on UK and US locations.
Download Speed: Download speed refers to how fast you receive data from your connected server, e.g., loading web pages or video streaming. Surfshark has exceptional download speed.
Upload Speed: Uploading speed is how fast you send data to the server by posting on social media, video calls, emails, etc. It works well even if you are doing all the mentioned activities.
Gaming Speed: If you are playing any game, consider the ping. Games such as PUBG, Free Fire, and Counterstrike require high ping. Surfshak has all the qualities and proved to be the best VPN for gaming, too.
You may also conduct various speed tests before and after installing Surfshark on your device.
4. Protocols
Some of the beneficial protocols that need to be considered while writing a Surfshark VPN review are:
Open Protocol: OpenVPN is quite famous for its speed reputation. It can be used in Linux, Windows, iOS, and Android. It is an open-source protocol. OpenVPN is also designed to perform security tasks by creating an SSL encryption tunnel between your device and the Internet Service Provider.
WireGuard Protocol: WireGuard is also an open-source protocol but with incredible speed than any other protocol. Surfshark has WireGuard for Android, iOS, Windows Apps and macOS.This protocol also improves security without making you vulnerable to security theft.
IKEv2: The IKEv2 protocol is the default for macOS and other platforms except for Linux. It is specially designed to provide better service for long-distance servers. These protocols work well if you connect through mobile.
Shadowsocks: Shadowsocks is a well-encrypted proxy helping people living in high-censored areas overcome internet restrictions hurdles such as China, Russia, Qatar and Azerbaijan. These countries have already blocked VPN connections and illegalized VPN use. Shadowsocks is available for Android and Windows; however, you must set it manually on Mac and iOS devices.
5. Unblocking Capabilities
Surfshark can unblock as many sites as possible. It can unblock Netflix, Disney+, BBC iPlayer, Tubi tv, Kodi, YouTube, HBO Max and many other streaming platforms. It can even unblock these sites in notoriously powerful geo-blocked countries. Read more about streaming VPNs here.
NoBorders Mode
Surfshark's no-border mode is specially designed to bypass geo-restricted from highly censored areas. No border feature can detect technologies blocking VPN connections and automatically connect you to the best server available in a restrictive region.
No Border Mode can be activated on Android smartphones, iPhones, tablets, windows etc. What you need to do is :
Navigate settings
Go to advance
Activate No Border Mode
6. Privacy
Free VPN providers should not be your choice at any cost. Do you know why? Most free VPN service providers monetize their accounts by selling your data to third parties as advertisers, putting you vulnerable to data theft and cyber surveillance. Therefore, we always recommend paid VPNs having staunch privacy policies and security features.
Generally, Surfshark VPN provider is famous for retaining netizens' privacy and digital anonymity. This is why you can even break the "Great Firewall of China" by using Surfshark servers. (Read more about hiding IP addresses.)
As per Surfshark's privacy policy:
"We're based in the British Virgin Islands, which allows us to keep our VPN logs free. We don't collect any information that could lead us to know who you are or what you're up to online."
Cleary Written Policies & Terms and Conditions
For any VPN, clear terms and policies are essential to understand the privacy policy of a VPN provider. This is obvious because we are downloading VPNs to retain our privacy. Surfshark does appreciate our concerns. Its privacy policy and terms and conditions are more readable and self-explanatory, even for laymen.
You do not need to use magnifiers to read its policies. Its approach stresses the masking of IP addresses, no-log policy; data Surfshark will keep, data it will not hold, etc. Read carefully before heading to any purchase.
Related Article: SurfShark VPN vs. ExpressVPN
Strict No-Logs Policy
Many reliable VPN service providers have stringent no-log policies. Surfshark VPN is one of them. Its service provider has pledged not to keep any log or data tracking for future use. This would save your data from being surveilled by any other third party or surveillance agency.
What Surfshark Keep
Collect and store your email address.
Passwords (encrypted)
Basic billing information
Order history
Diagnostic reports
Even if you are not comfortable giving this information, you can create another account not carrying your name and use other anonymous payment methods like cryptocurrencies to hide your original identity.
What Surfshark Doesn't Keep
Collect IP addresses
Browsing history
Other information
Unblocking streaming sites
Bandwidth amount
Camouflage Mode
Camouflage mode is also known as obfuscation. Surfshark's camouflage, Mofe or obfuscated, hides the footsteps of your VPN usage. What happens is that no matter how much you try, an internet service provider can detect that you are using the VPN. You will be imprisoned immediately if this information goes out in any VPN-restricted country.
Therefore, Surfshark has come up with a solution. It's designed it's camouflaged more to hide the usage of VPN from your network. In highly censored countries, it is a valuable feature. By using this feature, without your ISP or other surveillance, government agencies cannot detect whether you are using a VPN or not.
You can also use Camouflag mode to bypass firewalls while using Public wifi. Some public wifis block using streaming sites like Netflix or Dark Web. No worries, you can unblock these sites by using a VPN, and obfuscation will protect you from showing any traces of it.
You can automatically enable the mode by connecting with the OpenVPN protocol on any device.
Location — Outside the 5/9/14 Eyes Alliance
Why does the location of the VPN matter? Becasue VPNs located in non-member countries of surveillance organizations are highly recommended.
Many countries are a part of surveillance organizations such as 5/9/14 Eyes. They track the data of their citizens to curb terrorism and money laundering. In such a country, you can never, at any cost, keep your digital anonymity because, at all times, your data is on track.
However, VPNs located in non-member countries of surveillance organizations are preferred the most. So, Surfshark's headquarters is located on the British Virgin Islands, a non-member of surveillance agencies and outside forms any jurisdiction of data retention laws.
No government or agency can force Surfshark to collect or share data with anyone.
Warrant Canary
Warrant Canary is a statement that declares if any organization has taken any order or request from the government to perform any specific function. It is a web page you can visit to check if Surfshark has ever received any court order to share data or not.
Warrant Canary is valuable to retain privacy and urges customers on Surfshark's staunch no-log policy. Surfshark keeps on updating its page for a better understanding of its clients.
Independent Audits
Third-party auditing firms conduct audits of Surfhsark. By performing this activity, Surfshark retains and gains the trust of old and new customers. I read its 2018 audit reporting, in which Surfshark claimed to pass an independent infrastructural audit.
Cure53- a German-based cybersecurity company, performed the audit. Cure53 has independently audited its browser extension add-ons for Chrome and Firefox.
7. Security
As far as security is concerned, Surfshark will surpass all your expectations. Surfshark provides top-notch security to its valuable clients through its well-versed protocols and commendable features. Do not be hesitant while using Surfshak. All your activities are secured from each side.
Military-Grade Encryption
Surfshark has military standard AES 256-bit encryption. It creates a secure SSL tunnel between your device and the internet service provider.
Surfshark hides your IP by assigning you a fake IP through which you can surf anonymously and unblock as many sites as you want just by getting the IP address of that country.
RAM-Only Servers
Many VPN service providers use hard drives, which retain data until erased manually or written over. However, many reliable VPNs such as Express, Nord and Surfshark use diskless servers or RAM on their servers' software.
RAM requires power to retain data. With every power drop, it loses the saved data. This is precisely what a VPN wants—not keeping any data at any cost.
Surfshark's diskless servers automatically wipe out entire data when you switch off the internet. This keeps you safe and sound from cyber breaches.
Leak Test Results
Leaks can threaten your security and online privacy. A third-party agent, such as a hacker, advertiser, or snooper, can sneak into your activities and create severe issues for you. Some of the leaks are:
DNS leaks
IP address leaks
WebRTC leaks
Surfshark protects from all kinds of IP or DNS leaks. Recently, Surfshark has been offering protection from IP leaks of the IPv4 stack. IPv4 is the most frequently used IP address. IPv6 is a new format, and the chances of leaks are slightly high because, currently, Surfshark does not support IPv6 format.
2 Factor Authentication
2FA adds more security to your device. While accessing Surfshark's account, you will get a temporary code through email for two-sided verification to ensure that the same person is accessing the account. It requires simple steps to follow.
Go to Account setting.
Turn on 2FA
Set authentication either through Google Authenticator or email
Scan the QR code or write the code
2FA will be activated.
Automatic Kill Switch
The kill switch feature is more like a connection barrier. Sometimes, your connection from the server drops. In this case, your data is vulnerable to cyber theft. This is where the kill switch comes to play its role. It temporarily drops your internet connection if, in any case, you lose contact with the VPN server.
This can save your traffic from any leak. Also, once the connection is stable, the kill switch reconnects you with the internet traffic. It doesn't work automatically, and you need to navigate it manually.
Clean Web
A clean web protects you from cyber attacks. It blocks malicious ads, scareware, trackers and phishing spam. It can also prevent sites using WebRTC and DNS leaks.
Through Clean Web, you can block ads on Google and other search engines such as DuckDuckGo.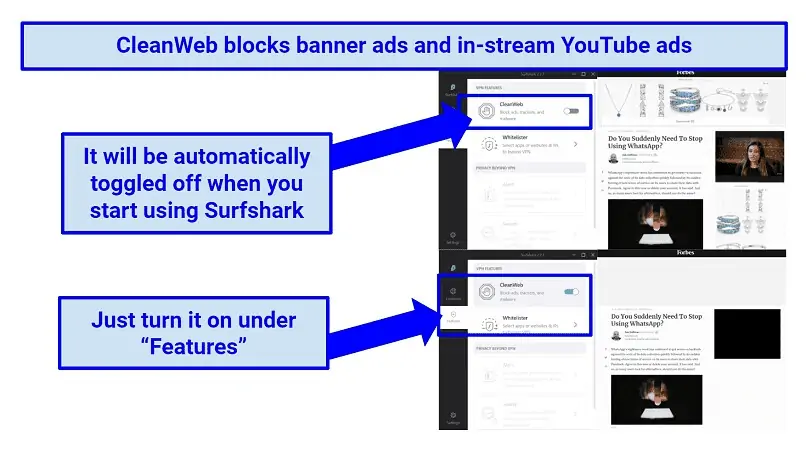 Protecting Trust DNS
Trust DNS is a free app that helps you to change your DNS. You can access any website blocked at the DNS level, as in China. However, it is nearly unprotected. So, Surfshark can protect you and encrypt Trust DNS, too. You have to download Trust DNS on iOS or Android devices.
Onion Over VPN
Onion browsing, or TOR, is used for anonymous searching on the internet. Through onion routing, you can even access dark webs without any issues. However, it is free and cost and is vulnerable to data breaches. Therefore, the Surfshark VPN service provider also protects your onion browsing.
8. Additional Features
Whitelisting
Some websites or apps do not work with VPN. Surfshark offered to allow listing or split-tunneling options to handle such situations. You can now add such websites and apps on split-tunnel, which means these won't pass through a VPN tunnel and work without a VPN.
Surfshark Alerts
Beyond everything, Surfshark has some other features designed explicitly for valuable customers.
Through Surfshark alerts, you get immediate notifications regarding any new activity or data breach in your account.
You can also get security reports through Surfshark alerts for breach detection.
Safe & Fast Torrenting
Surfshark is doing quite well, whether it's P2P sharing, download speeds or streaming services. All its servers support peer-to-peer file transfer except in those countries where torrenting is not allowed. Whenever you open any torrent client like uTorrent, BitTorrent, Kodi or any other transmission site, Surfshark automatically connects you with P2P-optimized servers.
9. User Friendliness
Among many, one of the Surfshark's features is that it is user-friendly. Surfshark is easy to use. The app is simple and interactive. Similarly, the layout is identical on all operating systems, which means you do not need to invest more time learning Surfshark on every different device. The app is available in 15 languages: English, German, Japanese, Chinese and so on.
10. Setup & Installation
Getting along with the Surfshark app is relatively easy and enjoyable, too. First, you can set Surfshark on any device, be it Windows, Android or any other operating system; it is easy to download and install without hectic procedures.
You need to follow simple steps to install Surfshark on your device, which are:
Visit Surfshark's website
Choose a plan
Create an account
Enter your credentials and payment details
Get approval
Download the app
Add browser extension (if you want)
Enjoy browsing
11. Customer support at Surfshark
Surfshark has commendable customer support. Without this, the Surfshark VPN review will not make sense because many people are unaware of technology-related dictions. So, in case of difficulty, they need someone to support them technically.
For your better understanding, Surfshark has
Video tutorials
Articles and blog posts
Still you are still facing the same issue, you can use their 24/7 support through:
Live chat
Email
Above all else, you will not counter any issue using Surfshark because the VPN is user-friendly.
12. Pricing of Surfshark
Many people complain about Surfshark's high prices. Charging less than 3 dollars, I don't think, is a high price at all. Still, if you consider, look at the facilities and privileges it offers.
Unlimited connections, add-on, tunneling, ad blocker and many more facilities in just a few dollars. Do consider the level of security it is assuring. Such features have always added value to the cost.
Its price distribution is as follows:
Yearly Plan
You can get Surfshark at $2.21 per month for 24 months. The plan includes a 3-month free trial and a 30-day money-back guarantee.
Monthly Plan
If you do not want to keep attached for the longer-term commitment, buy a 6-month plan. The plan costs $6.49 monthly with a 30-day money-back guarantee and a 7-day free trial.
1 Month Plan
Those only interested in monthly payments can subscribe to Surfshark's monthly plan. You will charge $12.95 monthly with a 30-day money-back guarantee and a 7-day free trial.
SurfShark One
Surfshark One is a complete package for your internet security. You can avail of it on the "24 months package" by paying an extra $1.49 every month, making the actual cost of $2.21+$1.49 = $3.70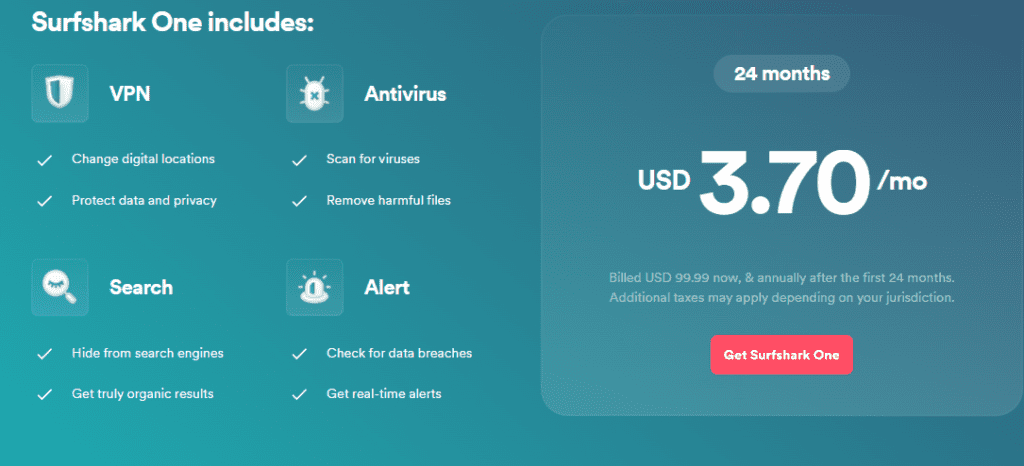 13. Payment Methods
Surrfshark has various payment options. You can pay through:
Credit cards
Visa
Discover
Amazon Pay
PayPal
Google Pay
Cryptocurrencies
Bitcoin
Ripple
Ethereum
1 Minute SurfShark VPN Review
| Features | Surfshark VPN |
| --- | --- |
| User Rating | 4.60 |
| Total Servers | 3200 |
| Number of Devices | Unlimited |
| Speed | Excellent |
| Security | Excellent |
| Protocol for Android | WireGuard, OpenVPN, IKEv2 |
| Protocol for macOS | WireGuard, IKEv2 |
| Protocol for iOS | WireGuard, OpenVPN, IKEv4 |
| Protocol for censored countries | Shadowsocks |
| Adblocker | Yes |
| Kill switch | Yes |
| Torrenting | Yes |
| Split Tunneling | Yes |
| Uptime | 99.90% |
| Customer Service | Excellent |
| 24 months plan | $2.21/ month |
| 6 Months Plan | $6.49/ month |
| Monthly Plan | $12.95/ month |
| Money-Back Guarantee | 30 day |
| | |
FAQs
Final Verdict
Although Surfshark is not the first VPN service, it is something unexceptional. The perpetual growth of Surfshark in a short span of 4 years is incredible – evident in how well Surfshark is serving clients. From privacy to security, speed to device connection, and add-on features, Surfshark is breaking all hurdles of digital insecurities.
Surfshark VPN is a complete package for those concerned about digital privacy, security and anonymity. We tried our best to give you the most authentic picture of Surfshark VPN. We covered all its aspects, good and bad points and cleared all opposition allegations.