BigCommerce Review – The Best eCommerce Platform
In today's modern generation, an eCommerce builder is an essential tool for the growth of businesses. However, there are lots of eCommerce platforms in the market. You can be unsure which one is right for your needs. Among the top eCommerce platform is BigCommerce. Is this the best eCommerce platform for your store? Find out with this BigCommerce review.
BigCommerce Review
Name: BigCommerce
Description: In this review, we provide a list of the advantages and disadvantages of BigCommerce to make the right decision. Discover if it's the right builder for you by knowing its benefits and drawbacks below.
BigCommerce Overview
BigCommerce is one of the top eCommerce builders in the market today. It was founded way back in 2009 by Mitchell Harper and Eddie Machaalani. They support retailers worldwide from their offices in Austin, San Francisco, and Sydney. They already processed over $9 billion from online transactions and support lots of stores. It was developed to help businesses grow by establishing a professional eCommerce store
Deisngs & Templates

Security & Reliability

Shipping & Payment Apps

Multichannel Selling
Pros
Customized design with 100+ Free & Paid templates.
User-friendly customization tools for editing and product handling.
BigCommerce offers 15 days Free Trial.
It offers SEO features to rank higher on search engines.
200+ add-ons in app section.
Amazing HTML editor with CSS edit feature.
Built-in blogging feature to create SEO friendly content.
Cons
Beginners may encounter difficulty with its complex terminology.
The advance features of the platform can compromise its easy usability.
Some complaint about its poor customer service, they don't have 24 support on Sundays.
Features of BigCommerce Builder
As a leading eCommerce platform, BigCommerce is loaded with excellent features. Let us discuss these features below.
Perfect eCommerce Builder For Various Product Types
One feature of BigCommerce is that it lets you sell different products, including physical, digital, as well as service-based products. There's no need for you to use any app to sell these products.
Reliable Security
You don't need to worry because using BigCommerce for your store can offer you excellent security. It has an SSL security certificate that encrypts user data for safer online payments.
Shipping Options
The eCommerce builder has many shipping options. It can provide you with free shipping, real-time shipping quotes, and print shipping labels. It also comes with more innovative shipping tools. You can enhance customer experience through the in-store pickup, shipment tracking, and next-day delivery. You can handle your shipping in a single central hub.
Easy Payment Process
You can have a hassle-free experience with BigCommerce. You can choose a payment gateway that is convenient for you without additional transaction fees. With this eCommerce platform, you can enjoy more than 65 integrated payment gateways like Adyen, Stripe, Amazon Pay, Apply Pay, Square, and more. It provides mobile payments, single-click set up and supports different currencies.
Apps
You can select from more than 600 apps as you use BigCommerce. It has in-house features that allow you to have a responsive eCommerce store.
Abandoned Cart Recovery
It also features an abandoned cart recovery option. So, you can send an automated email to bring your customers back to their purchase if they desert products in the cart at checkout. You can send discount codes and personalize emails.
Multichannel Selling
BigCommerce also has multichannel integrations. You can sell your products on channels such as Pinterest, Facebook, eBay, Instagram, Amazon, and more. Additionally, you can also monitor your sales with data reporting tools. You can trace your store's performance, follow conversion rates, and more.
Pricing plans of BigCommerce
This platform comes with 4 pricing plans that you can choose from for your specific needs.
Standard plan – most affordable plan at $29.95 monthly
Plus plan – the most popular plan of BigCommerce, starts at $71.95 monthly
Pro Plan – This plan starts at $224.95 monthly and can offer more scalable features
Enterprise Plan – this plan comes with custom pricing and the most advanced plan
They also have 15 days of free trial to try the eCommerce builder's features. With this, you can try its features before you decide to purchase their plans. You can choose the right plan for your business and your budget.
Benefits of BigCommerce Platform
The following are the benefits of choosing BigCommerce for your business.
Customized Template Designs
If you want to stay at the top of the competition in your market, you need to have a professional online store. Fortunately, BigCommerce offers more than 100 themes, wherein 12 are free and more than 100 paid themes. These paid themes begin at $145 to $235. You can also preview your chosen theme and change it anytime you want. The themes offered are mobile responsive to reach your target audience on different devices.
Reliable Customization Tools
You can also be satisfied with the platform's customization options. They have Store Design, which provides you with an easy customization experience. This tool allows you to choose the page sections and customize them on your site. You can manage everything in your store from the number of featured products, color background, navigation arrow color, logo positions, and more.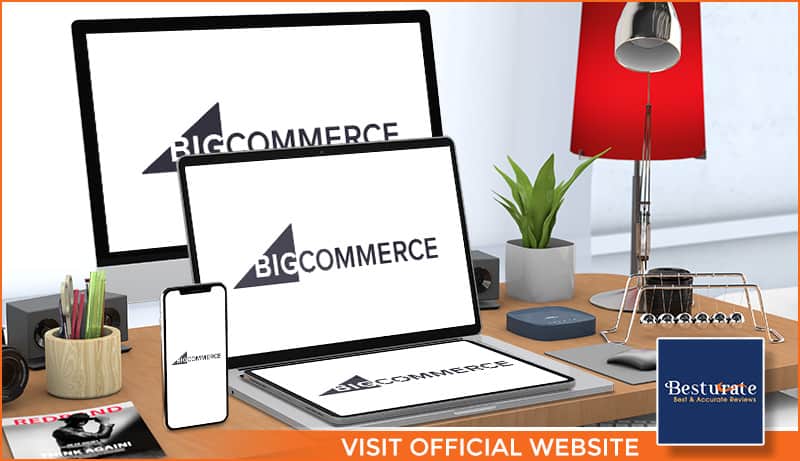 Good Customer Support
If you experience issues while using the platform, you can rely on their customer support. Their support can depend on your chosen pricing plan. Their standard plans offer live chat and phone support on a 24/7 basis. They also provide email support, video tutorials, and their BigCommerce Help Center.
Free Trial
BigCommerce offers 15 days free trial. You can also request a demo to view how the platform can improve your online store.
SEO
BigCommerce also offers an SEO feature so your brand can rank higher in every search engine. The SEO options allow you to tweak metadata, URL structure, keywords, and product description.
Easy To Use
It is easy to use so that you can enhance your online store hassle-free. It has excellent customized site templates and essential tools for conversion and marketing. It also has 99.99% uptime and a yearly conference on eCommerce.
Over 200 Add-ons
One unique feature of BigCommerce is that it offers over 200 add-ons on its app section. The apps include mobile, merchandising, B2B wholesale, marketing, and sales channels.
Secure
The eCommerce builder is PCI DSS compliant. It also comes with 256-bit SSL encryption for a high level of security. So, you have peace of mind that you can make safe and secure transactions through your eCommerce store.
HTML Editor
The platform has an HTML editor that allows you to create a professional and appealing site. You can also access raw CSS files if you like to make in-depth custom layout edits.
Discounts, Coupons & Product Reviews
BigCommerce also offers discounts, coupons, and product review features. Discounting and coupon options enable you to encourage more buyers for your product. It can also give your customers special deals like gift certificates. Additionally, the product review tools can be helpful for the promotion of your site if your customers have positive feedback and shopping experience.
Blogging Options
This builder also has a built-in blogging feature. So, you can make blogs without purchasing a premium content management system. With its administration panel, you can easily access header tags, metadata, URLs, and titles to customize your blog. You can even make SEO-friendly content.
Frequently Asked Questions
Is BigCommerce worth choosing for your business?
Yes, BigCommerce is worth it for your business. It can help you create a professional eCommerce store. It has functional features, so you can tailor your site however you want. The budget, time, and effort you invest in this eCommerce platform are all worth it. It is also secure and offers outstanding customer support.
Who should use BigCommerce?
BigCommerce is perfect for freelancers, small and mid-sized startups, and large businesses. If you want to start selling your products online, this platform can be your best choice. If you're a blogger, this platform can help you attract more audiences to your site.
Does it offer excellent security?
If you want greater security for your online store, BigCommerce will not fail you. Thus, it comes with 256-bit SSL encryption and PCI DSS compliance. You can make secure transactions with your customers. You will not be disappointed because it can protect you from scams and other security threats.
What are the features of BigCommerce?
As we mentioned above, BigCommerce has impressive features that can benefit your online store. Some features include tools for payments and shipping, built-in SEO, customized templates, B2B eCommerce solutions, a single dashboard for product listing management on your site, and other channels like eBay, Instagram, Facebook, and Amazon.
Does it offer excellent customer support?
Yes, they can offer you reliable customer support for your concerns. Their friendly team will give you an instant response to your needs. They provide live chat and phone support on a 24/7 basis. Their team also offers email support, video tutorials, and their BigCommerce Help Center.
Conclusion
BigCommerce can be your best eCommerce builder. It has more functional features that can help you build your online store. The platform is perfect for increasing the recognition of your brand online. It offers reliable customer support, so you get an immediate response from its team if you encounter any problem while using the platform.
It also has a different pricing plan you can select from to match your budget and needs. It is easy to use and offers good value for your money. If you want a practical but quality eCommerce platform, BigCommerce is the best solution. This good investment can help improve your business online. In addition, it also comes with efficient tools that can enhance the customer experience.
Start building a profitable eCommerce store. What are you waiting for? Choose BigCommerce now!