In 2020, the American Federal Bureau of Investigation warned to remain cautious while using hotel wireless networks. With their concern, you can understand the severity of the issue.
If you are flying abroad, you must be staying at the hotel. To share pictures of your trip or connect your loved ones, you may be using public Wifi, but do you know public Wifi is not safe.
Hotel Wi-FI networks are often completely open, requiring only a room number, code, or click-through to access the Internet. The unsecured wireless network may risk your data to cyber theft.
More alarmingly, recent reports are kept warning people that hotel Wifi is being targeted by hackers and data thieves. There are even some elite hacker groups DarkHotel and APT28 that target the hospitality sector solely.
You do not need to worry. The article will describe ways to protect yourself and your data while using the hotel's wifi.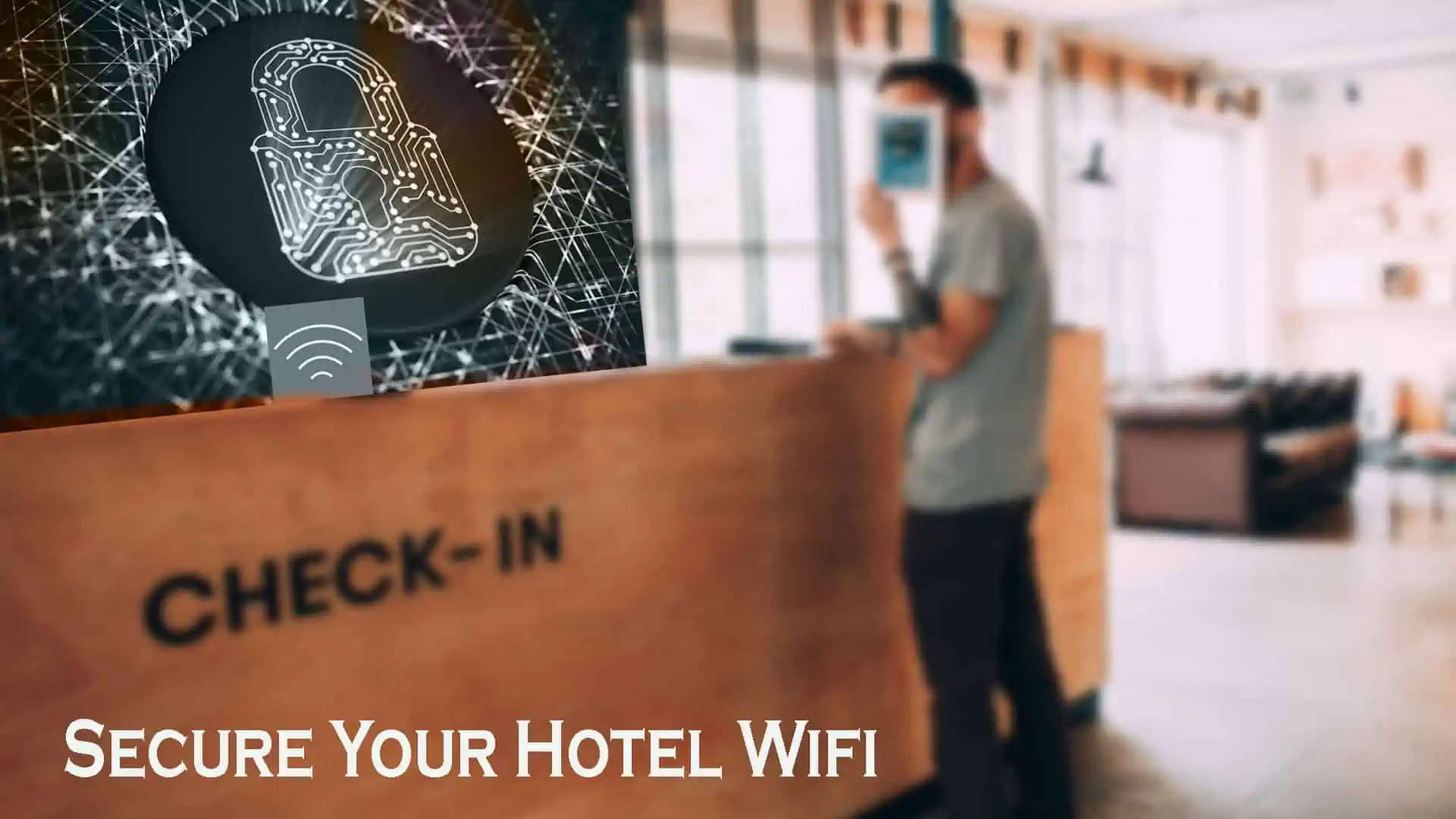 What Makes Free Public Wi-Fi Risky
You have landed in the hotel room at your destination but do not relax while using hotel WIfi; it is not secured at all. Snoopers are everywhere, and they must have been sneaking into what you have been doing all the time.
In 2017, Russian hackers used NSA's tool EternalBlue, to spy on guests through their hotel's WiFi.
The purpose for hotels to provide you free internet is to make you stay in a peaceful and pleasant environment to retain their goodwill. They bother relatively more minor about the cybersecurity of their guests. Nor do they invest money into digital infrastructure for the protection of their guests.
Potential consequences of using unsecured hotel Wi-Fi
Be aware! Public wifi is notoriously unsecured- so be cautious.
Remember! Any device could be at risk.
Snoopers and hackers usually collect log files of your data from the network. These files reveal information about:
The time you spend online;
URLs of specific websites;
Your IP address.
Collecting log files would have done many mishaps to your digital security and interfere with your personal life.
Some of the potential consequences are discussed below.
Stealing your banking details, username and password
If you are entering passwords on Gmail or any other sensitive site, be aware! Snoopers may be looking into it. Hackers can snatch those credentials and log onto your account whenever they want.
Hackers can steal your credit card numbers. Usually, those who visit outside try purchasing important stuff online. That is the point for hackers to steal your credit card details.
Hackers may use Evil Twin attacks and Man-in-the-middle attacks to steal your credit card for their benefit.
By using similar attacks, a hacker can steal your online bank account when you enter your payment card information during online shopping.
Eavesdropping on your online activities
By using log files, hackers can eavesdrop on whatever you are doing online. They can sneak in the web pages you have visited, the emails you sent, and the videos you streamed while using free public wifi.
Infecting your computer
Pro hackers do not only steal data. They also send malware to your laptop, smartphones or any wireless device connected to the hotel's wifi.
Tips to Protect yourself from Snoopers while using Hotel's Wifi
You must ensure your security before heading to public wifi. From an exhaustive list, some of the essential points are:
Check your settings:
If your network is not secured, they try avoiding the usage of any public wifi beforehand. Turn off any feature that automatically connects your device to an available Wifi network. Plus, if you have any updates, do it immediately.
Change Password:
You must regularly be changing passwords. Or you can keep complex passwords to keep your data safe from hackers.
Avoid Sensitive Sites:
Avoid using online accounts that store your information or ask to add your credit card number, mobile number and password.
Check URLs:
While surfing online, you must check the URL. If the website you are visiting shows "HTTPS", means you are secure because, in HTTPS, S stands for security or data encryption.
Use VPN:
A virtual private network encrypts your data connection by adding a shield of protection on whatever you are surfing.
What is VPN, and How does it Work?
A Virtual Private Network is software that is mainly responsible for two functions:
Encryption your data;
Unblocking geo-restricted sites.
It creates a secure tunnel between you, your internet service provider and the website you are using. If you are using public Wi-Fi, your data first moves to VPN, encrypts, then moves forward. The same is the case with the information you are getting through public wifi.
Three most Reliable VPNs to secure your unsecured hotel wifi connections
Though there are thousands of VPNs, all of them are not reliable. After hours of research, we have come up with the three most reliable VPNs for you to encrypt the wifi you are using while relaxing in the room.
1. NordVPN

Features
Nord is famous for its security, and who knows better than you the meaning of security while using a hotel's wifi. Nord has 5234 servers at least 60 locations all over the world. The VPN is device friendly and can be used on up to 6 devices.
It helps to maintain anonymity to unblock any restricted site if the service is blocked in your destination of travel. It has a dedicated IP for each client to save their valuable information without the overcrowding of servers.
It also uses NordLynx for speed to let you stream channels without any buffering.
Further, Nord's security features are cherry on top. First of all, it has military-grade encryption, i.e. AES 256 bit, to encrypt your data altogether. Similarly, Nord is based in Panama- a country that is not bound to surveilled data at any cost; hence it has a no-log policy.
One of the most attractive features of Nord is its double VPN services through which your data connect to two servers before moving further. Also, it uses commendable ad blocking protocols and creates PG keys in the client's account to secure communication.
Pricing
Price/ month
Months
Money-Back
Guarantee
Free Trial
$ 6.67
15
30 days
3 months
$ 9.99
6
30 days
1 month
$ 12.95
–
30 days
–
2. ExpressVPN

Features
Express has more than 3000 "Trusted servers" in 160 locations of 94 countries. In one subscription, you can use up to 5 devices, including different operating systems of Windows, Linux and Mac.
Express is considered the most trusted VPN when it comes to geo unblocking and security maintenance. It can unblock any site you want to visit, whether be it Netflix or Disney Plus.
For security, Express can protect you from the hackers and snoopers of public Wifi through AES 256 bit encryption. It creates a secure tunnel to encrypt and decrypt your data without leaving any traces of your VPN.
Similarly, if you are using public wifi, it is essential to maintain your anonymity. Express hides your IP with an IP of a remote VPN server which is, not traceable by any hacker.
The VPN provider has also pledged not to log your data at any cost, which saves your bank and account details moving in the hands of snoopers.
Despite many advantages, people are usually reluctant to buy VPN because of its speed. However, the case is not with reliable VPNs. Express supersede your expectations for speed with 200Mbps to 275Mbps, providing unlimited bandwidth without ISP throttling.
Pricing
Price/ month
Months
Money-Back
Guarantee
Free Trial
$ 3.67
24
30 days
3 months
$ 4.92
12
30 days
1 month
$ 11.95
–
30 days
–
3. Surfshark

Features
Though new, Surfshark is exceeding limits when it comes to encryption. It has 3200 plus servers in not less than 65 countries.
Guess what! Surfshark provides access to multiple devices with just one subscription. It means, now you can watch whatever you want on whichsoever device without any problem and with the best speed and quality.
As far as security is concerned, Surfshark has no log and kill switch policy to encrypt your reliable data. Plus, it lets you connect with two remote servers in different countries- encrypting your information in both of them with 256 AES encryption.
Also, with its Camouflage Mode, it does not leave any traces for hackers, or hotels or ISP to know whether you are using VPN or not.
Pricing
Price/ month
Months
Money-Back
Guarantee
Free Trial
$ 2.49
24
30 days
1 month
$ 6.49
6
30 days
1 month
$ 12.95
–
30 days
–
FAQS
Is it safe to use a VPN with hotel WiFi?
Yes, it is safe to use a VPN with hotel wifi. Federal Trade Commission and Cybersecurity & Infrastructure Security Agency (CISA) recommend using VPNs while using public WiFi
Can a hotel monitor what sites you visit if you use a VPN?
VPN is using to encrypt your information and maintain your anonymity. If a hotel can trace sites you are visiting even if you have a VPN, then what is the use of it. When you connect to a VPN server,
you're assigned an IP that is entirely different from the one given to you by a hotel. So, a hotel cannot sneak in on what you are doing.
Can public Wi-Fi block a virtual private network?
Public Wi-Fi networks can block you from accessing a VPN, but a reliable VPN can switch between protocols to generate new IP.
Conclusion
We know you are travel enthusiastic, but all your fun and entertainment may go in vain if you do not encrypt your network while using public wifi.
Therefore, the article will provide you with resourceful insights into what to be done and how to protect your data by using a VPN if you are connected to the hotel's wifi.