SiteGround Web Hosting Review – Multiple Data Centers with Daily Backup
When selecting your web hosting service, there are lots of variables that must be considered. For example, features that appeal to a customer's general bases, such as the storage and price. It can also be the features beyond the focus of businesses, such as a server location and e-commerce.
Good thing, SiteGround can address the following concerns and does a good performance. This web hosting offers different hosting types, excellent customer service, performance-enhancing tools, all at a fair price. Though it has a little downside: the lack of Windows servers and VPS, it is still a quality web hosting service for small businesses and individuals.
SiteGround Hosting Review
Name: SiteGround Hosting
Description: The SiteGround - Website hosting company established in 2004 and been serving to date. From Website building to managed WordPress hosting, the company has not let down its clients. Its application and website both have an interactive interface that allows the visitors to get the desired information in one go. From team members to logistics, each individual knows their work and manage to maintain professionalism all the time.
SiteGround Overview
SitGround is counted in the best web hosting list for offering the upgraded hosting features through the registered offices in the United States, the United Kingdom, Bulgaria and Spain from multiple servers.
It offers a creative environment with highly competitive team members that make plans for its customers. Programs and packages include the Newest technologies and supervision of managed hosting services to keep the platform's progress better to best.
Strong Uptime Guarantee

Customer Support

Web Hosting Features

Data-Center Locations
Pros
Excellent customer service
Inclusion of useful free services
Allows customers to choose server location
SSL certificate and plans for free
Monthly and annual hosting plans
Testing has good uptime
Cons
Low storage
Lacks dedicated Windows and VPS server options
Shared Web Hosting
Just like other web hosts, SiteGround allows you to choose the data centre you want as your website's host: Australia (Sydney), Asia-Pacific (Singapore), Europe (Amsterdam, Germany, Milan), United Kingdom (London), United States (Chicago). If you have concerns regarding your retention laws or data privacy, you must choose the European data centre. When your brand's users are mostly from Asia, it should be the Asia-Pacific or the default to US server.
Each SiteGround plan has a high monthly price, but it can be decreased using annual sign-ups and introductory deals. Here are those:
StartUp Plan
This plan costs $14.99 per month. There are included 10GB storage, a one-year Secure Socket Layer certificate for free, one website, network traffic for 10,000 visitors per month, unlimited email, Cloudflare support, managed WordPress, and daily data backups.
GrowBig Plan
This plan costs $24.99 per month, and it is built upon a base plan. Here, there are included tiers, unlimited website support, 20GB storage, network traffic for 25,000 visitors per month, and site staging.
GoGeek Plan
This plan costs $39.99 per month that is intended for larger sites. Here, there are improved offers such as 40GB storage, priority support, Git repository, white-label support, and network traffic for 100,000 visitors a month.
Cloud Hosting
SiteGround is boasting cloud hosting rather than VPS hosting. The platform that is Linux-based draws resources coming from different servers and designs to auto-scale traffic surges. This then can help your site not go down due to a power shortage.
SiteGround offers four Cloud Hosting plans, and it starts from $80 a month for 40GB storage, 4GB RAM, 5TB data transfers and reaches a maximum of $240 a month for 120GB storage, 10GB RAM, and 5TB data transfers. So, there's a lot of growth! Aside from that, you can also make customisation of Cloud Hosting plans for more power. You can include a one-year SSL certificate for free.
WordPress Web Hosting
Just like its competitors today, SiteGround also offers WordPress hosting. Here, installations are being overseen by using optimised and managed WordPress hosting. This service improves the web site's security, page caching, automatic content management updates, and automated daily backups. SiteGround also has a one-click installation, as well as a free account transfer. It may no longer offer the free domain name, yet there are significant registration discounts. In terms of the plans, it shares the same price of contents with the shared hosting. This leaves you to choose among one, two, and three-year contracts.
The base WordPress tier of SiteGround, which is the StartUp costs $9.95 a month, and it has 10,000 visitors, 10GB storage, and hosts one site of WordPress. The GrowBig, which costs $14.95 a month, has 20GB storage, accommodates 25,000 visitors, and hosts unlimited sites. The top plan called GoGeek costs $ 29.95 a month and builds upon the GrowBig plan having 100,000 visitors and 30GB storage. All of these comes with monthly data transfers and unlimited email. SiteGround also provides free themes in WordPress. It includes useful in-house tools to build WordPress sites such as SuperCacher, SG Optimizer, and WP Migrator.
Revamped Reseller Web Hosting
SiteGround no longer offers standalone reseller hosting packages. However, the GoGeek and Cloud hosting subscriber are given a chance to access their clients in their site management tools by using the Client white-label option. Also, the Cloud plans allow the users to develop custom hosting packages to be given to clients that depend on resources needed. The reseller manages the hosting billing and support and charges the clients.
Now, if you are looking for a robust reseller offering, you can try the HostWinds that goes extra mile with generous specs in several server categories.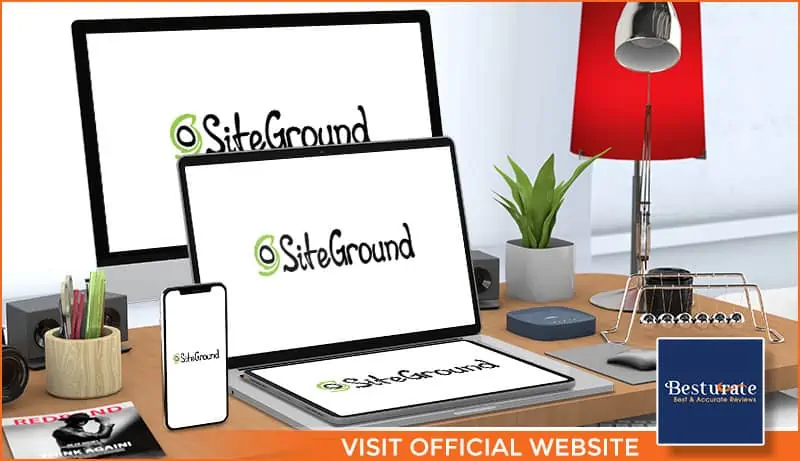 SiteGround Hosting Features
Setting Up the Website
SiteGround is leveraging Weebly as its chosen website builder. This is considered a good move since Weebly allows you to create highly-attractive website pages. This can be done even without spending too much time. Here, you can freely add images, videos, and texts to the test pages.
SiteGround offers WordPress Starter that is used for an easy-to-use system of content management to help curate the selection of plug-ins and free themes. It is designed for both business and personal website as fast as possible.
SSL and E-Commerce
Besides Weebly, you can also set up your own site by using the get-go with e-commerce software, including CS-Cart, PrestaShop, and Magento. The control panel has the needed icons for platforms under AutoInstaller to make it easy to find. Also, you can use the Softaculous to pick one among the 30 offered options such as ShoWare, Axis, OpenCart, and Zen Cart.
Moreover, if you chose to use the Magento, this will allows you to create an eye-catching store with the help of drag-and-drop store builder. It is also not a problem if you only need shopping carts. On the other hand, if you chose to billing and invoicing, specific and focused applications will be given to you too.
If you are into selling products online, you must have an SSL or secure socket layer certificate. Good thing, the web host offers this for free along with the plans beyond the shared StartUp tiers. Here, SiteGround offers Wildcard, which is identified as a premium SSL certificate to secure unlimited subdomain numbers and top-level ones. Besides, Wildcard can be used for free as a bundle along with a free one-year feature once you have signed up for GoGeek or GrowBig plans. If not, then you must pay about $60 a year.
Features in Security
In SiteGround, different options for security, such as the SG Site Scanner, are being offered. These are used to notify you whenever someone attacks your site. It can also include the hotlink protection, IP address blocklists, and anti-spam tools SpamExperts and SpamAssassin. Here, your site links are being scanned to ensure that it is clean and free from any destruction.
Also, SiteGround offers Leech Protect as an interesting feature. As the administrator, this lets you prevent users from publicly posting and giving out their passwords to site portions. This web host integrates with Cloudflare Content Delivery Network to provide better service in performance and security. While other websites can do sign-ups easily with CloudFlare, free integration means that more people can benefit even though they are not aware of it.
In addition to that, SiteCheck also does a good performance. This is an automatic tool for software scanning that checks the website and see if any malware on-site or codes are taking place. It is highly recommended to run this almost all the time or within a schedule to check if there are emails from irate users saying that their computers were infected after vising your website. On top of that, daily backups are offered by SiteGround to secure your data.
High-Quality Uptime
On a website, uptime is considered the most vital aspects of a better web hosting service. Whenever your site is down, the customer and clients will not have access to your services or products.
To test, you can use a website monitoring tool to easily track the website's uptime over two weeks as its schedule. These tools ping the website every 15 minutes and send you an alert whether contacting the site becomes inactive for a minute. Once the data is revealed by SiteGround and showed stability, this means that the test site didn't go down over a two-week period of observation.
Customer Service
The main focus of SiteGround is customer service, and it is proven excellent by wizards, tutorials, and different articles. SiteGround offers available customer support through a system that is ticket-based, 24/7 telephone support, and live chat.
You can use SiteGround's online chat and be amazed at how quick the responses are. Once you've sent a concern, there will be a representative to aid you in just a matter of seconds. You will then be asked about SiteGround's differences in dedicated and cloud hosting and provide you with clear and prompt responses.
On the other hand, you can also try using the phone number and ask a representative to check whether the WordPress setup is imported to SiteGround. This will give you a representative to guide you all the way to resolve your concern.
Above all, SiteGround allows their users to cancel when there are charges made in their credit cards within 30 days.
Beginner Businesses
SiteGround positions itself clearly as a web hosting provider helping newbies and small businesses. This web host's services, starting from the supporting resources' features, are designed for sole proprietors, mom-and-pop stores, and independent businesses. This makes a good performance to help them to advance web skills and design time. Moreover, if you are not for a flooding set of users visiting your site in a day, you shouldn't worry about unlimited monthly data transfers and storage. So, the limitations of SiteGround will not bother you at all.
In addition to that, the amazing number of security features offered by SiteGround helps indicate small businesses. Since a small business is prone to website attacks and lesser chances of investing in a site scanner to help scan any malware or even a cloud provider to shield site data from any attack. SiteGround amazingly performs these; that is why it has been regarded as the best and solid friend of small businesses that are only starting their steps to success.
Final Verdict
Above all, SiteGround offers excellent customer support and strong uptime. Aside from that, there are multiple plans to choose from, depending on what you need for your site's improvement. However, it would be best if you looked for other options that offer VPS and Window Servers. All of these can be yours for only $9.95.