Since 1962, the James Bond film series has awed millions with its thrilling scenes, gadgets galore, far-off locations and devious villains. Agent 007's six portrayals have cemented his place in popular culture for over sixty years. For those who wish to gain a more profound understanding of this renowned franchise, viewing all movies in order allows for an immersive look at the evolution of both character and story alike.
Get set for a thrilling cinematic excursion into the brave world of James Bond with this guide! We'll walk you through when each movie was released and provide ideas for watching them in 2023. Plus, we have tips for planning the ultimate 007 marathon experience, complete with themed snacks, drinks, and activities that will make your night memorable. Whether you are a long-time fan or relatively new to the films of Britain's greatest spy agent – fasten your seat belts – it is time to embark on an unforgettable journey!
ExpressVPN – Best VPN For Streaming
Chronological List of James Bond (007) Films with Release Dates
Dr. No (1962)
From Russia with Love (1963)
Goldfinger (1964)
Thunderball (1965)
You Only Live Twice (1967)
On Her Majesty's Secret Service (1969)
Diamonds Are Forever (1971)
Live and Let Die (1973)
The Man with the Golden Gun (1974)
The Spy Who Loved Me (1977)
Moonraker (1979)
For Your Eyes Only (1981)
Octopussy (1983)
A View to a Kill (1985)
The Living Daylights (1987)
Licence to Kill (1989)
GoldenEye (1995)
Tomorrow Never Dies (1997)
The World Is Not Enough (1999)
Die Another Day (2002)
Casino Royale (2006)
Quantum of Solace (2008)
Skyfall (2012)
Spectre (2015)
No Time to Die (2021)
Sean Connery Era (1962-1971)
Sean Connery, renowned for his elegant charisma, was the first actor to portray Ian Fleming's legendary James Bond on the big screen. Connery created an indelible mark for six films from 1962 to 1971 that pushed the franchise forward and resonated with worldwide audiences.
Dr. No (1962)
Terence Young helmed the inaugural James Bond movie and gave it a PG rating. Agent 007 journeys to Jamaica to probe into his compatriot's unexplained absence, only to discover Dr. No's (Joseph Wiseman) evil plan of interfering with an American space mission! Ursula Andress shines as Honey Ryder–the classic Bond girl in this film worthy of your attention.
From Russia with Love (1963)
The renowned filmmaker Terence Young directs this PG-rated follow-up to James Bond, where 007 is set to retrieve a deciphering tool called the Lektor from the Russian embassy in Istanbul. In his journey, he clashes against SPECTRE agent Rosa Klebb (Lotte Lenya) and a deadly killer Red Grant (Robert Shaw). Daniela Bianchi stars as Tatiana Romanova, Bond's beloved female companion.
Goldfinger (1964)
In this PG-rated movie helmed by Guy Hamilton, Agent 007 is up against the affluent and influential Auric Goldfinger (Gert Frobe), who schemes to taint U.S.'s gold reserves at Fort Knox. Character Pussy Galore portrayed by Honor Blackman, and the classic Aston Martin DB5 outfitted with a combination of gadgets make their debut in this film too!
Thunderball (1965)
Terence Young's dazzling direction brings the PG-rated classic Bond movie to life. As agent 007, James Bond is sent to the Bahamas for two nuclear warheads stolen by SPECTRE agent Emilio Largo (Adolfo Celi). Amidst his mission, he meets and tangles with Fiona Volpe (Luciana Paluzzi) – a mysterious femme fatale – and Domino Derval, portrayed brilliantly by Claudine Auger.
You Only Live Twice (1967)
Academy Award-nominated director Lewis Gilbert presents the widely acclaimed PG-rated Bond film, featuring beloved characters Ernst Stavro Blofeld (Donald Pleasence), Aki (Akiko Wakabayashi) and Kissy Suzuki (Mie Hama). After a seemingly unsuccessful mission, 007 is unexpectedly found in Japan investigating the theft of American and Soviet spacecraft by SPECTRE. Get drawn into this action-packed movie adventure for an unforgettable cinematic experience!
Diamonds Are Forever (1971)
Guy Hamilton directs this PG-rated Bond film, where our beloved hero is on the pursuit of a diamond smuggling group that takes him to Las Vegas and brings him face to face with his sworn enemy, Blofeld (Charles Gray). Jill St. John stars as Tiffany Case–the glamorous Bond girl–while Lana Wood plays Plenty O'Toole in this thrilling adventure!
George Lazenby Era (1969)
George Lazenby daringly stepped into the role of James Bond for a movie, delivering an edgier and more exposed character version.
On Her Majesty's Secret Service (1969)
The ever-captivating Peter R. Hunt guides us through this PG-rated Bond film, where 007 is on a mission to stop Blofeld's (Telly Savalas) sinister scheme of unleashing a virus upon the world. This movie has it all: stunning Swiss Alps vistas and Diana Rigg as our hero's love interest, Tracy Draco — who ultimately becomes Mrs. Bond in the heartbreaking finale!
Roger Moore Era (1973-1985)
Entering the franchise with a more lighthearted attitude, Roger Moore portrayed James Bond as an amusing and energetic gentleman in his seven films. As Britain's most famed secret agent, he charmed audiences worldwide by emphasizing wit over action.
Live and Let Die (1973)
In Guy Hamilton's PG-rated James Bond movie, the iconic agent investigates three British agents' deaths and takes on the menacing Dr. Kananga (Yaphet Kotto). His goal? Flooding America with dangerous drugs. Jane Seymour stars as Solitaire, a mysterious psychic Bond girl, while an action-packed speedboat chase scene commands viewers' attention throughout this thrilling film.
The Man with the Golden Gun (1974)
The legendary Guy Hamilton directs the PG-rated 007 classic, showcasing Bond's mission to locate a stolen solar energy device before being confronted by Scaramanga (Christopher Lee) and his golden gun. Britt Ekland stars as Mary Goodnight -the seductive Bond girl of your dreams- while thrilling viewers with an iconic corkscrew car jump stunt that has gone down in history.
The Spy Who Loved Me (1977)
Lewis Gilbert's action-packed Bond movie delivers all the thrills with a PG rating. Agent 007 and Russian beauty Anya Amasova (Barbara Bach) join forces to battle against Karl Stromberg (Curd Jürgens), who is set on triggering nuclear warfare. The dastardly villain introduces his terrifying henchman, Jaws – played by Richard Kiel – alongside the iconic Lotus Esprit submarine car, sure to drive audience excitement through the roof!
Moonraker (1979)
Lewis Gilbert's PG-rated Bond film takes us on a thrilling journey as 007 discovers Hugo Drax (Michael Lonsdale), an affluent industrialist, and his deadly scheme to eradicate humanity and build a new master race in space. Lois Chiles stars as the captivating Bond girl Holly Goodhead, while Jaws makes one of his most iconic returns!
For Your Eyes Only (1981)
John Glen's masterful direction crafts the thrilling PG-rated Bond movie featuring an exhilarating mission to keep a top-secret British encryption device out of enemy hands. Starring Carole Bouquet as Bond girl Melina Havelock, viewers will experience breathtaking ski chase sequences and underwater battles!
Octopussy (1983)
Under the direction of John Glen and with a PG rating, James Bond investigates the suspicious death of an agent, which leads him to pursue justice involving a rogue Soviet general, a stolen Fabergé egg, and a nuclear warhead. Maud Adams takes center stage as Octopussy in this movie, featuring an iconic train chase sequence.
A View to a Kill (1985)
With John Glen at the helm, Bond discovers an insidious plan of Max Zorin (Christopher Walken) to dominate the microchip industry by demolishing Silicon Valley. Tanya Roberts stars as Stacey Sutton, a daring Bond girl who takes part in a thrilling fight on the Golden Gate Bridge, which earns its PG rating.
Timothy Dalton Era (1987-1989)
With Timothy Dalton in the role of James Bond, viewers experienced a darker and more serious version of 007 than ever before. He brought realism to the character by showcasing its edgier side – returning him to his roots as an unflinching agent who takes on dangerous missions with precision and grace.
The Living Daylights (1987)
Rated PG, Bond is back for another action-packed adventure as John Glen directs. Jeroen Krabbé stars as the Soviet defector that Bond must help to uncover a sinister arms smuggling scheme. Maryam d'Abo adds her touch of glamor and excitement by playing the role of companion Kara Milovy in this exciting film laden with high-speed car chases and an exhilarating aerial fight scene!
License to Kill (1989)
The PG-13-rated film directed by John Glen follows James Bond as he embarks on a mission of vengeance after his ally, CIA agent Felix Leiter (David Hedison), is brutally injured by the malicious Franz Sanchez (Robert Davi). Carey Lowell portrays Bond girl Pam Bouvier and brings to life an intense story filled with action sequences that take an intimate look at 007's journey.
Pierce Brosnan Era (1995-2002)
Pierce Brosnan graced the role of James Bond in the 90s, radiating a harmonious blend of charisma, intellect and energy to the character. His interpretation created an equilibrium between Moore's lighthearted period and Dalton's darker motion pictures.
GoldenEye (1995)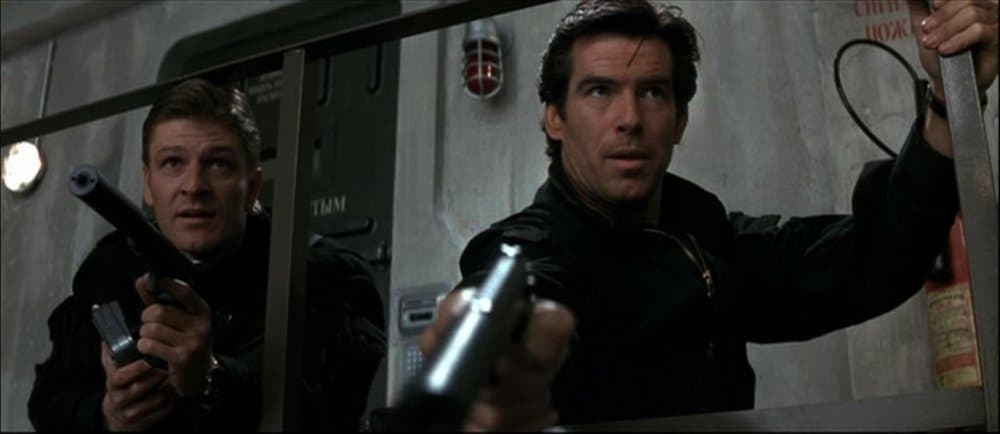 Martin Campbell's PG-13 Bond movie pits the iconic super spy against his former MI6 ally, Alec Trevelyan (Sean Bean). Trevelyan is prepared to launch a destructive satellite weapon to bring about economic turmoil. To counter this menace, 007 has some formidable allies in Natalya Simonova (Izabella Scorupco), Xenia Onatopp (Famke Janssen), and M—Judi Dench's first appearance in her enduring role.
Tomorrow Never Dies (1997)
The PG-13-rated action thriller directed by Roger Spottiswoode features James Bond (007) on a mission to prevent Elliot Carver (played by Jonathan Pryce), a media mogul, from starting an international war between the UK and China, from expanding his news empire. Teri Hatcher stars as Paris Carver, and Michelle Yeoh plays Wai Lin, two renowned "Bond girls." The movie also showcases an incredible remote-controlled BMW car chase that will amaze audiences!
The World Is Not Enough (1999)
Michael Apted's PG-13 rated Bond film follows the story of 007, protecting Elektra King (Sophie Marceau) – daughter of a murdered oil tycoon – as he strives to uncover an evil plan to raise global oil prices by setting off a nuclear meltdown in Istanbul. Furthermore, Denise Richards stars as the memorable Dr. Christmas Jones, and fans will be captivated by the electrifying boat chase on London's historic River Thames!
Die Another Day (2002)
Lee Tamahori takes the helm of this PG-13 Bond installment, where 007 is taken captive in North Korea before being released as part of a prisoner exchange. What follows is an exciting investigation into a billionaire with nefarious plans to wield a deadly space weapon. Halle Berry plays Jinx – the iconic Bond girl who helps him along his mission, and viewers are treated to thrilling chase scenes featuring hovercrafts and even an invisible Aston Martin!
Daniel Craig Era (2006-2021)
Daniel Craig breathed new life into the James Bond franchise, portraying 007 with gritty realism and vulnerability that showcased his origins and inner battles. In doing so, he masterfully rebooted the beloved series.
Casino Royale (2006)
Martin Campbell brings you a PG-13-rated film that restarts this classic franchise, introducing an inexperienced Bond on his way to becoming 00. To outwit terrorist financier Le Chiffre (Mads Mikkelsen), he must first win in the high-stakes poker game. Eva Green takes on the role of Bond girl Vesper Lynd and is accompanied by thrilling parkour chase sequences that make for quite a cinematic experience!
Quantum of Solace (2008)
Marc Forster helms this PG-13 sequel to Casino Royale, directed by Bond, who is determined to avenge the death of Vesper Lynd and unearth Quantum – a dangerous criminal organization. Olga Kurylenko steps into her role as Camille Montes while thrilling car chases and intense aerial dogfights make their way onto the big screen.
Skyfall (2012)
Sam Mendes masterfully directs the latest Bond installment: rated PG-13 and starring Daniel Craig, Judi Dench and Javier Bardem. Bond must confront his past in this epic story while tackling former MI6 agent Raoul Silva's cyber-terrorist threats. Bérénice Marlohe stars as a stunning Sévérine – one of many exciting characters that viewers meet on their thrilling journey through Scotland's Highlands.
Spectre (2015)
Academy Award-winning director Sam Mendes takes viewers on a suspenseful journey as Bond delves into the mysterious SPECTRE organization led by Franz Oberhauser (Christoph Waltz). Léa Seydoux stars as the acclaimed "Bond Girl" Dr. Madeleine Swann and reintroduces SPECTRE in a thrilling twist to connect all previous films starring Daniel Craig. Memorable sequences include an electrifying opening during the celebration of Mexico City's Day of the Dead and a high-octane car chase through Rome – don't miss it! Rated PG-13 for adventure and action scenes that are sure to excite audiences everywhere.
No Time to Die (2021)
Cary Joji Fukunaga's PG-13-rated final installment of Daniel Craig's era as 007 sees Bond emerge from retirement to battle a dastardly new villain, Safin (Rami Malek), intent on terrifying the world with a deadly bioweapon. Rejoining him are Dr. Madeleine Swann (Léa Seydoux) and Paloma (Ana de Armas), an alluring ally who provides support in this thrilling conclusion to Craig's incredible run as James Bond that ties up loose ends while exploring his relationships like never before.
You've already got the timeline of James Bond's daring exploits, so now you're ready to go on an exhilarating cinematic adventure with Agent 007!
Special Editions and Box Sets
Get the ultimate James Bond experience with these special edition box sets! Fans and collectors can now own exclusive collections with never-before-seen bonus content and exquisite packaging. What's more, these collections make great gifts or must-haves for any movie lover – don't miss out on this opportunity to become a part of the iconic 007 legacies!
A. James Bond 50th Anniversary Collection
A spectacular Blu-ray box set was released to commemorate the 50th anniversary of this popular franchise in 2012. This collection includes all 22 James Bond movies from Dr. No (1962) to Quantum of Solace (2008) and over 120 hours of bonus material like behind-the-scenes footage, interviews with the cast and crew, deleted scenes and audio commentaries! You'll also receive an exclusive collectible book featuring rarely-seen photos and interesting facts about the series' timeline.
B. The Daniel Craig Collection
Embrace all five of Daniel Craig's James Bond movies, from 2006's Casino Royale to the highly anticipated 2021 release No Time To Die, with this Blu-ray and 4K Ultra HD collection. Every movie in this set is accompanied by an assortment of special features such as behind-the-scenes documentaries, audio commentaries, and interviews with the cast & crew – providing a valuable opportunity for you to explore Craig's era in high definition quality. Enjoy consistent visual/audio presentations across all five films!
C. Limited Edition Collector's Sets
For movie buffs and fans, limited edition collector's sets are often released to celebrate film anniversaries or milestones. Not only do these collectible packages offer exclusive packaging, but they may also contain items such as replica gadgets, posters, art cards or other memorabilia. Though availability can depend on the set itself – you might be able to find them online from retailers or auction sites – there's a good chance dedicated collectors forums will have what you need!
D. Digital Collections
If you're a fan of digital libraries, then rejoice! Various collections featuring the James Bond films are obtainable on platforms like Amazon, iTunes and Google Play. Not only do these cinematic selections come with bonus material that's similar to their physical counterparts, but they also offer convenient streaming and accessibility across numerous devices.
When looking for a special edition or box set, consider the picture and audio quality, additional content, packaging options and your preferred viewing format. If you decide to purchase one of these collections, you will have instant access to all the James Bond films from start to finish and an appreciation of its unique history and any behind-the-scene secrets.
Tips for the Ultimate James Bond Marathon
Planning a movie marathon is an electrifying and rewarding journey for any James Bond devotee. Whether you're new to the franchise or have been following it for years, these pointers will help to ensure that your 007 films' binge-watching experience is as memorable as possible!
Tip #1: Set the Mood
Theme: Transport your guests to the world of Bond by adorning the space with decor inspired by his iconic films. Consider posters, playing cards and even replicas of gadgets to give it a real spy-like feel.
Dress Code: Stimulate your guests to dress up as their favorite figures from the movie series. Whether that's 007's iconic suits, a Bond girl ensemble or even an evil character costume – you'll certainly create a unique atmosphere at this special event!
Music: Create an unforgettable soundtrack of the iconic theme songs and scores from James Bond films to play before or during movie screenings.
Tip #2: Plan Your Schedule
Duration: With over 25 Bond films made throughout six decades, attempting to watch them all in one sitting might be too daunting. Instead, why not break the marathoning into several sessions or focus on a particular era of its star actor's career, theme or storyline?
Order: With so many movies to choose from, determine the best way to watch them – whether in chronological order, by an actor or based on your preferences. This decision will ensure that your movie marathon experience is enjoyable and well-paced.
Breaks: Set periodic pauses to let attendees relax, move around, and refuel. During these breaks, participants can converse about the films and give their perspectives.
Tip #3: Food and Drinks
Themed Snacks: Make Bond-inspired snacks that will be a hit with your guests, like Casino Royale poker chips and dip or Goldfinger gold-dusted popcorn.
Cocktails: Delight your guests with Bond-influenced drinks, including the iconic Vesper Martini, or invigorate their taste buds with a Die Another Day-inspired Mojito. Don't forget to provide non-alcoholic options for those who opt out of these libations.
International Flair: For a Bond-inspired gathering, entice your guests with the culinary delights of all the exciting locales featured in his adventures. Bring international flavor to your event by serving dishes inspired by Bond's travels worldwide!
Tip #4 Interactive Activities
Trivia: Challenge your guests with a fun Bond-themed trivia game and test their knowledge about the movies, characters, and interesting facts from behind the scenes.
Movie Bingo: Bring the fun of James Bond to your event with custom bingo cards featuring his iconic tropes: car chases, gadgets, and memorable lines. Have everyone mark off each item as it appears in the movies for an exciting experience!
Awards: To make your marathon even more exciting for attendees, organize a voting session where they can choose their favorite Bond character, bond girl, villain or theme song. The winners deserve recognition with creative awards to commemorate their victory!
If you're looking for an exhilarating yet nostalgic night in with friends and family, a James Bond marathon is the perfect way to do it. With just a few tweaks to your viewing experience – such as savory snacks or stylish drinks – you can honor Agent 007's legacy while bringing everyone together on their cinematic journey.
Conclusion
Step into the thrilling world of 007 by binging all James Bond movies in sequence – a journey that will captivate newcomers and veteran fans alike. From Sean Connery's iconic suaveness to Daniel Craig's gritty realism, you'll gain an enhanced appreciation for the franchise's fascinating heritage and various renditions of this legendary secret agent. When you embark on your ultimate James Bond movie marathon or buy a limited-edition box set, let yourself be taken in by the thrilling atmosphere of espionage and exotic locales. Embrace iconic characters that define the 007 legacies as you sit back and enjoy more than six decades of cinema. Relax into an exciting world of adventure that will stay with you long after watching!