The use of Virtual Private networks has been growing since the pace of cyber breaches has augmented. If you also want to add personal information or browse any blocked streaming site by remaining unnoticed, you need a VPN. However, let us remind you again not all VPNs are reliable especially Free VPNs.
To maintain your anonymity and security, you need to purchase a reliable VPN. StrongVPN and PureVPN are two of the most excellent VPN services. You can try any of the two as both are identical yet, if you are confused, below is a complete comparison of PureVPN vs. Strong VPN, helping you choose the best.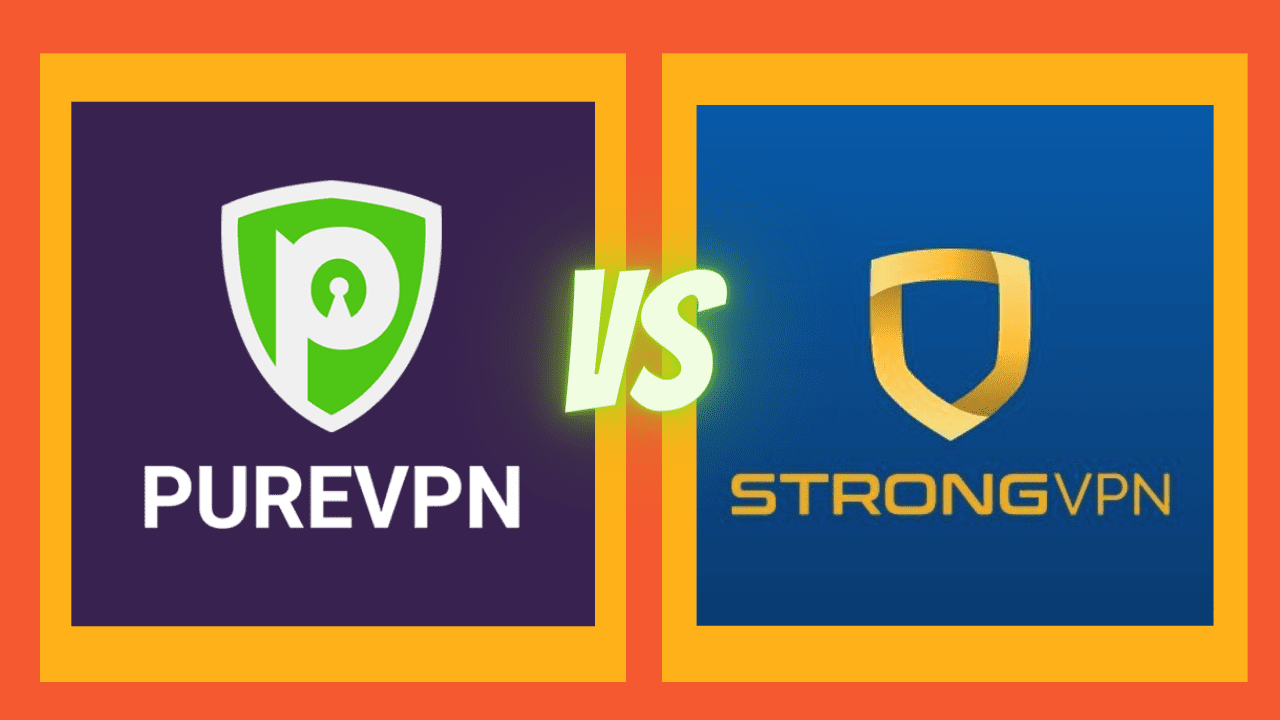 A Brief Overview
PureVPN
Based in the British Virgin Islands (recently moved from Hong Kong), PureVPN was founded in 2007. Because of its headquarter in BVI, PureVPN is outside the jurisdiction of any data retention laws or far from snooping of surveillance organizations.
By keeping its no-log policy, PureVPN also uses various protocols, AES encryption, and many ads on features such as kill switch, split tunneling, torrenting, etc. It has successfully placed itself as one of the best VPN lists by giving the most satisfactory services to 3 million customers.
StrongVPN

Launched in 2005 by a small California-based company, StrongVPN was then acquired by J2 Global. Along with its zero log policy, StrongVPN can easily retain your anonymity and online security by its full encryption, kill switch and many more security-based features, keeping you away from cyber attackers, snoopers and hackers.
Similarities
Encryption
Every reliable VPN should have the best encryption. It is necessary becasue the VPN will act as a middle man between your device and ISP and create a strong SSL tunnel that masks your actual IP address. So the VPN uses excellent military-grade encryption along with different protocols.
Advanced encryption is an algorithm that encrypts data with 28, 192, or 256 bits key lengths. The best is AES 256 bit key encryption Thankfully, both PureVPN and StrongVPN have this encryption which is impossible to break.
Unblocking Capabilities
Million people use VPNs not to retain privacy but to unblock geo-restricted sites. Countries use geo-blocking technologies to prevent outsiders from their media and financial sectors. So, those living abroad can still watch channels with a VPN. Some of the favorite channels which people usually search for are:
Netflix
Hulu
Disney+
HBO Max
ABC
Channel 4
Not only this, but a reliable VPN can also unblock many other streaming platforms like BBC iPlayer, Kodi, SkyGo, Spotify, TVPlayer and so on.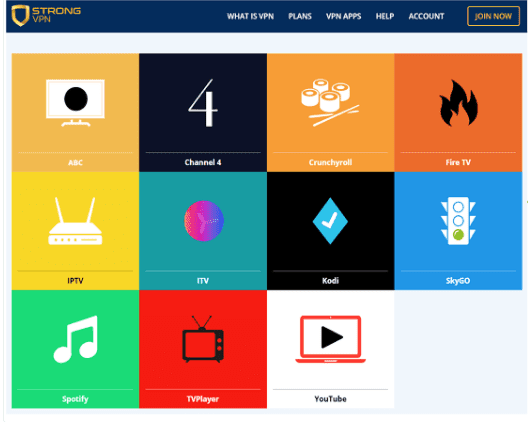 Both Strong and PureVPN have unique geo unblocking capabilities. You can access Netflix and many such channels without compromising on speed too.
No log Policy
Zero log policy implies when a VPN provider pledges not to track your data at any cost. Tracking data means inviting thousands of surveillance agencies, malware, and hackers into your network. So a reliable VPN has always had a staunch no-log policy.
PureVPN and StrongVPN do follow zero log footsteps. They do not keep any data of any user. Though they do collect your full name, email address and payment information needed for your account creation, other than this, they refrain from tracking any of your activity while you are surfing online.
Unlike many free VPNs, strong and Pure VPNs do not sell their customer data to advertisers or third-party agencies.
Protocols
Protocols are pretty essential. Some protocols are used to create a tunnel and keep users safe from IP or DNS leaks. In this tunneling process, speed is usually compromised. So, many exceptional VPN service providers use industry-leading protocols for speed, too, as WireGuard.
PureVPN and StrongVPN use protocols. Some of them are:
OpenVPN
IKEv2/IPSEC
L2TP/IPSec
PPTP
Other than these protocols, PureVPN and StrongVPN also use WireGuard Protocol to keep up with the speed of your network.
All protocols are available for macOS, iOS, Windows and Android operating systems varies by platform. For instance, the OpenVPN and IKEV2 protocol of PureVPN supports Windows; its IKEV2 and IPSEC supports macOS app. The iOS supports OpenVPN, IKEv2, and IPSEC but the Android version only has OpenVPN and IKEv2.
Torrenting
Secured torrenting and P2P file sharing are essential services for any VPN. They do data protection and secure your identity while sharing files between peers or during remote access of your device. PureVPN has p2p special servers.
PureVPN supports P2P file sharing on their P2P special servers. It also connects you with special torrenting servers once you locate them.
To start downloading files using PureVPN, you first need to connect to these special torrenting servers. Also, StrongVPN supports torrent downloads on all their servers but doesn't have any dedicated p2p optimized servers.
Kill Switch
Sometimes a connection from your VPN server may, and your browsing data is out in the open. To save such a situation, many VPNs offer Kill Switch facilities. Kill switch cut off your connection from the network or Wifi whenever the link between the device and VPN server drops.
PureVPN has a kill switch, which enables by default whenever your connection with the VPN breaks. Also, StrongVPN has a kill switch that reactivates automatically.
Split Tunneling
Many websites and applications do not work on VPN, or the speed slows down if you are connected to any VPN server. Many paid VPNs offer split-tunneling through which you can add your preferred websites and applications on split-tunnel means those won't work with VPN. PureVPN, as well as StrongVPN, do offer split tunneling.
DNS Leak Test
No matter how hard you try to retain your privacy, an ISP can still sneak into your activities through a DNS request, even if your IP address is hidden. However, many VPN providers know about such tactics, so their highly encrypted servers have built-in DNS Leak Protection. PureVPN and StrongVPN save your data from any IP address or DNS leaks. You can also run a leak test on their servers.
Multiple device support
A VPN is considered best when it works on every operating system. PureVPN has apps for Linxus, Android, macOS, iOS and even their smart TVs. Also, it supports Amazon Fire TV Stick and Kindle. However, it requires manual configuration for routers, tablets, PS4, Xbox, Apple TV, Roku, Kodi, and Smart TVs.
StrongVPN also supports all platforms, and only a few require manual configuration rest work quickly. Once successfully configured router, you can protect all your devices, including Apple TVs, Android TVs, Smart TVs, Roku, Boxee, and gaming consoles such as PlayStation, Nintendo, and Xbox, through StrongVPN.
RAM ONLY SERVERS
Many VPN providers do use hard drives for server software. Hard disks do not remove data unless written over or removed manually. This could lead to cyber breaches. So, PureVPN AND StrongVPN use RAM disks for servers becasue it loses data at every power loss and saves from any IP address or DNS leaks. RAM servers are also known as Diskless Servers.
Support
For any VPN user, customer support is necessary because not all of us are IT technicians. We do need help from professionals if stuck somewhere. It is also not only about setup problems; sometimes, you have payment complaints or other related issues that only a representative can resolve. So, every good VPN has staunch support.
For any problem, the website comes first to the rescue. PureVPN and StrongVPN websites contain tons of articles, blogs and set up guides you can use to resolve your general issues. Also, they have dedicated sections of FAQs to address your queries. Yet you are facing problems; you can contact their 24 7 live support of customer representatives. You can either chat with them or email your questions to get immediate answers.
Differences
Servers
A huge network of servers gives any VPN an edge over others. Servers are crucial to retaining the privacy, speed and security of any network or web traffic. Both PureVPN and StrongVPN have multiple servers; only their quantity and the area coverage are different.
PureVPN has 6500 servers in almost half of the, meaning means 95 countries covering 6 continents with the regions of Oceania. On the contrary, StrongVPN has 950 servers in 35 locations across the globe. Also, it has the Best Available option, which automatically connects to the server nearest to your site.
Simultaneous Device Connections
If you are paying for the VPN, it shouldn't only support your one device instead of many devices. For instance, PureVPN supports 10 devices simultaneous connections. On the contrary, StrongVPN gives connections of up to 12 devices in one subscription.
Speed
Whether you are watching a video or playing any game, speed is essential. This is why many VPNs use protocols and have the most comprehensive server coverage to maintain the speed of their connections. PureVPN has a 10 Gbit connection and has ultra-fast connections. However, StrongVPN isn't as fast as PureVPN.
Dedicated IP
A dedicated IP address gives an extra edge to VPN. PureVPN offers dedicated IP, which you can purchase. However, StrongVPN doesn't provide any dedicated IP.
Location
PureVPN is based in the British Virgin Islands means it's free from any jurisdiction of 5 or 9 eyes surveillance organizations. However, StrongVPN is based in the United States, a country that is part of surveillance organizations. Despite all, it has a staunch zero log policy.
A Quick Overview
| Features | PureVPN | StrongVPN |
| --- | --- | --- |
| User Rating | 4.8 | 4.6 |
| Total Servers | 6500 | 950 |
| Total countries | 95 | 35 |
| Headquarter | British Virgin Islands | USA |
| Number of Devices | 10 | 12 |
| Encryption | Excellent | Excellent |
| Logging Policy | Excellent | Excellent |
| Unblocking Sites | Excellent | Excellent |
| Torrenting | Excellent | Excellent |
| Leak Protection | Excellent | Excellent |
| Split Tunneling | Yes | Yes |
| Kill Switch | Yes | Yes |
| Dedicated IP | Yes | No |
| 36 month Plan | – | – |
| 24 month Plan | $1.99 | – |
| 12 months Plan | $2.99 | $3.66 |
| Monthly Plan | $10.95 | $10.99 |
| Money-back guarantee | 31 days | 30 days |
| Free Trial | 7 days | – |
| | Get It Now | Get It Now |
Conclusion
PureVPN and StrongVPN are among our top choices because of their top-notch security, highly encrypted tunnel, speed and overall performance. Their add-on features are cherry on top and almost are same. Therefore, both VPNs are performing above par, and we recommend you choose any of them. You will not get disappointed.