My 5-year-old son is growing up too fast. He's becoming more independent and more curious, but at the same time, he's starting to explore online more often than not.
How do I protect him and keep him safe from scams and bad experiences online? The internet is a great tool to teach our kids about technology and the world around us, but it can also be a place where they are vulnerable.
Kids are learning about computers and the internet from an early age, and they are often exposed to things that aren't appropriate for their age.
Parents need to know how to use the internet to help keep their children safe and ensure that they become productive and successful adults.
Parents need to learn how to use the internet safely and effectively to protect their children from exposure to harmful content.
This means knowing how to filter the internet, monitor your child's online activity, and monitor what they are doing on their phone.
I'll share details in this guide to protecting your child online. I will talk about all sorts of essential topics, including:
How can you protect your child
Who is the greatest danger to your child
How to recognize warning signs of child abuse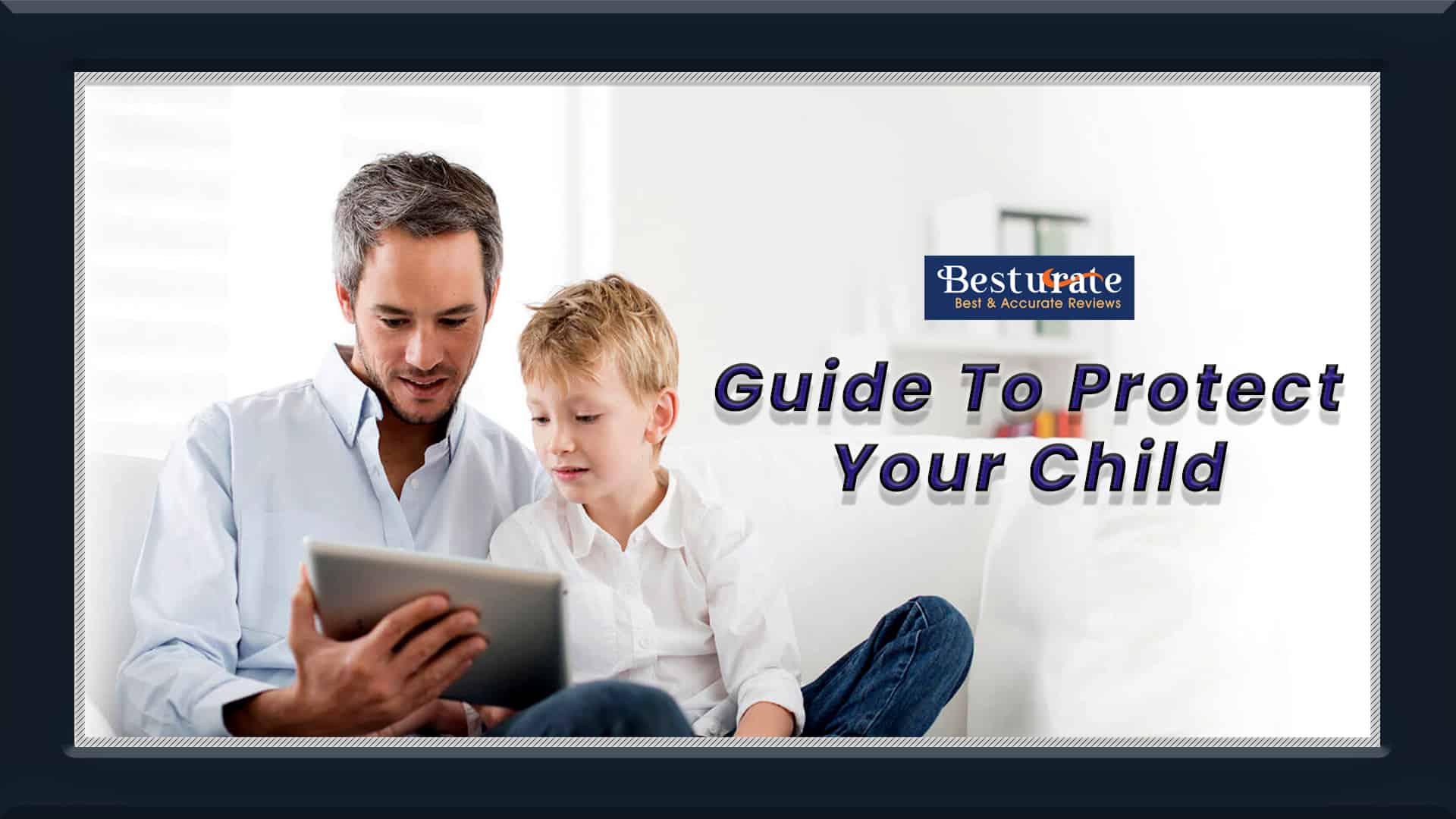 Risks of Internet Usage for kids
Research indicates that social media usage by children ages 6-11 is significantly higher than among teenagers. While some children may use the internet responsibly, others could become victims of online predators, cyberbullying, inappropriate content exposure, or even suicide.
A child's brain is not fully developed until the mid-twenties, making them vulnerable to negative influences and the effects of online usage.
Threats of undesirable people
Cyberbullies
Predators
Scammers
Undesirable Content
Pornography
Violent content
Slag languages and abuses
Pirated materials.
Computer security issues
Malware
Viruses
Irritating advertising
It's common knowledge that parents need to keep a close eye on their children online. While parents are doing their part to protect their kids online, there are some risks that they may not be aware of.
While it's true that the internet is a safe place for kids to explore and play, dangers are lurking there that could have severe ramifications for a child's future.
Top Threats to Kids
Cyberbullying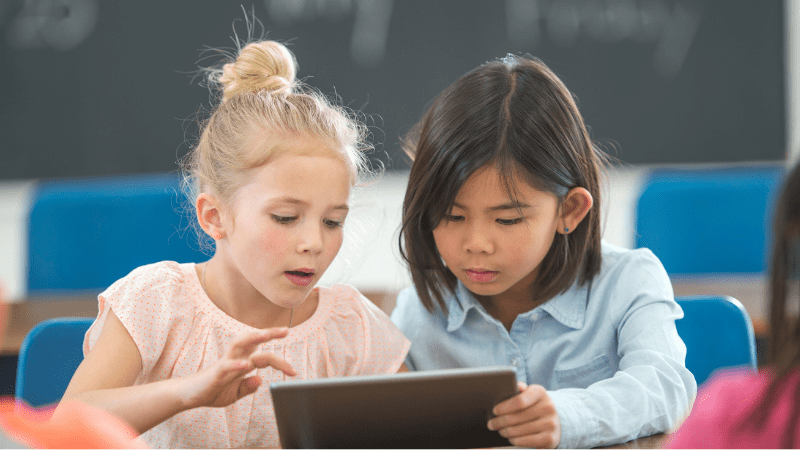 Almost 34 percent of kids aged 12–17 have been cyberbullied, and 11.5 percent of kids have bullied someone else online. Cyberbullying is any aggressive, threatening, or mean-spirited behavior via electronic communication (email, social media posts, text messages, etc.
The victims of cyberbullying are more likely to be girls and boys, and the perpetrators of cyberbullying are more likely to be male. And for teens who have been cyberbullied, it's the same for boys and girls.
Although cyberbullying can be emotionally damaging, it's also often a form of social media justice. For example, teens bullied online may post screenshots of the bullying to their social media accounts to expose the bullies.
Cyberbullying is often done in text messages, but it can also be photos or videos. It's important to note that just because something is posted on a social media site doesn't mean it's cyberbullying. It could be a joke, a photo of someone, or a prank video.
If someone posts a picture of someone else without their permission, that's considered harassment. If they post something negative about someone, that's considered bullying.
Online predators
People who lure children for sex over the internet are called online predators. They include people pretending to be children in chat rooms, and they're considered hazardous criminals.
Women are more vulnerable to such online exploitation. Most children caught up in internet-related child sexual exploitation are between 11 and 16. Nearly all online predators are strangers looking for a young person to harm and steal from.
According to the FBI, there are three different types of online child sexual exploitation:
Luring — when a predator uses the internet to communicate with a child and coax them into sexual acts — when a predator uses the internet to speak with a child and persuade them into sexual acts
Grooming — when an adult targets a child and manipulates them into sexual activity —when an adult targets a child and manipulates them into sexual activity
Child pornography —when a predator takes sexually explicit photos or videos of a child and then posts those images online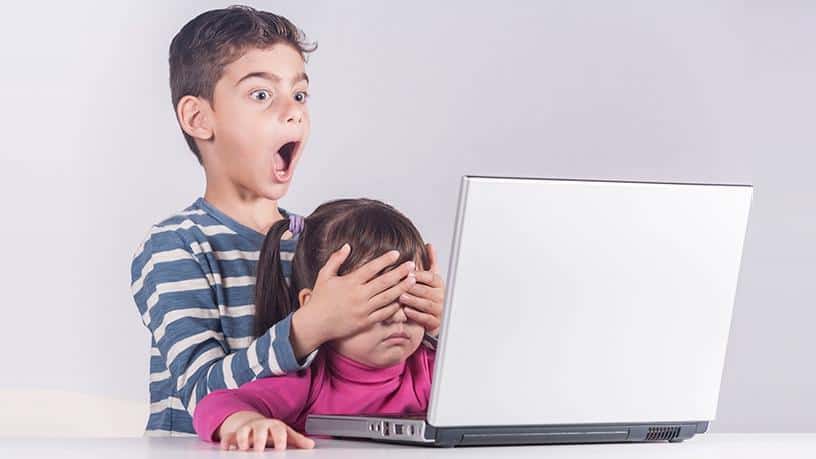 Unquestionably, they are online criminals. However, online predators are not necessarily the same as the traditional kind. Many online predators are not sex offenders at all.
In some cases, they are just curious adults interested in other adults. In other cases, they are married people who have no interest in children.
In some cases, they are very successful people who are not even trying to meet anyone. They are just trying to satisfy their curiosity. These are some of the reasons why online predators are not sex offenders.
Exposure to inappropriate content
Internet scams and phishing are among the most common online threats kids encounter. It comes in many forms, from bullying to online sexual abuse.
But what is it? If you're a parent, you might already know how difficult it can be to protect your child online. You may have a good idea of what kind of content they should avoid, but you might not know how to spot it.
Or maybe you want to make sure your kids aren't accidentally exposed to inappropriate content. From vulgar language to hate speech and graphic violence to sexual images can harm a child's impressionable mind.
Furthermore, kids who use the internet have an increased risk of exposure to inappropriate content. If you are a parent, you can help your kids avoid these risks by monitoring their online activity.
As parents, we can also be aware of the potential dangers, and threats that lurk on the web. Our responsibility is to monitor the children's information and help them make intelligent decisions about what they see and how they interact with it.
Efforts to protect your Child
Learn about privacy all on your own
Though the cyber world is not too good for a child, the good news is you can manage your child's internet access to keep them safe and sound. Above all comes privacy. Privacy is one of the essential aspects of our day-to-day life.
This is because we are constantly dealing with our personal information. And we must know how to protect this data from being snatched. The internet has made it easier for us to share and access data.
With smartphones and social media platforms, we can share our lives online, making it easier for others to access our information.
The problem with sharing data is that it is not easy to control who has access to what information. Anyone could see the data you post on social media.
You can manage your data by choosing to only share with certain people. But it is also possible to have your data accessed without you knowing about it.
And in most cases, you will not even be able to do anything about it. This is why it is essential to know how to protect your privacy and keep your data private.
There are several ways that you can keep your data safe and secure. This includes having a strong password, using different apps, and encrypting your devices.
Keep YouTube safe
It's the place children can watch videos of people doing stuff like this. This is why I like to use YouTube Kids. The best part about this app is that it allows me to set age-specific filters on my videos and let my kids watch them in their own time without any distractions.
As for the app itself, it's pretty easy to navigate, and there are lots of parental controls you can use to control content and restrict access to certain types of content.
You can even prevent your kids from downloading videos from the internet or sharing their favorite videos with others. If you want to try this out for yourself, you can download the YouTube Kids app from Google Play for free.
You can also adopt measures to restrict YouTube if not interested in downloading the app specifically for kids.
To restrict Youtube on desktop
Go to settings
In a drop-down menu, click Restricted mode
To ban Youtube on desktop
Click settings
Click General
Scroll down and tap Restricted mode
Install and Update Antivirus
While you are on the internet, your kid could be exposed to many things that can harm them. You must make sure to keep your children safe online. One of the most common threats to your kids is viruses and malware.
These are harmful programs that can harm a computer system. The best way to protect your children from these malicious programs is by using an antivirus program.
Most parents are under the impression that a good antivirus program will automatically detect and remove them, but in reality, only the most popular ones can be trusted.
The best antivirus program not only scans for malware but also keeps a record of what it finds, so you can view a detailed history and see exactly which file or program is causing the problem.
Use VPN for protecting kids online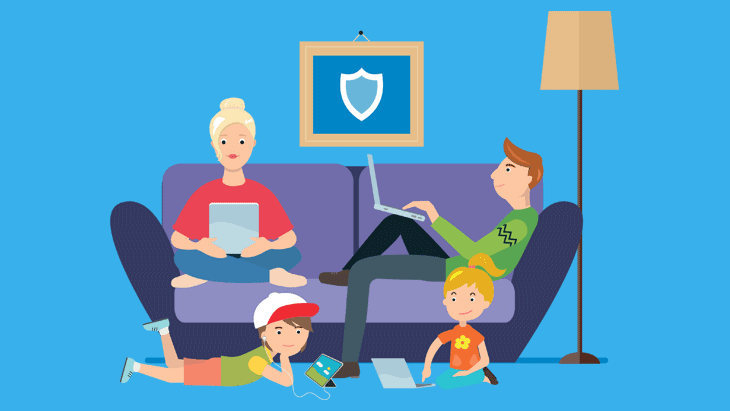 VPN acts as a middle man between your device and the internet service provider. It can be used to keep kids safe online.
It is good to use a VPN when using the internet on public Wi-Fi. Public Wi-Fi is available in cafes, hotels, airports, and others.
This may expose your personal information to hackers, cybercriminals, and other bad people. You can prevent such incidents by using a VPN on your device. It will keep your identity anonymous and safe.
ExpressVPN

ExpressVPN is one of the best VPNs to protect your kid online. Security experts highly recommend it because it is a well-known company. It is also one of the fastest VPNs for Android, Apple, Linux and Windows.
It is a no-log policy provider. You can use this service without worrying about your privacy. It has more than 3,000 servers across the world. It is easy to use. You can download the app for free from Google Play Store.
It is an excellent choice for users who want to access any website. It is a good choice for users who want to watch videos on Netflix. You can also use it to stream any kind of content. You can use it to watch movies, play games, and more.
Make separate accounts for kids
If you want to know what your kids are doing on their devices, you must create separate accounts for each child. You can also add multiple user accounts on some devices.
Depending on the device and platform, an account might have a unique home screen, including different features, apps, and permissions.
You can create customized settings for each of your children, allowing you to keep track of their screen time, location and other information.
On a desktop computer
Locate Settings
Tap Account
Add a Family Member
Add your children
On an Android device
Locate Settings
Go to Parental Control
You can also add apps to restricted content.
On Apple devices
Locate Settings
Go to General
Tap Restriction
Tap Enable Restriction
Make sure websites are secured
Do check the URL of the website. Many starts with "HTTP," but you know a website is secure when you see "HTTPS.
That's because HTTPS means the site uses different technology to protect your personal information. The main difference between HTTP and HTTPS is that HTTPS uses encryption to encrypt data on the way from your browser to the website and back.
This means that only the website can read the information. The HTTPS protocol is also known as the Hypertext Transfer Protocol Secure.
Use Kids safe browsers
You need to be assured about the browser. These days many browsers have unwanted ads, malware and phishing attacks. Your child is vulnerable to such attacks. So, be careful while using such browsers.
For safe browsing for kids, you can use Zoodles, which offers a safe and secure browsing environment for your children. You can also use Maxthon, which also blocks ads.
If you are using a Chrome Browser, which is usually unsecured, you can restrict websites and apps in two ways.
You can block specific websites.
You can pre-ban a list of websites or let your children visit any site aside from those on your blocked list.
Fake personal information
Do add fake personal information about your children on their accounts. Faking personal details of a child can save them from identity theft.
If you're looking to promote an established account, you may want to be more cautious. For example, if your account has been around for many years and is very well-established, it's best to add a few fake children to the account to help make it seem more real.
Never reveal the right information about your kid, whether their picture, passwords, date of birth, location, or other related content. A hacker can hack you anytime through the information your kid has posted.
Add Passwords
Don't use the same password for everything, but use a strong password for each website. Never share your password with anyone. If you're asked to share your password, just say no! Do not download files from random strangers.
Enable ad blockers
Use an ad blocker to block all ads while watching a video or playing a game. The AdBlocker team works hard to keep you free from annoying ads and trackers.
AdBlocker is an extension to Chrome, Firefox, and Safari that blocks ads and trackers. You can download the free AdBlocker apps or get a paid version too.
Safari AdBlocker
Safari has a Content Blocker that blocks some websites and allows others.
Open Safari
Locate Preferences
Go to General
Click Content Blockers
In the list of Content Blockers, select the Safari Content Blocker
Click Remove
Click Done
Restart Safari
Now you can browse the web without being bothered by ads, pop-ups, and other distractions.
It works the same way as Apple's parental controls for blocking content on your Mac, so you'll be familiar with the interface.
Chrome Adblocker
To enable Chrome's, Content Blocker;
Open the Chrome menu
Select Settings
Click the "Privacy" tab
Scroll down to Content settings
Turn on the slider button next to "Block sites from running JavaScript and accessing other resources."
Desktop Computers
If you are using a laptop or desktop computer, you can also go to your browser's main menu and select
Options
Content settings
Manage content settings
block individual pages
smartphone
Open the app Settings
Yap Content settings
Tap Block individual pages
Lock apps for children
If you're looking to protect your kids from the dangers of the internet, then why not lock their phones?
Some free Android and iOS apps let you set a PIN or password for your child's phone, and you can even set up a parental control policy to keep them safe.
Android
In Android smartphones, locking an app is called "screen pinning."
Locate Settings
Select Security
Tap Screen pinning
Enable "Ask for PIN before unpinning."
Apple
It is called Guided Access on Apple devices.
Locate Settings
Go to General
Tap Accessibility
Click Guided Access
Set up Guided Access
Go to application
Triple-click the home button to enable Guided Access.
Set up a time limit on applications
Screen Time is available for Apple, Android and Amazon devices. This app offers a service that allows a parent to monitor their children's web and search history.
And then be able to see what their kids are searching for. It allows you to set daily and weekly time limits, track their internet history and limit what apps they can use. And if you want to keep your kids from using the internet, this app will help you do that.
You can set time on every application for your children to maintain their mental health. Adding a time limit will help you manage everything, whether music or gaming apps.
Teach your child to stay away from online strangers
The internet is an excellent place for information and fun, but it's also where predators can lurk. As the internet becomes more popular and the World Wide Web gains popularity, parents need to teach their children how to navigate the web safely.
Parents need to teach children how to use the internet for information and fun, but they also need to teach them how to stay away from online predators.
If your child has issues with strangers online, you should know about it. Your child must learn to stay away from strangers and know what to do if they are approached by one.
It's vital to keep your child's online safety top of mind. When your child is online, they should be careful. You can teach them how to identify strangers and what to do if they are approached by one.
Teach your child about problems with sexting
That is the reality of the world we live in. Parents need to teach their children about the dangers of sexting.
Your child must learn to stay away from strangers. That is one of the reasons why parents need to teach their children about sexting.
The National Centre for Missing and Exploited Children say that reports of sextortion were up 150 percent during the first several months of 2016
You can teach your child about sexting, porn, and social media as a parent. You can also teach them about the dangers of sexting.
When your child is online, they should be careful. You can teach them how to identify strangers and what to do if they are approached by one. It is an essential part of your child's online safety.
This is becasue predators coerce kids into sending them explicit photos, videos, or other forms of digital content. When they demand money, a threat of retaliation, or another kind of favor, it becomes a crime that's often called sextortion.
The Department of Justice has found that sextortion is a growing problem among teens and young adults in this country.
In this report, "most victims are female," and "there is evidence that males are increasingly targeted by offenders who threaten to distribute the victim's sexualized images on the Internet." Symptoms include fear and nervousness when they use the internet.
Victims can become anxious, depressed, or have feelings of depression. They might feel helpless, embarrassed, ashamed, angry, and worried.
Educate your kid about secure file sharing
Teach them to avoid clicking on links that ask them to download files. "Your kid will do things you don't like, but you can't control it.
The best thing you can do is educate them," Dr. Robert Slane, a pediatrician and the author of "Teaching Kids to Be Kids," told CBS News.
Make an internal rule that we don't download any file that we don't know the source. That means we'll only download files from reputable sites like torrents, private trackers and websites that we know are safe. It's a good habit to have.
Add your kid to your friendliest
Do add your kid to the friendliest of all your social accounts. In this way, you'll be able to watch all their details and activities while being active on social media.
According to a recent survey conducted by a major research firm, 83 percent of parents are Facebook friends with their teenage children.
Protecting your child from cyberbullying
What is Bullying?
According to the U.S. Department of Health and Human Services, bullying is "unwanted aggressive behavior among school-aged children." bullying can be done either through social media account or by any other electronic means.
It includes physical and verbal abuse, such as hitting, pushing, kicking, punching, name-calling, and threats of violence, such as, "I'll cut you!" or "I'll tell your parents you did it!
Cyberbullying happens anytime, anywhere, and can affect anyone. It can occur between friends or strangers. It can involve text messages, Facebook messages, Twitter tweets, email, or phone calls.
If you think your child may be a victim of cyberbullying, you need to talk to them. Sometimes it's hard to know if someone is being bullied online because kids don't always want to tell their parents. But they should!
Keep a Good check on your kid's
Ask them questions about their social media usage. What kinds of pictures are they posting? Do they post photos of other people without their permission?
Are they posting negative comments about someone else? If they are, talk to them about why that's wrong. You can manually add settings or can buy parental control software too.
Don't judge your child harshly. Instead, gently ask what's Ask them if they've been bullied and what that response was.
Understand their feelings
Our child may feel angry, sad, scared or even betrayed if the bully is someone they trusted. Let them know that it's okay to feel whatever they're feeling.
If they are angry, help them find an outlet for their anger. When children are bullied, their self-esteem can be impacted. It may be hard for them to talk about the bullying and how they feel about themselves.
They may feel embarrassed to tell a parent, teacher or friend what happened. Don't make your child feel bad for being a victim of bullying. Let them know you're there to support them, and you're not going to judge them.
Respond to cyberbully
Block the person immediately. If anyone is bullying your kid, you need to take severe action against them. In most cases, the bully will be a friend or family member who has been doing this for some time. You must take these actions:
First, remove all contact with the person. This is extremely important. If they are friends or relatives, make it clear that you don't want to be friends anymore. If they are not a close friend or relative, they must have no further contact with your child.
Second, if you are able, set boundaries. Tell them that if they come near you again, you will call the police. If you can't set boundaries, get out of the situation and take your child to a safe place.
Third, use tools like browser extensions and privacy settings to add extra layers of protection. Read and inform Cyberbullying Research Center to deal with a bullied kid in a better way.
Teach Child about Bullying
"The internet, for better or worse, is a place where children and teens have the ability to communicate with each other in ways that weren't possible before," "And we have to be careful not to overreact to the potential of this communication to do harm. said Dr. John Baker, child psychologist.
The first thing you can do to help teaches your children about online safety. Talk to them about how to use social media safely and what to do if they receive unwanted attention from others.
Saving children from inappropriate content
Guide your children
You must teach your children how to use suitable online manners, use safe search words, determine if a website is secure, and when to ask an adult for help. Also, teach a child about inappropriate and nonappropriate content.
Explain email safety
Many emails contain inappropriate content; by clicking such sites, a kid may be exposed to content such as pornography, bomb sites, violence sites, etc.
Kids should know to ignore messages from people they don't know and shouldn't click on things or open attachments in emails that they didn't initiate. Always ask for an adult's permission before downloading anything.
Set up firewalls and content blockers
Be extra careful with your devices while using them. Block websites that are not appropriate for children.
Set up a content filter or firewall to prevent kids from accessing harmful or inappropriate content on the internet. Never freak out at your child if they are exposed to inappropriate content.
Be calm while dealing with Child
Don't freak out at your kids if they see something that's inappropriate content. Instead, talk about the difference.
Educate them regarding appropriate and inappropriate content, how it can be used for good or bad, and why it's essential to be smart online. This is a critical topic to discuss with kids and one that I hope you will find helpful in this post!
Setting Parental Controls on Computers and Devices
A parent can control a child's devices in the following ways.
Control the usage of mobile devices
Prevent children from accessing age-restricted content
Parents can monitor kids' activities
Windows
Open Windows 10
Click on the Start menu icon
Locate Accounts
Go to Family and Other Users
Add a family
Choose to Add a child
Add your phone number
Reset the password
Turn off any promotional offers by Microsoft
macOS
Log into your family sharing or single member's account
Click Apple menu
Tap System Preference
Click Screen Time
Click the pop-up menu appearing on the side
Choose a family member
Turn on Content and Privacy
To restrict the web content
Click content
Follow restrictions
To restrict tv shows and movies, app purchases
Click store
Follow instruction
To lock settings
Click Other
Follow instructions
Android
Set data limits
Go to Settings
Choose Network and Internet
Choose Data Usage
Tap Mobile Data Usage
Tap the Cog Wheel on the upper side of the screen
Select Set data Limits
Restrict apps on Google Play Store
Open Google Play Store
Tap three stacked lines on the left side and open the menu
Choose settings menu
Choose Parental Control
Tap On
Click Create Content PIN
Apply Content Restrictions
Uncheck boxes for Mature 17+ and Adults only 18+
Apple
Go to Settings
Click General
Click Parental Controls
YouTube
Access Youtube
Click the Setting button in the left corner
In a drop-down menu, click Restricted Mode
Turn on Restricted Mode
Click Save
Chrome
Go to Chrome Setting
Uncheck "Let anyone add a person."
Click Add a Person
Now check Control and view the websites this person visits from
Setting Privacy Settings
Facebook Privacy settings
Click the arrow in the top-right menu
Select setting and privacy
Click Setting
Click Privacy
Change privacy as per your needs
Snapchat privacy settings
Tap the Cog Wheel
Open Setting
Scroll the "Who Can" section
Save your choices
Instagram privacy settings
Tap Profile Picture
Click three lines
Navigate Settings
Click Privacy
Tap on Private Account
Twitter privacy settings
Click More icon
Go to Settings and Privacy
Locate Audience and Tagging
Click Protect your Tweets
Check the box
Save your Child On Social Media
When you're a parent, it's really easy to get sucked into social media. You see all your friends posting photos of their kids and being so proud of them, making you want to do the same thing.
But it's essential to be aware of what you post online and what other people post. Here are some things to keep in mind about social media when you have kids:
Don't encourage your child to use social media until they are old enough to understand the dangers.
Set limits for the time your child spends on social media.
You must stay up-to-date with the things your customers are liking, sharing, and replying to.
Control which apps your kids use on their smartphones.
Block any location settings for any social media apps or platforms
Safe your Kid on Online for Games
Use parental controls to restrict the type of games they can access online.
Ensure that their gaming profile is set to private.
Don't turn a blind eye, ignore what they are doing, and encourage openness.
If you have more than one child, set up their profile, so they can play their favorite games without their parents interfering.
Safe Mobile Applications and Devices
Children are growing up with mobile devices, smartphones, and tablets. While this is an excellent thing for them, it can also be dangerous. Kids need to be taught how to use technology safely. If you have kids or are responsible for them, you know how important this is.
Be sure to control when apps are added to your phone.
If you can't do it, try to enforce a rule that your child needs to get permission from you first.
Keep strong passwords on all child accounts.
Educate them regarding unknown numbers. Friend requests from people you do not know.
Your child mustn't give out their mobile phone numbers online and offline without first getting your permission.
Make sure they know not to post nasty comments or say bad things.
Don't post anything online if you wouldn't say it to someone in person.
Students need to understand any school rules about mobile phone usage. You don't want your child to have a cell phone, especially not a night-time phone.
Conclusion
In conclusion, there are many threats out there that children can face on the internet, especially when they are exploring the internet for the first time. Children are naturally curious and often spend a lot of time on the internet without adult supervision.
The good news is that there are steps parents can take to protect kids from cyberbullying, online predators, and other dangers on the internet.
This guide will show you how to: Identify and prevent potential threats to your child on the Internet; Recognize and avoid dangerous social networking sites and apps. Encourage your child to be safe online; Create safe Internet environments at home and school, and Make online safety a priority for you and your family.
You can also use any of our recommended VPNs to protect your children. To read their details, click here and choose your preferable VPN service.