The 21st Century is an era of online job hunting. You must have made your profile on Upwork, LinkedIn, Facebook and many other sites, but do you know all these sites are unsecured?
Not too far, in June 2021, the data of 700 million users of LinkedIn was posted on Dark Webs. Image the situation when you know something like this can happen. How will you react?
To keep safe from such mishaps and cyberattacks, people are massively using Virtual Private Networks. A VPN acts as a middle man encrypts and hides all your data and valuable information. However, not all VPNs can do so.
Free VPNs are more vulnerable to cyber-attacks. So, you need a reliable VPN. We have enlisted 10 VPNs for ultimate security and anonymity on our web page. Private Internet Access and IPVanish VPN are among them.
Both are reliable VPNs and have multiple security and add-on features. This comparative article will compare and contrast IPVanish and Private Internet Access services, benefits, and features, which would help you choose your preferred VPN service.
How to Choose a VPN
Once the risk of digital vulnerabilities rises, markets flood with thousands of VPN services. Some are free, while others are paid. People do get confused about which VPN they should choose.
Instead of buying paid VPN services, they prefer free VPN. But you should never go with free VPNs. Free VPN service providers do need money. They earn by selling your data to advertisers.
Similarly, they do not have any well-developed infrastructure; therefore, the chances of cyberattacks remain high.
We always recommend choosing a paid VPN. Why becasue a paid VPN has:
Many servers
Multiple device connection
fastest speed
Privacy
Security
Customer service
Additional features
Both PIA and IPVanish have proven themselves to be the best VPN services. You can choose any of them. To study further about VPNs, you can also check our page Best VPN for 2022
A Brief Description
IPVanish VPN

Florida-based IPVanish VPN was released in 2012. It has successfully secured the position as one of the best VPN services.
It has industry-leading speed, security, and privacy protocols while surfing online for web activities. It also has IPv6 and DNS leak protection along with Scramble to disguise your VPN traces.
Private Internet AccessVPN

Headquartered in Colorado, US and launched in 2009, Private Internet Access is also known as PIA VPN. It has military-grade encryption with excellent speed and with all the benefits.
The multiple protocols with servers and device connections are cherry on its top. Plus, PIA also supports DNS and IPv6 blocks. It also includes a NAT firewall.
Similarities
Privacy
The most crucial point for choosing any VPN is its privacy policies. Privacy is of utmost importance for any VPN becasue you do use VPN to hide your IP address and mask it with some other region's IP to unblock sites and protect your digital surfing.
Always look for providers who do not keep customers' activity. Many reliable VPNs have a no-log policy means the service provider pledges not to keep logs.
Both IPVanish and PIA are based in the USA, a member of surveillance organizations such as 5-Eye and 9-Eye.
These organizations expect their members to retain and share netizens' data to curb corruption, money laundering, and terrorism.
IPVanish and PIA have a staunch no-log policy despite being in the US. Both are not keeping any logs of their customer. IPVanish authenticates the notion with words on its website.
"We do not monitor, record or store logs for any single customer's VPN activity. We have a zero log policy. Our users' privacy is our main concern"
Similarly, on the main page, PIA also takes a stance against keeping any logs of its users. The website says
PIA has a strict no-logs policy, and we have the court records to back it up! Privacy is the core of our business, and we never store or share any usage information such as: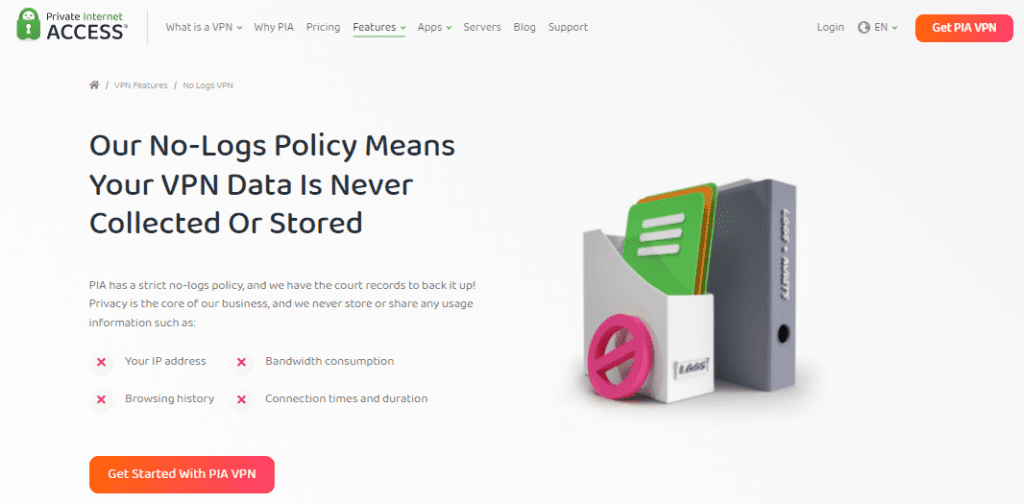 Plus, despite being a part of surveillance agencies, the United States of America favors keeping its citizen's privacy and freedom of digital surfing a top priority. So, it interferes least in matters of organizations, so do VPNs.
You can browse anything anonymously with IPVanish and Private Internet Access without revealing your IP address and location.
Military Grade Encryption
IPVanish and Private Internet Access have military-grade encryption. Both create an SSL tunnel through which your valuable information passes. VPN encrypts your data so no one can ever snoop in your activities.
Private Internet Access VPN has military-grade encryption of AES 256 bit. AES refers to are Advanced Encryption Standard. Similarly, it has SHA-256 Hash Authentication and 4096-bit RSA Key Exchange.
IPVnaish is not leaving behind. Along with AES 256 bit encryption, it also has SHA512 authentication and a DHE-RSA 2048-bit key exchange with perfect forward secrecy.
IPVanish and Private Internt Access
Protect your data from third-party surveillance
Protect your data from cyber attacks
Protect your entire web traffic
Streaming Support
Many VPNs providers have a bogus claim to unblock geo-restricted sites. Free VPNs have failed to comply with such claims. Only paid VPNs with servers and well-structured infrastructure can unblock restricted geo sites.
Now you must be thinking about what geo-restrictions are. Many websites, apps and channels use geo-restricted technologies to retain the fame and attraction of their platforms like Hulu or Tubi tv, which is only available in the USA.
So, thousands of people use VPNs for streaming geo-restricted sites, not only for streaming but also for other sites like banks of your native country and so on.
We are pretty confident that IPVanish and Private Internet Access VPNs can unblock as many geo-restricted sites as possible becasue of their vast network server coverage. Some of these streaming services are:
CNBC
Amazon Prime
BBC iPlayer, etc
If you are also looking to watch all these services with full encryption through any other VPN, we advise you to read a bit about NordVPN.
Circumvent Chinese surveillance
China is a country known for its GREAT SURVEILLANCE. It has stringent rules and regularly checks the data of the netizens. Above all else, the use of VPN is entirely illegal in China.
Just one mistake, and you will be ended up in jail. So, be extra cautious if you use a VPN while living in China.
You may want to access Chinese websites, again for these; you need a VPN. But Chinese Great Firewall can bring many VPNs on their knees. However, IPVanish and PIA can work there too.
Firstly, their VPN tunnel is highly encrypted, which no one can break, nor an ISP can request any DNS leaks, so it is impossible to break. Secondly, the Stealth VPN or obfuscation came to recuse VPN by removing every trace.
No one can, at any cost, check whether you are using a VPN or not while living in china or accessing sites from abroad.
PIA VPN does have servers in China. It also uses the Shadowsock proxy to unblock Great Chinese Firewall.
Sadly, IPVanish has no server in China. So, it is a bit tough to connect and unblock Chinese content. However, you must make specific configuration settings on their website to connect manually through the IPVanish server's IP addresses.
How to connect to IPVanish Servers Manually: L2TP Connection
Many IPVanish users are concerned about connecting with China. Click here to read our article to get all your answers. We have discussed settings for
Windows
Windows 10
Windows 8
Windows 7
OXS
Android OS
iOS
iPhone
iPad
iPod
No Leaks
While writing IPVanish and Private Internet Access comparison, it is crucial to write about leak protection. Both IPVanish and PIA do not support DNS or IP leaks protection.
Torrenting
BitTorrent and P2P file sharing is one of the most repetitive tasks in anyone's life. Through digital technologies, you can transfer files, videos and movies.
These activities are legal and illegal, too, in the sense that you are not sharing any copyrighted material. Through VPN, you can be saved from the eyes of the ISP while transferring files.
Not all VPNs are good for torrenting. So, we have devised criteria helping you to choose whether you should torrent with your VPN or not.
Essential features for torrenting
Zero-log policy
Dedicated apps
AES 256 bit encryption
Excellent download speed
SOCKS5 proxy service
Thankfully, IPVnaish and Private Intenret Access allowed torrenting on their servers and fulfilled all the above conditions.
IPVanish has a proper SOCKS5 Proxy Setup with uTorrent for Windows.
Open uTorrent
Click Option
Click preference
Click Connection
Uncheck all boxes under "Listening Port
Under "Proxy server Section," check "Authentication."
Type and enter Socks5
Port 1080
Your IPVanish user name and password
Click OK
Quit uTorrent and restart it again
If your Torrenting speed is slow, then.
Go to Options
Click Preferences
Click Bandwidth
Uncheck "Apply rate limit to uTP connections."
Now, go to BitTorrent from the preference menu.
Uncheck Uncheck "Enable bandwidth management [uTP]."
Protocol
Protocols are pretty crucial for any VPN service. Both IPVanish and PIA have various protocols to retain privacy, speed and security as a complete package for their users.
IPVnaish uses different protocols, including PPTP, IKEv2, L2TP Open VPN and WireGuard. Private Internet Access uses PPTP, L2TP, and Open VPN. PIA does support WireGuard but also as IKEv2.
Split Tunneling
Split tunneling helps you remove the access of some websites and apps through a VPN. This means you can add such sites to split tunnels and use them without a VPN connection. Both IPVnaisah and Private Internet Access have split tunneling features.
Interface & Usability
PIA and IPVanish are user-friendly. Both have an intuitive app and website. Both are simple. You can directly connect to the most speedy server, or you can also choose your server location from a drop-down menu. You can also configure settings manually if you select other protocols or features.
Differences
Server Coverage
For any reliable VPN, comprehensive global server coverage matter the most—the wider the global coverage, the better the speed and security. IPVanish has 11900 plus servers in 75 plus countries.
However, Private Internet Access is leading. It has the most comprehensive coverage with 29650 servers in 70 countries.
Internet Speed
When your data passes through a server, speed hits the most. While watching a video or playing a game, the speed lags, or the video starts buffering.
So, VPNs must use industry-leading protocols to save from such things. All excellent VPNs provide fast average connection speeds.
As per certain users, the speed of Private Internet Access is 84.18 Mbps. Similarly, IPVanish is 62.15 Mbps. You can also run speed tests to check their speed.
Simultaneous Connections
Most renowned VPN providers allow customers to use VPNs on multiple devices. Using VPN on various devices can protect your and the entire family's connections. IPVanish and PIA are among such VPNs.
Both PIA and IPVanish offer simultaneous connections on a few more devices than other VPNs. PIA offers device connection for 10 devices. IPVanish on the other hand offers unlimited devices to be connected at one time.
Multi-Platform Support
A reliable VPN must have excellent multi-platform support devices and operating systems. It has apps for
Windows
macOS
iOS
Android
Linux
Amazon Fire tv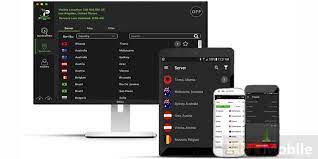 These are general. Let's discuss both specifically.
Private Internet Access offers extra features, such as MACE- an adblocker. PIA also has a browser extension for Chrome, Firefox, and Opera
Similarly, IPVanish does support multiple platforms, but it doesn't offer browser extensions. You can also use an IPVanish VPN connection on Kodi.
Obfuscation
Sometimes traces of your VPN are left over the network, and an ISP can detect if you are using a VPN or not. To keep a user safe from such problems, obfuscation is used by many VPN providers to remove traces of VPN from the network.
With the name of Scramble, IPVanish offers obfuscation. However, PIA VPN does not have any obfuscated serves.
Customer Support
Customer support is quite crucial for any VPN. Many people who use VPNs don't have any prior IT background these days.
Though our recommended VPNs have user-friendly interference, many problems could arrive, or you could face payment issues too.
A reliable VPN offers a knowledge-filled support library through a website and customer representative to resolve such issues. For general difficulties, you can check the
Video tutorials
Articles
Blogs
FAQ section
Both IPVanish and PIA have such facilities. However, if a complex problem arrives requiring the assistance of any professional, you can speak to their customer representative team available 24/7 live for your service.
IPVanish customers can get one on one support through
Live call – +1 800 591 5241
Email –

[email protected]

.
Live Chat -support bot.
On the other hand, PIA does not have many options. They have a form available on the website that you need to fill out to let the company know your problems. It also dont have live support through text or email.
Pricing
Both IPVanish and Private Internet Access are reasonably priced.
Packages
Private Internet Access does understand the customer's needs and financial constraints, so it does offer all services at quite a reasonable pricing.
Its most excellent package is of 3 years which you get only for $2.03 per month. A year is $3.33, and the monthly box is $9.95.
On the contrary, IPvnaish is also offering quite an affordable pricing package. Its yearly package is $3.75 per month, and the monthly package is $10.99 per month.
Money-Back Guarantee
PIA has 30 days money-back guarantee on all its plans. However, IPVanish has a money-back guarantee only on its early package.
Payment modes
Both PIA and IPVnaish have various payment modes. For IPVaish, you can pay through credit and debit cards and PayPal. PIA is a bit forward. Along with credit, debit cards and Paypal, PIA also has payment modes through cryptocurrencies.
A quick Comparision
| Features | IPVanish | Private Internet Access |
| --- | --- | --- |
| User Rating | 4.8 | 4.5 |
| Total Servers | 11900 | 29650 |
| Total countries | 75 | 70 |
| Headquarter | USA | USA |
| Number of Devices | 10 | 10 |
| Encryption | Excellent | Excellent |
| Logging Policy | Excellent | Excellent |
| Unblocking Sites | Excellent | Excellent |
| Torrenting | Excellent | Excellent |
| Leak Protection | Excellent | Excellent |
| Split Tunneling | Yes | Yes |
| Kill Switch | Yes | Yes |
| Obfuscation | Yes | No |
| Dedicated IP | No | Yes |
| 36 month Plan | – | $2.03 |
| 12 months Plan | $3.75 | $3.33 |
| Monthly Plan | $10.99 | $9.95. |
| Money-back guarantee | 30 days | 30 days |
| | Get It Now | Get It Now |
FAQs
Conclusion
Both IPVanish and PIA have proved to be the best VPNs for data-conscious users. Both have top-notch security, anonymity and speedy connections. Both can also unblock as many streaming sites as possible.
The only difference is between servers and other add-on features. This is the reason why we are not claiming anyone winner. We opined that IPVnaish and Private Internet Access are winners and are some of the best VPN service providers.