Things are getting digitized. So do thefts. Cyber breaches have already accounted for billions of dollars to the world government. As a result, many countries have codified proper laws against hackers and snoopers.
However, this is not enough to stop cyber theft's challenges. There must be something that protects you individually. Virtual Private Network is the best option.
It secures all your data and network traffic by changing your IP address with a VPN-generated IP, so no one can even sneak into your activities.
However, this article is not about which you should buy, but we will compare the two most renowned VPNs you can use to hide all your online activities.
These VPNs are Express and CyberGhost. How they are different and how they are similar to each other, we will discuss everything in detail below. Let's start the deep analysis of ExpressVPN vs CyberGhost.
A Brief Discussion
CyberGhost VPN
Founded in 2011, CyberGhost is based in Bucharest, Romania. The VPN is owned by Kape Technologies, which also owns Private Internet Access. Now think of the level of security of a company that possesses the most famous VPN services.
ExpressVPN

Founded in 2009, ExpressVPN is one of the best VPN service providers in the industry. Though expansive, it owns all features required by big firms, journalists, politicians and individuals to keep up with the pace of privacy and security. Express is owned by Kape Technologies and is based in the British Virgin Islands.
---
Similarities between CyberGhost and ExpressVPN
CyberGhost VPN and ExpressVPN are similar in many ways. Their privacy and security features are almost identical. Their motto is the same serving the best to customers. After hours of analysis, we have enlisted specific points to clarify both VPNs' similarities.
Military Grade Encryption
Let's first talk about the encryption of CyberGhost and ExpressVPN, but before this, let us first understand why encryption is needed.
Virtual Private Network makes a secured tunnel from which your device's data passes. It first breaks the data into small packets so that an ISP cannot even figure out what you are browsing and what the data is about when it reaches its destination.
In the middle of the device and ISP, the VPN masks your IP address with the IP generated by VPN. This process is done under the VPN tunnel. The tunnel needs protection too.
So the VPN uses an algorithm standard called encryption which makes a tough layer of protection that does not let any data escape from the tunnel.
ExpressVPN has AES 256-bit cipher encryption with a 4096-bit RSA key and SHA-512 HMAC authentication. Now comes to CyberGhost. It has an AES-256 cipher, 4096-bit RSA key and SHA-256 hash authentication.
Logging policy
The clear distinction between free and paid VPNs is in their logging policy. Free VPNs do not earn by giving you VPN services. Instead, they make by selling your data to advertisers means they track your activities.
Tracking or storing data calls many hackers and snoopers to hack data and use it to fulfill their interests. This is why many reliable companies have a Zero tracking policy.
Likewise, Express and CyberGhost, the service providers, have pledged not to track any chunk of the information. These VPNs companies do not collect DNS queries and browsing histories.
Express has gone a step beyond to confirm its no-logging policy. Its policy is audited by an independent third-party firm PricewaterhouseCoopers. However, the zero-log policy of CyberGhost is yet to be audited.
Jurisdiction
Regarding logging policy, the company's location matters the most. This is because many countries are a part of surveillance alliances such as 14 Eye and 5 Eye to curb the menace of money laundering and terrorism.
These countries share and collect data on their netizens. However, certain nations are free from the jurisdiction of data retention laws. British Virgins Islands and Romania are some of them. Thankfully, CyberGhost and ExpressVPN are located in such countries.
Leak Protection
No matter how much you try to hide your IP, an ISP can request your DNS. DNS and an ISP can also ask for IP and WebRTC leaks.
This is where the VPN tunneling comes in. It makes the strongest tunnel through encryption and protocol from where not a single leak is possible. Both CyberGhost and ExpressVPN offer the best protection against any leaks.
Streaming
Only a few are concerned about privacy as journalists, politicians, CEOs, CFOs, etc. Rest are interested in breaking all firewalls to watch whatsoever they want. This is because many channels are geo-blocked.
Let's say HBO Max is blocked outside the US. ABCiView is blocked outside Australia. Voot is blocked outside India. Similarly, thousands of channels use geo-blocking technologies to retain their copyright agreements.
Both ExpressVPN and CyberGhost are solid choices for streaming. Both can work reliably to unblock any platform. CyberGhost and Express can unblock Netflix, YouTube, Facebook, BlinkBox and many more. To read more about channels, click here.
Technically, WireGuard of CyberGhost and Lightway of Express ensure a fast streaming experience without any buffering. Also, CyberGhost has dedicated servers for streaming too.
Bypassing Chinese Firewall
China is a highly surveilled county. The Great Firewall of China is impossible to break. Above all else, it is a country where using VPN is a crime.
Recently, a man was jailed for 3 years and imposed a heavy penalty for selling VPNs in China. In such situations, using any VPN without knowing its features is risky. Both Express and CyberGhost work well in China.
Express high-level security and CyberGhost's NoSpy servers suit best to bypass any Chinese censorship without letting the government know what you have been doing all the time.
Torrenting and P2P File sharing
You must have been sharing many files with peers and friends, whether an employee or a movie lover. ExpressVPN and CyberGhost are renowned for being some of the best VPNs for torrenting.
However, CyberGhost allows torrenting and P2P file sharing on specific servers. On the other hand, Express allows torrenting on all of its servers.
SmartDNS
Many gaming consoles and some smart TVs do not work with VPNs. In such cases, many reliable VPN companies provide an additional feature known as SMART DNS.
ExpressVPN calls it MediaStreamer, while CyberGhost calls it My Smart DNS. SmartDNS helps you to watch geo-restricted channels on devices where VPN doesn't work. It works with Xbox, Playstation, Apple TV, and so on.
Protocols
CyberGhost and ExpressVPN use many protocols. The question here is why a VPN uses the protocol. Many reliable VPNs use protocols to augment security privacy.
Also, the tunneling process is time-consuming, so many VPNs use speed-oriented protocols to retain speedy connections without buffering.
Some of the standard protocols both CyberGhost and ExpressVPN are using:
OpenVPN: It uses both UDP and TCP. It's an open-source protocol enabling high-level security.
L2TP/IPsec: This protocol is also used to enhance the security of the VPN.
IKEv2: Mobile users usually use this protocol for security and speed.
Along with these standard protocols, Express and CyberGhost also use specialized protocols.
ExpressVPN uses Lightway protocols that help switch between many features and provide ultra-fast speed. Lightway uses ChaCha20 cipher or AES-256 cipher for security. It is not an open-source protocol like WireGuard and is solely developed by Express for its users.
Device Applications
An excellent VPN offers multiple applications for every device. Let's say you have a VPN service incompatible with your device; what will you do even if you paid for it? So for all these, a VPN should have dedicated apps for each operating system.
ExpressVPN works on Windows, Mac, iPhone, and Android. Even for routers, it moves ahead of many VPNs, including CyberGhost and has a dedicated application.
Similarly, CyberGhost also supports many devices but does not have any dedicated application to use routers. You need to set the VPN manually on the router. The features are also slightly different, like the kill switch is available only for desktop and smartphone devices.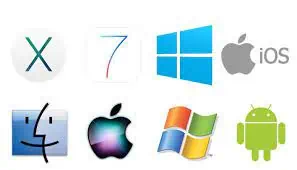 Split tunneling
While using VPN, you must have witnessed some applications or websites that do not work or lag too much. Or you be needed a VPN only for specific sites. For instance, you want to access a Netflix podcast but work on your laptop simultaneously for video editing online.
In such cases, it's ideal to connect VPN only for Netflix. Now the question is, how will you do that?
Through split tunneling, you can add your VPN-specific sites and apps. It allowed you to pick only those sites you wanted to go through the VPN tunnel. Both CyberGhost and ExpressVPN have split tunneling for iOS and Android applications.
Kill switch
Only a kill switch can save from exposing location in many situations. Sometimes, your device's connection disconnects from the VPN server, revealing all your browsing history.
In such a situation, Kill switch automatically activities and drops down your connection with the internet so that nothing passes out. Once the connection with the VPN server revives, the kill switch automatically connects you to the internet.
Luckily, CyberGhost and ExpressVPN own this feature. Express calls it Network lock, available on Windows, Mac, Linux, and Android. On the contrary, CyberGhost also has a kill switch but is available only for desktop clients.
Owned by Kape Technologies
Think of the VPN owned by the same company. Means more security and privacy. Plus undeniable speed. This is precisely the case with CyberGhost and ExpressVPN.
Both are twins means owned by the same company Kape Technologies. With the motto of "Privacy is our priority," Kape technologies holds some famous VPNs; CyberGhost and Express are one of them.
Related Article: ExpressVPN vs. SurfShark
Installation process
The installation process of any VPN is the same as discussed below:
Choose CyberGhost or ExpressVPN
Install the VPN app
Pay for its subscription
Launch VPN
Do manual settings to enable features (optional)
Be safe and enjoy streaming
CyberGhost and ExpressVPN are super easy to install and set up on any device.
User Friendliness
A VPN should be user-friendly because everyone is not from an IT background. It should be super easy to use. Both CyberGhost and Express are pretty easy to use.
After pressing the big connect button, Express connects you to any server. You can also switch between servers with your preferred choice. Plus, the menu is categorized, so everything appears right there.
With CyberGhost, you can switch between servers for gaming torrenting and streaming. The menu is categorized with many features whcih are easily recognizable.
Customer support
Customer support is quite essential. Many free VPN service providers lack this feature becasue they are least concerned with resolving the day-to-day queries of customers.
However, a reliable VPN does charge money but is also concerned with your queries. First, their websites are flooded with video tutorials, articles, blogs, FAQ sessions and many more.
However, there are specific billing problems, subscription cancellations, or even features or manual configurations.
You can avail of Express's and CyberGhost's 24/7 customer support through email or live chat for all such problems.
Differences Between CyberGhost and ExpressVPN
Servers
More server distribution means better security and faster speed. If we speak of ExpressVPN, it has 3000 servers in 160 locations in 94 countries. On the contrary, CyberGhost has more than 6000 servers in 88 countries.
It's not only the server location that matters. Many more features are also included, enhancing the VPN's overall value. For instance, ExpressVPN has RAM-only servers. Usually, many VPN uses hard drives on servers, but it stores data and needs time to remove.
However, RAM loses data at every power loss, which means the data will be released on every disconnect. CyberGhost does not provide such features as NoSpy servers. These servers are entirely out of snoopers' and surveillance organizations' reach.
These are owned and managed by CyberGhost employees. Also, if you need a server for torrenting, CyberGhost can pick its dedicated specialized server for torrenting immediately. It also offers a list of servers for gaming and streaming.
Speed
Whenever we talk about VPN, speed automatically comes to mind. Many think using a VPN decreases the speed of the internet connection. This is not the case with all our recommended and reliable VPNs.
They use different protocols and have servers in a lot more countries to provide you better speed experience. Let's first start with ExpressVPN. Express has Lightway protocol, which is specifically designed for speed and security.
On the contrary, CyberGhost has WireGuard, which leads the industry in speed. CyberGhost's average speed is 6 Mbps, and the maximum it reaches 1GB. Express speed is 135 Mbps.
Despite speed differences, what remains common among both VPNs is their commitment to bypassing ISP throttling. An Internet Service Provider limits your speed anytime.
However, once all your activities are hidden, no one can ever check how much data you have used so far; resultantly, you can watch videos or play games with optimized speed.
Device Connections
If you are paying for a VPN, the service provider must encrypt not only one but many devices. With this thinking, all our recommended VPN providers give not only one or two but also many device connections.
Firstly, as mentioned above, both VPNs are familiar with working with Linxus, Mac, Windows, Android, etc. They have browser extensions for Chrome and Firefox as well.
As far as device support is concerned, Express offers you 5 simultaneous connections with one subscription. CyberGhost, on another side, offers 7 device connections at one time.
Security Audits
Keeping zero connection logs is a policy of both Express and CyberGhost VPNs. However, only Express has conducted third-party audits. This means its no-log policy is confirmed by Cure53 and PricewaterhouseCoopers- renowned auditing firms. CyberGhost, on the other side, does not have confirmed its no-log policy from any audited firm yet.
Ad-blocker
Adblocker is an additional feature. It uses to block ads while watching videos. It also blocks malware, trackers and scareware. All the users of CyberGhost will get this feature for free when they subscribe to CyberGhost services. However, you will not get this feature in ExpressVPN.
Dedicated IP Addresses
Dedicated IP is an additional feature to add an extra layer of security to your VPN connection. Many VPNs do not offer dedicated IP addresses. Dedicated IP helps you connect with better speed and security because only you can use it.
It also saves you from server overcrowding and site blocklisting. CyberGhost VPN providers offer you a dedicated IP, while Express doesn't.
Obfuscated Servers
Obfuscated servers used to hide your VPN traffic mean it removes the traces or footsteps of the VPN from your network. Express does have obfuscated servers. However, CyberGhost does not offer such a feature.
Pricing: CyberGhost and ExpressVPN
Express is undoubtedly a leading industry, but it is costly too. Its monthly plan costs you $6.67 per month for 12 months. This is expansive considering CyberGhost's $4.29 per month for 12 months.
Similarly, ExpressVPN offers 6 months package for $9.99 per month. On the contrary, CyberGhost does not provide a 6-month package. Instead, it provides 3 years and 2 years packages at $2.29 and $3.25 per month.
Both VPNs also offer monthly packages. The monthly package of ExpressVPN costs you $12.95 a month. On the contrary, the monthly package of CyberGhost is $12.99 a month.
Both VPNs offer a money-back guarantee. Express has a 30-day money-back guarantee, while CyberGhost VPN has a 45-day money-back guarantee.
Quick Review
FAQs
Is CyberGhost better than ExpressVPN?
Express is industry-leading, and CyberGhost is a VPN with many servers. Express has Lightway, and CyberGhost has WireGuard. Express has obfuscation, and CyberGhost has dedicated IP addresses.
We cannot claim any VPN as a winner or loser with all such features. Both are the best in their domains. Both are for security and privacy and have seamlessly high speed. What matters is the preference of the customer.
Is CyberGhost safe?
Yes, CyberGhost is entirely safe. It is based in Romania, a country that does not retain data logs of its netizens and organizations. Owing to this, a user can enjoy its no-log policy too. Its security features are marvelous without letting an ISP know what you are doing and hiding your online web traffic.
Is ExpressVPN worth the money?
Express is the all-rounder. It is the king of VPNs. It owns everything a security concerns individual wants. From a zero-logging policy to obfuscated servers, Express does not compromise on anything. The speed is a plus. Even Lightway is designed especially for Express users. So, it is worth the money.
Final Thoughts
The quality both Express and CyberGhost are offering is excellent. Both are the best in their domains. Overall, for speed, security, and privacy, Express and CyberGhost own everything to secure individuals' online activities.
A slight distinction occurs in their value-added services. CyberGhost offers dedicated IP, while Express provides obfuscated servers. Both own geo-unblocking capabilities. Whether you choose ExpressVPN or CyberGhost VPN, we prefer both.
Interested in reading our comparisons of top VPNs, click and compare each VPN service.